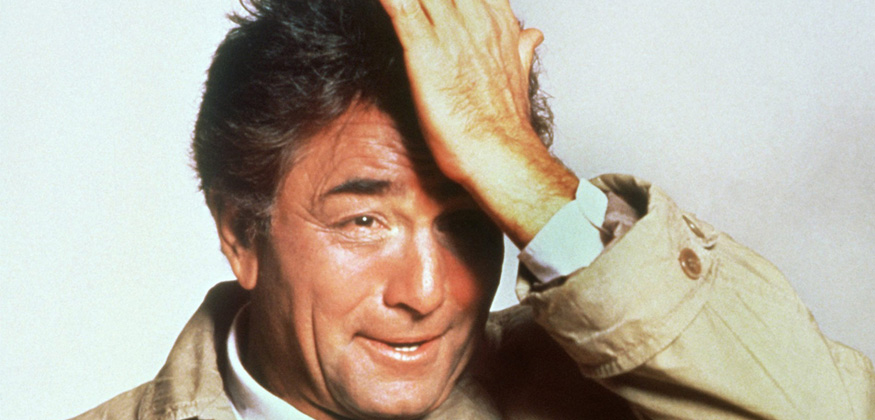 Ever thought of doing a Columbo marathon? Film and TV expert David Bradley decided to watch all 69 episodes in order, and this is what his investigation turned up…
"Columbo is the greatest television series ever made," said British TV treasure Stephen Fry. He was comparing the title character to Socrates in an episode of QI.
Others echo his lavish praise. Steven Moffat, the award-winning writer-producer behind the BBC's Sherlock, described it as his "favourite ever detective show." In a feature for Crime Scene magazine, he wrote that Peter Falk demonstrates "ungodly brilliance" in the role.
Columbo boasts high-profile devotees, but 15 years have elapsed since the final broadcast. It's in danger of fading from memory. When I tell people I enjoy the DVDs, many roll their eyes. For them, it seems, it was tea-time fodder for their grandparents. It existed in the background, its repetitive format as inspiring as wallpaper.
The series had few traditional whodunnit qualities, my doubting friends point out. And the lead character was a clownish slob. Who, apart from Moffat and Fry perhaps, would sit down to study it today?
Me.
The greatest showman
I've been a fan since first seeing it with my own grandparents. Later, in the 1990s when it was in its revival phase, a gang of us would gather to watch before going to the pub.
My family and I went to see Peter Falk speak at the Hay Festival in 2007 and afterwards, he signed a book for me. The actor was one of the wiliest raconteurs I've seen interviewed on stage. Even at his advanced age, he would artfully avoid the host's questions and tell whatever (hilarious) anecdotes he liked.
This year I re-enjoyed all 69 episodes of the TV series. Thanks to a bumper box set, I was able to watch from 1968's Prescription: Murder all the way through to 2003's Columbo Likes the Nightlife. It was glorious. Definitely 98 hours well spent. And I'm here to convince you to put a few weekends aside to do the same.
For me, it's more than just another cop drama. Inoffensive it may be, but it's also expertly crafted, with a mischievous, subversive streak.
Is it perfect? No. Sometimes the formula doesn't work. There is a slight decline in quality as the seasons pass. But there are standout stories right till the end. My personal favourites are Any Old Port in a Storm with Donald Pleasence, By Dawn's Early Light with Patrick McGoohan, Forgotten Lady with Janet Leigh, Now You See Him with Jack Cassidy and Murder Under Glass with Louis Jourdan (the last occasion a villain was older than Falk). No, wait! What about How to Dial a Murder with Nicol Williamson? Any programme that spans over three decades will be overflowing with classic instalments.
Just the facts
If you need persuading to stage your own re-watch, here are three reasons why Columbo is world class:
1 – Some of Hollywood's finest worked on it
If you've caught only the barest glimpse and dismissed it as mindless schedule filler, think again. This series won 13 Emmys, two Edgar Allen Poe Awards for crime, and two Golden Globes.
That's unsurprising. The talent involved was stellar.
A young Steven Spielberg directed Murder by the Book in season one. He aced it, opening with long distance shots more common to movies than TV.
That mystery was penned by Steven Bochco, who went on to write six more Columbos. Recognise the name? Bochco was the multi-award-winning creator of programmes such as Hill Street Blues, LA Law, and NYPD Blue.
Many of the writers became big and small screen successes. Series creators Richard Levinson and William Link, along with scribe Peter S Fischer, would create Murder, She Wrote. Other series writers included Larry Cohen (he wrote the movie Phone Booth) and Stephen J Cannell (prolific 1980s creator of The A-Team and others).
The folk behind the camera included Sam Wanamaker, the actor and director famous for restoring London's Globe Theatre; Daryl Duke, renowned for the 1980s miniseries The Thorn Birds; and of course Patrick McGoohan. The Prisoner's McGoohan was one of the show's most frequent collaborators, writing, directing and acting multiple times.
That's the pedigree of the production team. On set were some of the most prominent thespians of the 20th century…
2 – The detective is not the central protagonist

Every instalment featured at least one special guest, and we're talking Hollywood royalty here. Dick Van Dyke, Janet Leigh, Roddy McDowall, Johnny Cash, Honor Blackman, Faye Dunaway, Martin Sheen, Donald Pleasence and more. Star Trek alumni Leonard Nimoy and William Shatner take on three tales between them. Peter Falk's lieutenant is, each week, pitted against a villain played by a genuine heavyweight. Usually, the guests are more famous than Falk himself.
And that's an essential part of the template. If you've wondered why we always see whodunit right at the start, it's because the show is about the murderer. The guest is the star.
The title character doesn't change – the story arc belongs to the villain. Falk usually doesn't stroll in until the second act. The episode follows the perpetrator, and his or her attempts to hoodwink the law. The unique reverse mystery format permits a celebrity to flex their acting muscles. Very often the killers they play are sympathetic characters – we sweat with them as our LAPD sleuth picks at some hole in their alibi.
3 – It's a battle of the classes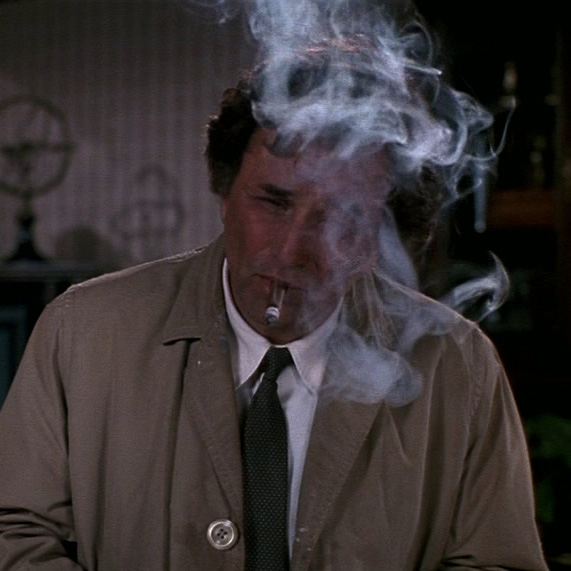 Maybe we enjoy Columbo so much in the UK because we like seeing an underdog triumph almost as much as we love it when successful people are brought down a peg.
We're following a working-class man as he exposes the crimes of the rich and famous. Levinson and Link's high concept was to parachute a scruffy gumshoe from the LA streets into an Agatha Christie-style drawing room. His rumpled coat and cheap cigar are in deliberate contrast to the fine china and crystal chandeliers of the mansions he inspects.
Lieutenant Columbo is an Italian, blue-collar, public servant. He's pitted against politicians (Candidate for Crime), business owners (Playback), celebrated art critics (Suitable for Framing) and countless lawyers, TV personalities, novelists and other denizens of the Hollywood hills.
Eggheads assume our hero is too uneducated to catch them. Millionaires act as though their status will protect them from any consequences of his clumsy investigation. Wealthy socialites patronise him and chuckle at their superiority while sipping Cognac. They think he's beneath them.
And he lets them believe that. Until his doggedness and hard work bring them down.
Let's be clear, though: Columbo is not a crusader. He treats people – rich or poor – with kindness and humour. Sometimes he even admires his quarry. This is not a campaigning drama, grinding an axe about Beverly Hills snobs. But I do enjoy its anti-privilege subtext. It makes the arrogant criminal's fall from grace all the more delicious.
Just one more thing…
Superficially, Columbo is famous for his quirks. The battered car, the apathetic dog, the inappropriate raincoat, the references to an unseen wife. But the reason viewers warm to the character is that he's curious. Despite all the death he's seen, he possesses a sense of wonder about the world.
Sure, being inquisitive is an essential asset for any cop. But Columbo's happiest when learning about some new discipline, sport or hobby. He admits he knows nothing about boats or paintings or fine wine, and seems grateful the case takes him outside his comfort zone. "I like my job. I get to meet a lot of interesting people," he beams in 1977's Try And Catch Me. He doesn't have anything to prove, he's just open to new experiences, in a way that can't help but charm both the characters in the story and the viewer at home.
If you agree curiosity is a quality worth emulating, then why not try a Columbo episode or two yourself this year?
I'll be running along now.