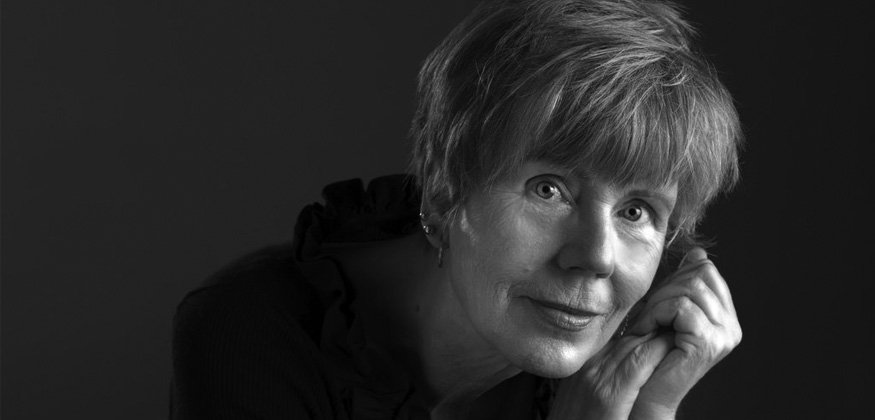 The trouble with loving Scandinavian crime fiction is that often the books in any particular series will suffer from TOOO syndrome – translated out of order. When we originally wrote this post what made it useful was that it made sense of the books in Karin Fossum's Inspector Sejer series that had, at that time, been translated, and listed the ones that hadn't. In the fullness of time, Karin Fossum's publishers have translated and released all the books in the series and we have updated the guide accordingly. Now it gives you a useful overview of this fantastic set of Nordic noir books.
Karin Fossum is exceptional, not just in Scandinavian crime fiction circles, but in the broader crime genre. Referred to as the 'queen of crime' in Norway, she came into the genre as a poet whose work in the health and social work field has informed her compassionate meditations on crime. Her creation, the mild-mannered Inspector Konrad Sejer, is not typical of Scandinavian detective figures. Don't expect an unhealthy, hot-headed drunk with failed relationships and dysfunctional family issues. Sejer is a soft-spoken widower who never loses control nor runs foul of his boss. While many of his contemporaries have problems with authority, Sejer actually finds comfort in the concept, and the order it brings.
Sejer is old-fashioned and polite. His sole vice is the single hand-rolled cigarette and whiskey he allots himself at the end of the day as he mulls over a case, his faithful dog at his feet. He spends time off with his daughter and her adopted son from Somalia, but never stops thinking about his case. He might seem square, even a bit shy, but Sejer takes his job very seriously and his moral authority commands respect from all who encounter him. The chief weapon in Sejer's pursuit of the truth is not a gun but a belief in justice, deep compassion, and a driving need to understand the criminal mind. Like a velvet sledgehammer, his soothing demeanour belies a strength of purpose. Once Sejer finds a chink in their alibi, most perps eventually yield to his probing questions and piercing, slate grey eyes.
The Inspector Sejer series has some of the typical characteristics of the Scandinavian crime sub-genre. The books readily incorporate social issues of class inequality, misogyny, immigration, and exploitation. The Scandinavian landscape plays some part in the overall atmosphere. Norway's stunning fjords and the rustic isolation of its small mountain towns form a perfect setting for the intimacy of crime. They combine to form a dark milieu that brings into relief the most salient aspect of her novels – the enduring effect of crime on individuals and society. The death of a child, mental health issues and disability often feature in her stories and Fossum not only focuses on the palpable grief of the families, but also on the torment of the guilty parties. She avoids certain sensational themes like police corruption and conspiracies, instead presenting an active meditation on the permanent scars left by crime. These dark procedurals read like angst-ridden essays of the soul set in the Norwegian countryside – psychological realism, more or less.
What Fossum does so effectively, is bring together all the familiar and therefore uneasy aspects of criminality. In a flash, bad judgments and desperation can easily escalate into acts of violence. From the crime itself through to the investigation and its outcome, we go on a journey with Inspector Konrad Sejer. It takes in justice, and the grey areas of good and evil, and he is there as the moral beacon guiding survivors through the pervading darkness of the human condition. Let's take a look at each of the books in turn…
In the Darkness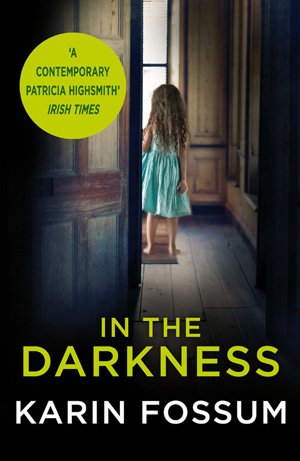 (Evas øye – 1995)
In his very first appearance, Inspector Sejer glides calmly through some very dark waters in the investigation of two brutal murders – those of a local factory worker, and a prostitute – which appear to be linked. When he searches for a possible motive connecting the deaths a break in the investigation practically falls into his lap. The story of the murder is told through a flashback that occupies the middle section of the book, after which Sejer comes in to uncover the last piece of the puzzle. This first book in the series introduces the recurring motif of the violence that lies dormant in the inertia of our routine lives. Even when the crime is solved, in Fossum's world there are no winners. Though it's the very first Sejer novel written, it's the most recent one to appear in English. You can read our full review here.
Buy now on Amazon
Don't Look Back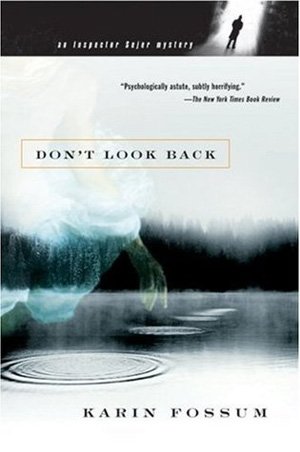 (Se deg ikke tilbake! – 1996)
This book begins with a trademark Fossum diversion that serves as a portent. What seems like a child abduction is in fact not, but it sets the ominous tone for a real missing person/murder case. Two locals walking by an idyllic pond in the woods discover the body of a local teenage girl named Annie. Her murder is as puzzling as it is dreadful. The prime suspect at first is the town's local eccentric who was seen giving her a lift. When Inspector Sejer questions the girl's family, friends and neighbours, the suspect list grows and he realises people may know more than they are prepared to tell. He strives to understand Annie's true character, as the answer may lie in her own strange behaviour leading up to her death. Here you'll get more insight into Sejer's professional camaraderie with his youthful partner Jacob Skarre. The winner of the Glass Key Award in Scandinavia in 1997, in 2002 it was the first Sejer book to appear in English.
Buy now on Amazon
He Who Fears the Wolf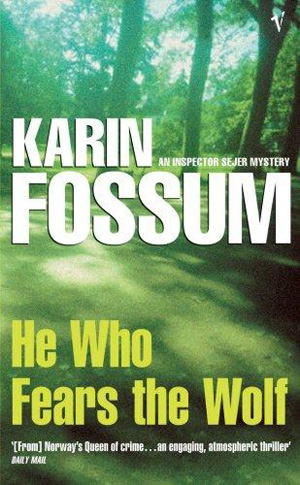 (Den som frykter ulven – 1997)
This wonderfully strange offering is a departure in some ways from Karin Fossum's usual sombre fare, and may be the most enjoyable for its liveliness and colourful characters. A woman is brutally murdered outside her remote cabin in the countryside. Suspicion is immediately directed at a mentally ill man named Errki who has just escaped from an asylum. One potential witness is an overweight boy named Kannick, who himself sneaked out of the juvenile delinquent centre nearby to practice archery. Things get confused when a bank robber on the lam named Morgan takes Errki hostage and the two get acquainted during a very unusual road trip. Meanwhile, Sejer becomes smitten by the boy's psychologist during their interview, and for the first time we see the long-term widower lose his composure a bit, with amusing results. When the unlikely duo cross paths with Errki at the site of an isolated cabin, mayhem ensues. Inspector Sejer tries to sort out the original homicide, all the while trying to not let his new crush throw him off balance. When things come to a head, and Sejer finally narrows in on the killer, it's quite a revelation.
Buy now on Amazon
When the Devil Holds the Candle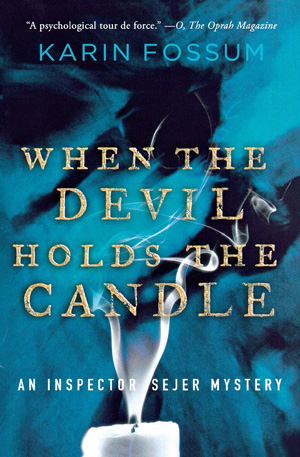 (Djevelen holder lyset – 1998)
A petty theft by some teens leads to a tragic sequence of events. This installment in the Inspector Sejer series is not a mystery as such and Sejer is largely peripheral to events. You'll watch in horror as things unfold from the point of view of the perpetrators and the consequences that follow with each victim. Inspector Sejer comes in later to ponder the existential depths of loneliness, criminal acts, and other things we humans just can't control. This book underlines the major theme in Fossum's work: crime has a permanent effect on everyone involved – victim, perpetrator and even the investigators.
Buy now on Amazon
Calling Out for You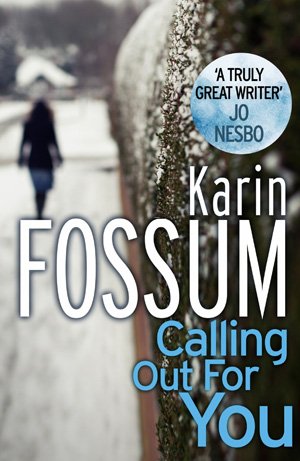 (Elskede Poona – 2000)
Shortlisted for the prestigious CWA Gold Dagger, this is one of Fossum's most masterful, but also most tragic murder mysteries so far. Calling Out for You first appeared in English in 2005, but was republished as The Indian Bride in the United States in 2007. It's a dark, heartbreaking tale of an immigrant newlywed bride named Poona who crosses paths with a killer. Inspector Sejer brings all of his intelligence and compassion to bear on the crime, but not all killers get caught. This book has one of the most chilling endings you'll find in crime fiction. A must read.
Buy now on Amazon
Black Seconds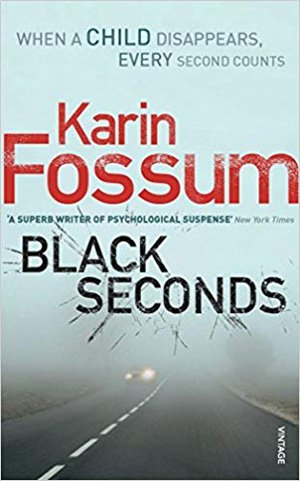 (Svarte sekunder – 2002)
The sixth installment opens with every parent's worst nightmare: a missing child. Sometime after getting on her bike and cycling to the sweet shop, nine-year-old Ida Joner vanishes. No trace of her is found despite a thorough search by the community. Although a local mentally-challenged mute man is suspected, her cousin Tomme is suspiciously evasive about having crashed his vehicle around the time of disappearance. As with all Fossum books it is a pleasure to ride along with Sejer and his amiable partner Skarre as they calmly discuss the facts of the case. During his investigation Sejer confronts a family's anguish over their loss, but also the secrets and lies they harbour which may hold the key to the mystery of the young girl's disappearance.
Buy now on Amazon
The Murder of Harriet Krohn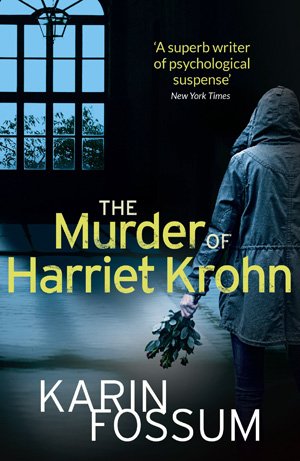 (Drapet på Harriet Krohn – 2004)
Charles Olav Torp has a debt of 200,000 kronor and a bad relationship with his daughter. He can't get out of paying that money back so he schemes to rob an old lady. One simple robbery and he'll be out of the red, and can even afford to buy his daughter Julie a new horse. Two things he doesn't figure into his equation: the old lady fights back; and the glacially patient Inspector Konrad Sejer. Initially, it looks as though he might get away with it even though he has a minor traffic accident the night of the theft. And things between Julie and himself begin to improve now he's cleared his debt. Yet there is this nagging doubt inside him, and Sejer has been asking just what he was up to that fateful night. The book was translated into English in 2014 and you can read our full review here.
Buy now on Amazon
The Water's Edge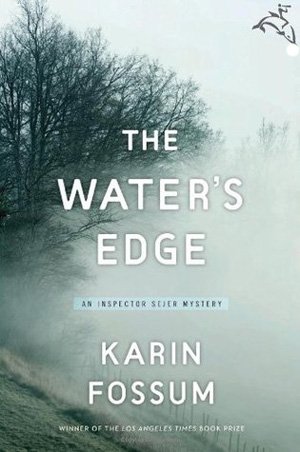 (Den som elsker noe annet – 2007)
Reinhardt and Kristine are somewhat disconcerted when they come across a stranger during a routine nature walk, but profoundly disturbed when soon after they find the body of a small boy. Worse still is Reinhardt's response. He proceeds to photograph the corpse and conducts his own investigation after the police leave. Sejer's case parallels the gradual disintegration of the couple's doomed relationship, sparked by this grim discovery. When paedophilia against the victim is confirmed, another boy from the same school goes missing. Sejer must solve the crimes before the community is overcome by terror. Interestingly, Fossum affords the paedophile's point of view and also provides a sidebar where Sejer and Skarre discuss this type of crime at length.
Buy now on Amazon
Bad Intentions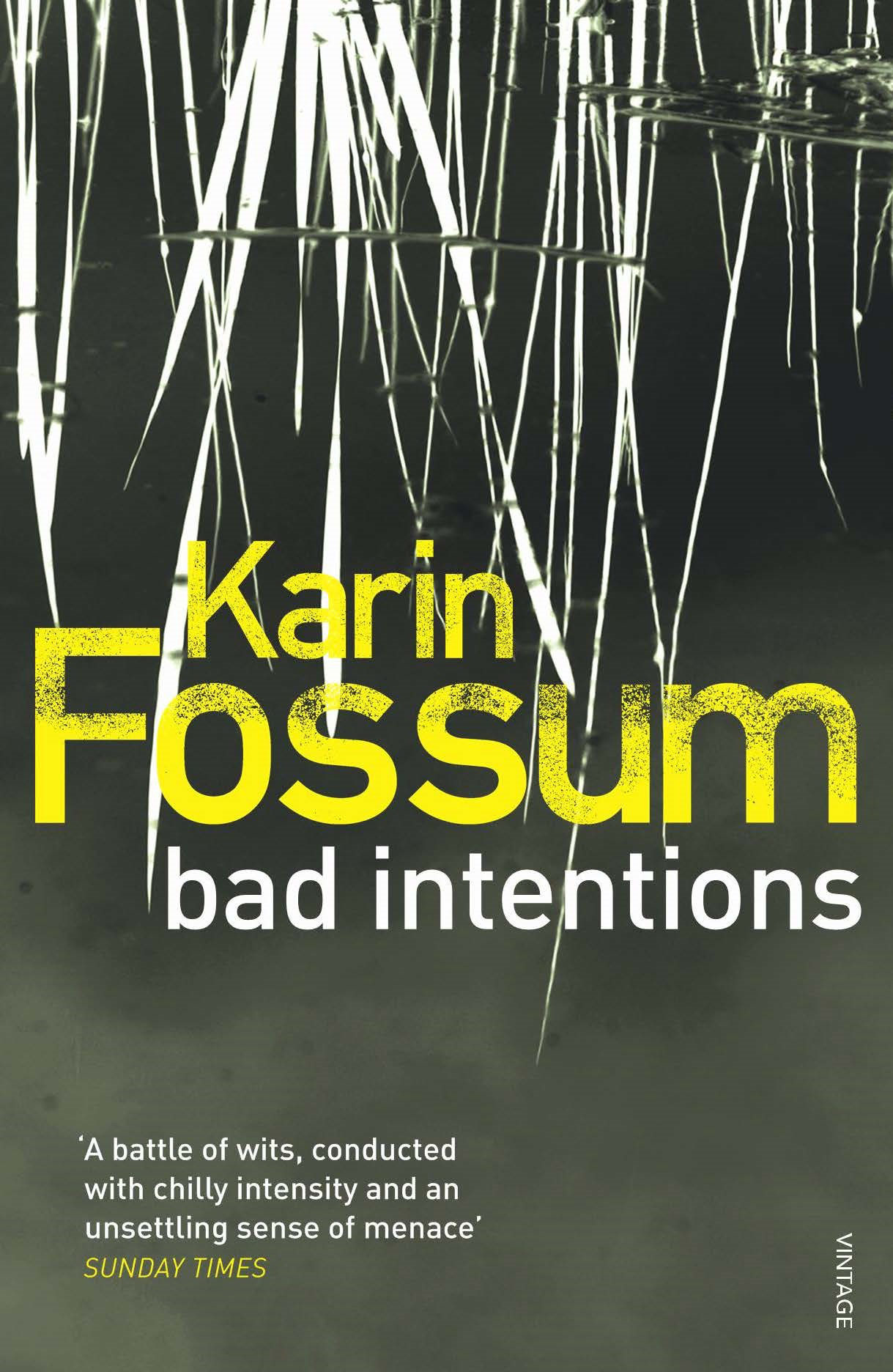 (Den onde viljen – 2008)
Three friends go boating at a remote lake but only two return. After the third's body is discovered the remaining two maintain their friend was depressed and possibly suicidal when he went off on his own in the boat. Inspector Sejer is immediately suspicious after reviewing the evidence and testimony from both the dead man's girlfriend and his therapist that he was in no such condition. The reader knows a bit more than Sejer, but when the body of a Vietnamese man is also discovered we are all left to wonder what possible connection there might be. Here again Fossum focuses on the perpetrators themselves, the decisions they make, and the dark trajectories of the guilt they harbour. Read our full review here.
Buy now on Amazon
The Caller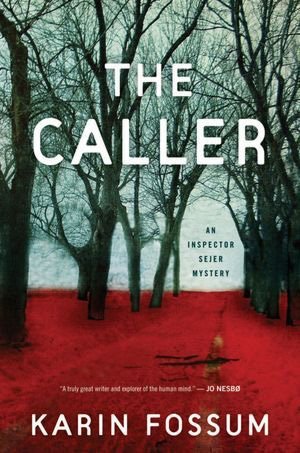 (Varsleren – 2009)
The Caller arrived in English in 2011. An infant is discovered by her mother covered in blood. An elderly woman reads her own obituary, and a hearse arrives to claim the body of a sick, but still living, elderly man. A series of heinous pranks has left lasting devastation on the families affected, forever disturbing their sense of security. Inspector Sejer correctly profiles the perpetrator as lonely, intelligent and emotionally abused. In typical Fossum fashion, you are given the first-hand perspective of the teenage boy responsible. As he ups the ante in cleverness and wickedness, his criminal career escalates, terrorising the whole town. Sejer must find him before he self-destructs and takes others down with him.
Buy now on Amazon
The Drowned Boy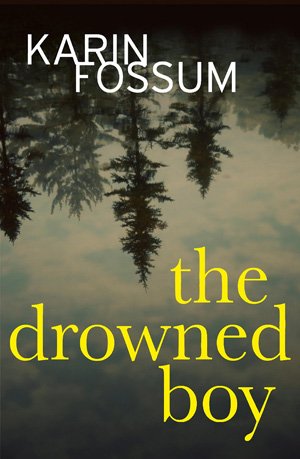 (Carmen Zita og døden – 2013)
The Drowned Boy is about, well… a drowned boy. Aged just 16 months, Tommy Brandt lost his life in a pond near his family home. Tommy was a bit different, though – he had Down's Syndrome. His mother's story doesn't seem quite right, and while she professes love for her lost child she also talks rather too negatively about her son's disability. Meanwhile, the boy's young father has terrible difficulty dealing with his child's death. Chief Inspector Sejer, who has been called to the scene, has his doubts and is moved by the boy's death but he can't find the evidence he needs to either prove or disprove the mother's story. At the same time, Sejer is struggling with dizzy spells and is worried about his heart and his head – both of which are also troubled by Tommy's case. An extraordinary and incredibly moving book. Read our review here.
Buy now on Amazon
Hellfire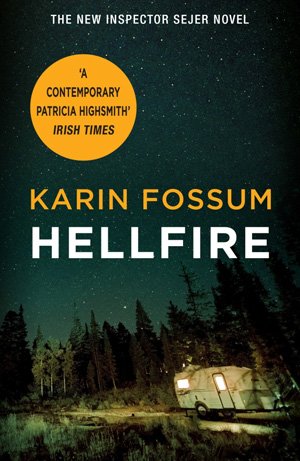 (Helvetesilden – 2014)
The 12th Sejer novel, Hellfire, tells of the brutal murder of Bonnie Hayden and her little son Simon in an old caravan on a farmstead in Norway. A bloody footprint at the scene is one of the only clues. Meanwhile, another mother is struggling with her 20-year-old son, Eddie, who has a personality disorder of some kind. He has become obsessed with finding the father who abandoned the family years earlier and moved to Denmark. Once again, Fossum explores our innermost thoughts and failings. Why do people lie to those closest to them? Although Sejer isn't to the fore much during this story, one interesting thing we do learn about him is that he was born in Denmark. Hellfire won the prize for best Norwegian crime novel in 2014. Read our full review here.
Buy now on Amazon
The Whisperer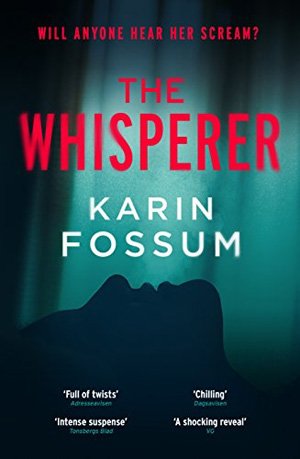 (Hviskeren – 2016)
Due out in the UK on 6 December 2018, The Whisperer is about a lonely woman who works in a supermarket and whose life has become one long routine. Ride the bus to work, ride it home again, sleep, repeat. She still lives in her childhood home, her only son has moved away, and she feels safe in her routine until a threatening letter arrives. Events take their course, and eventually it is Inspector Sejer who is interviewing Ragna Riegel after some horrific crime. We'll bring you more about the book as soon as we know more…
Pre-order now on Amazon
If you're interested in reading more Karin Fossum, there are non-Sejer books that have been translated into English, such as the standalone novel Broken (Brudd) and I Can See in the Dark (Jeg kan se i mørket), which is excellent. In addition, she has written numerous other novels, short stories, and poetry collections.
For more Norwegian crime fiction, see our guide to Jo Nesbo's Harry Hole.