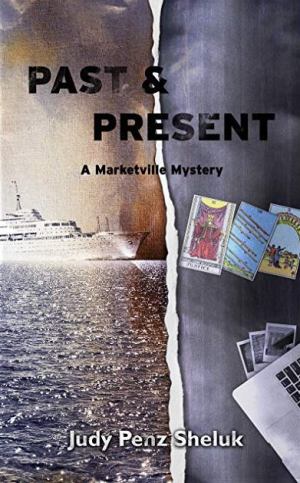 Written by Judy Penz Sheluk — A young woman launching a business to help other people find missing family members ends up reconnecting to her own. This is the second in Judy Penz Sheluk's Marketville Mystery series, set in a small town outside Toronto, and the series establishes a cosy, warm-hearted atmosphere. As in her first book, Skeletons in the Attic, the first-person narrator is Calamity 'Callie' Barnstable. Along for the adventure are her friends Chantelle Marchand and Arabella Carpenter, owner of a nearby antiques shop (the protagonist in Sheluk's other series, the Glass Dolphin Mysteries).
We also meet again a couple of colourful psychics and Callie's possible love interest, Royce Ashford. She's ambivalent about that relationship, though, because her Valentine's Day memories "have nothing to do with the velvety petals of longstemmed red roses, and everything to do with the thorns."
The first book focused on Callie's quest to find out what happened to her mother, who abandoned her and her father when Callie was six. Her late father left her this challenge and the resources to carry it out. In this book, she is warming to the idea of investigating the death of her father in a construction accident. There's more to that story, she's sure, even though safety officials reportedly made a thorough investigation.
First, though, she has to figure out how to make a living. She and Chantelle team up in a new business called Past & Present Investigations, in which they hope to use Callie's research acumen and Chantelle's genealogical knowledge to help people find missing relatives. Arabella will help if someone brings in an old object related to the missing person, and Callie's retired librarian friend will do the archive searches. Psychic Misty Rivers juices up the business's web site with interpretations of Tarot cards.
Callie vacillates between loving the business idea and fearing they will find nothing but dead ends, but Sheluk has written nicely three-dimensional characters that are game to try. Callie also faces an ongoing personal challenge. It seems she cannot escape the hostility of her grandfather, who has never forgiven her mother for becoming pregnant at 17 and marrying Callie's father who was, her grandfather felt, many ladder-rungs beneath her.
Before long, Arabella sends Callie a potential client. Louisa Frankow's German grandmother immigrated from England in 1952 on the Canberra. Via the internet Callie finds an ephemera dealer who has relevant artifacts from voyages of that era – much more glamorous than modern-day trans-Atlantic air travel, that's for sure!
Louisa says there seems to be some mystery surrounding her grandmother's death only a few years after her arrival. The grandmother died when Louisa's mother was three years old and she was subsequently raised in foster care. As a result, the family papers and photos and other clues to the grandmother's past are few. Nevertheless, Louisa hires P&P, saying, "Anneliese Prei has a story to tell, and I need to find out what it is."
Callie and Chantelle capitalise on online genealogical records, newspaper archives and the like. If you've done any family history research recently, you'll be familiar with the possibilities and Sheluk conveys the thrill of getting a hit and putting the pieces together very well. It turns out Anneliese was murdered, and her husband convicted of manslaughter – on very flimsy evidence, in Callie's view. He'd been in prison only a few months when he was stabbed to death in the showers. If he was not guilty, as Callie suspects, the real murderer is responsible for two deaths.
Sheluk includes a couple of features that require a bit of a leap of faith. She relies on a long-ago coincidence, which, granted, might have been more likely in the early 1950s when Toronto's population was a third its current size. And, she's helped by a psychic who interprets objects. While Callie remains skeptical of the validity of paranormal phenomena, the psychic's revelations help confirm her hypotheses about the crime.
The murder in this book is many years old, but it has consequences for Louisa and Callie too, which makes it significant even without splattering fresh blood all over the pages. It's fun to watch Callie and her friends in action, and the book ends with the promise of another interesting case to come.
Past & Present is a quick and satisfying read for those who like cosy mysteries or are fascinated by the long tail of the past.
Also see Sara Sheridan's Russian Roulette or It Begins in Betrayal by Iona Whishaw, both of which feature clever female sleuths and mysteries set in the past.
Superior Shores Press
Print/Kindle
£10.99
CFL Rating: 4 Stars