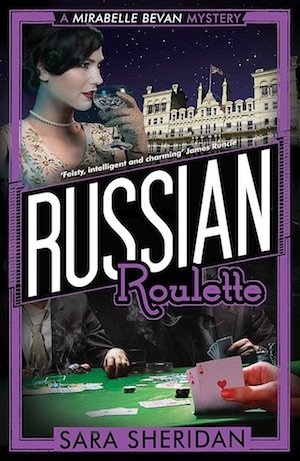 Written by Sara Sheridan — When Sheridan's first Mirabelle Bevan book, Brighton Belle, was published in 2012 I was quickly hooked by the story of an ex-Secret Service backroom girl, Mirabelle, who thinks her life is over after World War II. Like many women who are displaced after hostilities end, Mirabelle doesn't have too many options and she gets a dead-end job in a debt collection agency, which she inherits when her boss dies.
But her Secret Service experience – she has excellent surveillance skills and uses her SOE picks on locks – are utilised to solve a series of murders in austerity Britain, in which so many people hide secrets about what they did in the War.
Brighton Belle begins in 1952 and by 1956, when Russian Roulette is set, Mirabelle is on her sixth investigation. She is smart of brain and dress sense, has an enviable wardrobe and is obsessed with shoes – dismayed when trotting off in heels whatever the terrain – being well turned out is immensely important to her. She frequently risks her life in a heartbeat in pursuit of justice but you can feel her pain when she has to go undercover in a hotel maid's cheap uniform and dress up as a high-class call girl.
Her relationship with her young, pregnant and streetwise black assistant Vesta, who is married to jazz singer Charlie and is frequently the butt of racial insults, has become integral to the books, as has her on and off romantic entanglement with superintendent Alan McGregor from the Brighton police force. She has almost shaken off the shackles of grief over the death of her wartime lover, and Russian Roulette begins with cosy sleepovers in McGregor's quarters in the guest house he owns. It's a bit racy for a woman's reputation in the 1950s.
When Mirabelle's McGregor, is taken off a gruesome murder case because the key suspect is an old school friend, she steps in unofficially to investigate the murder of a young wife, Helen Quinn, who has been brutally killed in bed next to her husband Phil after the pair have apparently been drugged through their gin nightcap. McGregor's superior arrests hubby, but it is up to Mirabelle to find the killer, as McGregor is convinced the husband is innocent.
Mirabelle's attention turns to taxi firm Hove Cars, as Phil Quinn was a partner. Ferrying high-end prostitutes to clients and parties for the Thrillseekers' Club is a key part of the business and when Mirabelle goes undercover as a call girl she is flattered by the attention of rich and handsome men and understands the lure of making good money, whilst having some fun. Mirabelle has many admirable qualities, one of which is getting involved in her investigations, and this shows her fallibility too.
She encounters several dangerous characters related to the case, including the man running the girls and a Russian countess who runs secret gaming clubs – just as the Cold War is setting in. Mirabelle also calls in favours from recurring ex-wartime contacts, in the establishment and the criminal underworld. One of these is a black marketer Fred, who is dying and has left his considerable wealth to his dodgy adopted son. When an RAF war hero's body is found on the Downs above Brighton with casino chips sewn into his coat in an apparent suicide, the establishment closes ranks. He is also a member of the Thrillseekers' Club. The stakes are high for Mirabelle, as both those on high who seek to bury the truth, and others with a lot to lose threaten her.
Her close relationship with McGregor reaches breaking point when she discovers evidence that he is involved with some of the people behind the vice rackets and she puts her pursuit of justice first.
There is much to admire about Mirabelle and Vesta and the rest of the recurring cast in these books. The stories are pacy and the development of the key characters and their relationships enhances the action, which is set in a compelling era.
Read our interview with Sara Sheridan from 2012, and for more Brighton-based mysteries check out Erin Kelly's The Ties that Bind, CL Taylor's The Accident and Peter James' Roy Grace books.
Constable
Print/Kindle/iBook
£6.74
CFL Rating: 5 Stars