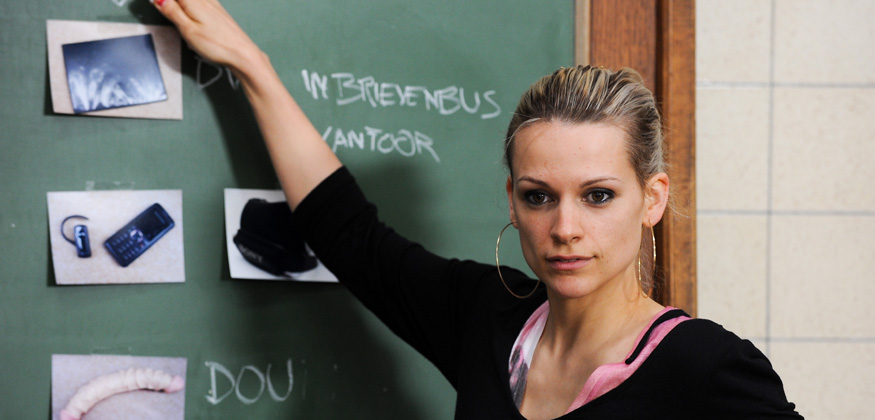 She's got blonde hair, brown eyes, a six-shooter on her hip and she roars around town in a big black Merc. Some might even say that Hannah Maes, played by Veerle Baetens, looks like she shot the sheriff. But instead her gang of subordinates in the Belgian crime show Code 37: Sex Crimes would do well to call her sheriff. UK viewers will be able to find out why starting on Friday 17 August when the 12-episode first series begins airing on More4.
Chief Inspector Maes has just taken over the sex crimes unit in the Ghent police department and her first job, other than putting three male detectives who enjoy a bit of smutty banter in their places, is to solve the murder of Kristien De Vadder, an HR consultant whose body has been found in the Holiday Inn. The victim was strangled during sex. After elbowing aside a homicide detective, Maes and her team are given the forensic evidence which shows the DNA of at least two men was on the body.
Code 37 is a fast-moving procedural, carried by snappy and direct dialogue which is in Flemish, with subtitles. Handheld camera techniques give the programme an immediate and voyeuristic feel. You're looking in on the investigation, and sometimes you're looking in on the private moments of the victims and the perpetrators as well. An urgent and funky sound track keeps episode one moving early on, giving way to moody guitar notes when a little more about Hannah Maes' character is revealed.
As well as being a motivated detective who isn't afraid to give orders or tread on toes, she has trained at the FBI's facility in Quantico and has policing experience in Chicago. "There's no such thing as a cold case, only cops who don't look long enough," seems to be her motto and she uses the men in her squad like utensils along the way. Charles Ruiters (Marc Lauwrys) is an expert interrogator, Gilles De Schreyver (Kevin Desmet) a digital whiz and Michael Pas (Charles De Groof) an all-round pushy cop.
Each episode presents one storyline, so there isn't the depth or complexity you get with something like The Killing or The Bridge. Compared to the other Belgian shows that have popped up lately, Code 37 doesn't have the quirkiness of The Out-Laws, the spookiness of Tabula Rasa or the high-octane conspiracy aspects of Salamander. But if you enjoy a snappy procedural either in book or TV format, you'll enjoy it. And there is an overarching story that emerges after episode one which sees Maes trying to unwrap the rape and murder of her mother during a robbery many years ago.
Code 37 is on Netflix in North America, where it can also be viewed on Amazon via the Walter Presents subscription service. After airing on More4 in the UK, it will be available to stream on Walter Presents. Series one was created in 2009, and there are two further seasons.