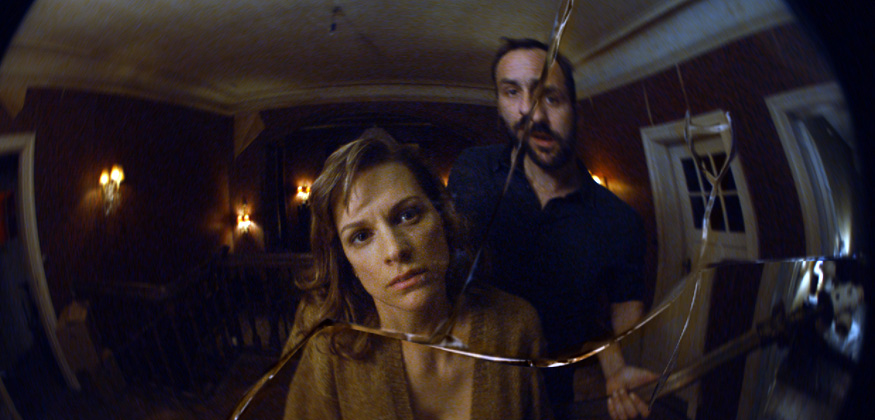 Brussels is taking over. No, not a slogan from Donald Farage or Nigel Trump. It's just that with the likes of Salamander, 13 Commandments and The Out-laws, Belgian crime shows are on the up. The latest to arrive is Tabula Rasa, which airs on Channel 4 on Sunday 6 May at 10pm, and then will be available to watch on Walter Presents straight afterwards. It could just be the best of the bunch.
With detail and atmosphere to rival Hinterland, and a concept reminiscent of David Fincher's work, Tabula Rasa is the story of a woman called Mie D'Haeze, played by Veerle Baetens, who finds herself in a secure psychiatric facility. She knows who she is, and she recognises her family, but there are big gaps in her memory and the police are particularly interested in one of them. According to Inspector Wolkers, Mie was the last person to see a man called Thomas Spectre (De Geest in Flemish, or the ghost) before he disappeared. Wolkers wants to work with the facility and with Mie to overcome her amnesia, and he won't let her leave until she produces some answers about Spectre.
As episode one unfolds, you'll slip back in time with Mie, her husband Benoit (Stijn Van Opstal) and daughter Romy (Cécile Enthoven), and start to see how all of this might have come about. The clinical confines of the institution are juxtaposed with the creepy shadows of her grandparents' old house. It turns out the family moved in a few months prior to a car accident Mie was involved in before her arrival at the asylum. And they moved into the house because their previous home mysteriously burned down… Mie doesn't remember much about that either, which is worrying.
A noir atmosphere
But not as worrying as what happens in the big old house they've moved into. The cellar is partly flooded, there are cobwebs, shadows and peeling paint everywhere. A man appears among the trees with a gun on his shoulder and stares at them, and there's a hooded figure by the road. Unexplained things start to happen – why does red sand mysteriously appear in Mie's bed, how did she fall down the stairs in the middle of the night, why are the clocks never right, what's the meaning of the strange numbers she keeps remembering, and where did the three-legged cat appear from?
Then there's Spectre. It turns out she did meet him – at the recycling centre, where he works. He's a strange, loner type who keeps teddy bears in cages and has dozens of pine air fresheners hanging in the cargo container he inhabits. He's easily as odd as Mie, and seems far more menacing… But why, to us as viewers, is his her kind of crazy sympathetic, while his kind is scary?
As the series progresses, Mie struggles to sort through her strange memories and separate what's real from the things she's dreamed and imagined. The extra twist – hinted at in Thomas Spectre's name – is that spirits from the other side seem to be involved. Or maybe, it's just ghosts from Mie's past, so to speak.
Psychological mystery
Where most psychological thrillers play on the psychology of the viewer, building your anticipation, taking you to the edge of fear, Tabula Rasa has something more. It's both a psychological thriller and a psychological mystery – a mystery of the mind. There's wonderful use of detail and texture in every frame, from the opening titles to the credits, and the unusual camera work accentuates the unease Mie and her family experience. It's no surprise that the story, with its intriguing concept, is so good. One of its writers is Malin Sarah-Gozin, who also wrote the dark comedy The Out-Laws, which was strong on concept as well. And the other co-writer is lead actress Veerle Baetens.
The programme enjoyed huge success in Belgium, attracting 40 percent of the audience and averaging 1.25 million viewers per episode. It's available on Netflix to US viewers already. You'll watch the first episode, and then you'll binge it like Belgian chocolate.
Visit Walter Presents from 6 May onwards to watch Tabula Rasa.