Has there ever been a time when there were more fantastic crime shows to watch? It's not just broadcasters like the BBC, NBC, CBS, DR1 and HBO that are commissioning them nowadays. New players like Amazon and Netflix are making shows like Mr Robot and Narcos, leaving us spoiled for choice, even though you do have to pay for access to these streaming services. That's not the case, however, with Walter Presents. Walter is an international crime drama aficionado who has been scouring foreign TV networks and bringing their wares back to the UK for us to watch via Channel 4's streaming service All4 – with subtitles. It's completely free, you can binge on entire box sets on your computer or tablet. New programmes like Acquitted (Norway) and The Team (Denmark, Germany, Belgium) are being added all the time.
There is advertising, but a few Lexus and Dyson commercials is a small price to pay for the amount of quality crime drama available. We decided to do a Walter on Walter Presents, and after many, many hours of viewing have chosen a best of list to get you started. Below, you'll find our seven favourites.
If you are reading this article in the US, try not to feel too jealous. Walter Presents will be launching in your territory in March. It might not have all of the programmes we're listing here. This is due to rights issues rather than your president's dislike of foreigners. However, we do know that the French show Spin will be included, as well as Norway's Valkyrien.
Click here to watch these shows, and more.
7 – The Lens

Ever wondered what crime fiction is like in the Czech Republic? Well, The Lens is stylishly produced and will frame it nicely for you. Roman is a young photographer in Prague, and he's suffering the sort of ennui that seems to engulf so many 20-somethings as they try to make their way in the world. His girlfriend fancies a more creative film student, he's stuck at home living with his parents, and wedding photography is… well… a bit 'meh'. However, Roman's father is a policeman, and convinces him to become the new evidence-gathering photographer for the local precinct. What seems like a routine RTA turns into a nightmare for Roman when, at the scene, his father is mowed down by a hit and run driver. The young man is distraught but his father's death gives him a new sense of determination, and he sets out to solve the murder in this coming of age crime drama. Not only is it all about bringing the bad guys to book, he's got to win over a doubtful team down at the precinct. Each episode his standing improves, bringing him ever closer to the pretty red-haired detective, Nikola… or so it seems.
6 – The Out-laws

The 'name someone famous from Belgium' joke just doesn't wash with crime fiction lovers. Georges Simenon was born in Belgium, and so was Hercule Poirot. The Flemish TV series Salamander was as good as any of the Nordic noir offerings, and now you can watch The Out-Laws on Walter Presents. It begins with the funeral of the much despised Jean-Claude Delcorps – misogynist, philanderer, racist, neighbourhood pest… As the story unfolds, you realise through flashbacks that his wife's four sisters have something to do with his death. In fact, they've tried to kill him numerous times. Meanwhile, two brothers are trying to save their family's insurance business and the only way to do so might be to prove that Jean-Claude didn't die of natural causes, thereby avoiding the payout. Of course, they don't know that he might actually have been murdered when they begin stalling on the payment and sniffing around. A black comedy with a noir backdrop that'll have you binge-watching through the 10 episodes. The Guardian wrote an informative piece about it here.
5 – Locked Up

Ever wondered what life is like in a Spanish women's prison? No, me neither. Turns out it's pretty messy, as you can tell from the picture above. They were yellow prison clothing, and when pretty and pampered Macarena Ferreiro arrives she insists that she didn't do it. As any veteran of prison dramas will tell you: 'That's what they all say.' Through flashbacks to her life outside prison, you'll learn that Macarena was having an affair with her older boss and that he's the reason she's in there. There are a range of interesting characters in the prison, but who's really running the place? The female warden is pregnant and being threatened by criminals outside the prison, who are being directed by someone on the inside. Some kind of conflict is going on between the guards too, who spend more time brutalising each other than sorting out the prisoners. And then there's the matter of Macarena's cellmate, who has been steamed to death like a lobster. This is one of the most popular programmes on Walter Presents – watch it and you'll see why.
4 – Framed

This 10-part conspiracy thriller is based on the book Mr Miller by Charles Den Tex. Things are looking up for Michael Bellyacher, played by Daan Schuurmans, as he's given a promotion in the PR consultancy he works for. That very night, a colleague he had an affair with appears to commit suicide. He's not so sure she killed herself but as he starts looking into her death, things begin to go badly wrong for him. Someone has been messing with his files, fake police turn up to question him, and it seems he's being hunted. To add insult to injury, his wife leaves him. The tension just keeps on cranking up as everything he tries just makes matters worse. Michael goes off grid, but when he reaches out to a friend for help, the man also turns up dead. Who is the mysterious Mr Miller he keeps hearing about? Why is his own company out to frame him? Luckily, his brother who has had a sex change and is now his sister, volunteers to help. If you enjoyed Follow the Money, you'll love it. There's even a creepy fixer character who just won't give up.
3 – Magnifica 70

Fans of the US series Fargo will appreciate the nostalgia-on-steroids oozing from this excellent Brazilian production. During the country's military dictatorship – in the 1970s, as the title suggests – Vicente works as a film censor and is married to the daughter of a general. One day, as he's routinely censoring a skin flick, he becomes enchanted by the actress Dora. Unable to keep her out of his mind, he approaches the film's producer, Manolo. Vicente suggests he can rewrite the ending of the film and pass it through the censor's office and this brings him into contact with Dora. She, however, is part of a scheme to rip off Manolo and his investors. The heat of Sao Paulo, the simmering sexual tension, incredible acting, wild 70s stylings, and the sense of danger both in public life and in the back alleys, will have you gripped through all 13 episodes of the first season.
2 – Case

One could easily make the case that this programme is as good as, if not better than, our favourite crime show of 2016, Trapped. Also set in Iceland, Case doesn't try to fill up the viewfinder with the glaciers, lava fields, geysers and steamy lagoons you'd expect in Iceland. Nope, this is a gritty urban crime drama with grey skies and the bland suburbs of Reykjavik as a backdrop. Things begin with the apparent suicide of the promising young dancer, Lara, found hanging above the stage at the National Ballet. All sorts of dirty little secrets come to light as three investigators – each with their own motivation – try to find out what really happened to the girl. Gabriela, pictured, is the police detective who can't believe her superiors have shelved the case. Logi is a rough and ready alcoholic former solicitor seeking some kind of redemption. And Brynhildur is the lawyer who had Lara placed with her adoptive parents because the girl's real ones were abusive drunkards. It's got enough atmosphere to peel the paint off a wood burning stove.
1 – Deutschland 83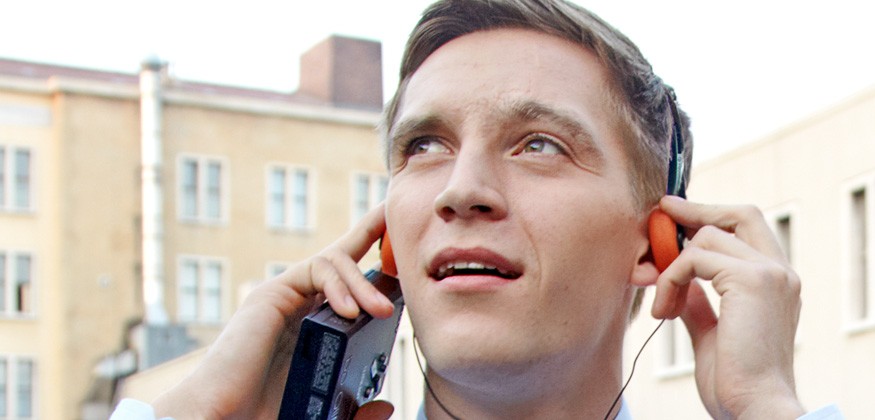 Brilliant. Just brilliant. The makers of this German series must have realised there's a bit of an appetite for GDR noir out there at the moment, and came up with a wonderful story of East meets West set during the Pershing missile crisis of 1983. Young border guard Martin Rauch is recruited by an East Berlin spymaster to go undercover as an aide to a high-up West German general. His reward for doing so will be a kidney transplant for his ailing mother… that, and all the delights of the West. In West Germany, he can do things almost unheard of in the East such as buy oranges in the supermarket and listen to Duran Duran on a Sony Walkman. But it more or less ends there and the moral thermometer descends to zero when he's having affairs, planting bugs, and burying bodies in the woods. As the power games are played out by the generals and politicians, Martin – superbly played by Jonas Nay – sees the human cost of the Cold War up close. Just like new model VWs, Deutschland 86 and 89 are on the production line.
To see our selection of the best crime shows of 2016, click here.