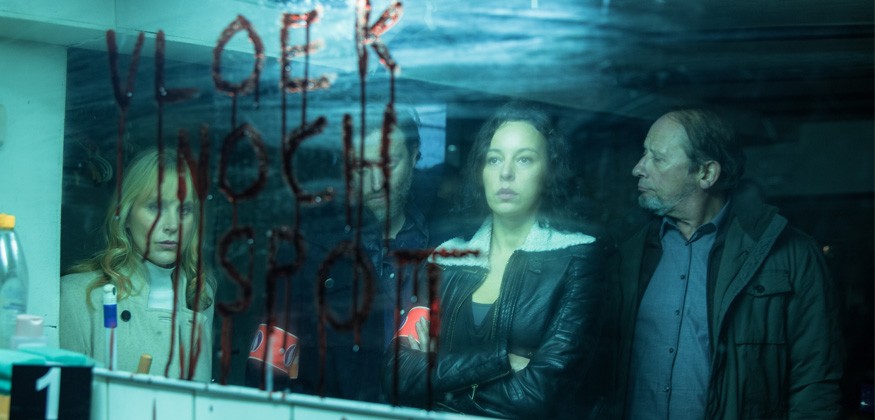 According to Mel Brooks, the Lord Jehovah gave unto us 15 commandments, but Moses dropped one of the tablets on the way down from the mountain and we had to settle for 10. Here in the latest Belgian crime drama to appear on Channel 4's Walter Presents service, a character called Moses is trying to even things up. His message seems to be that the people of Belgium have strayed from the path of righteousness, and each of his crimes evokes a commandment from the Bible. Plus he's going to throw in a few extras to keep everyone on their toes. This Moses probably wouldn't like Mel Brooks.
But crime fiction lovers who enjoy shows from the Continent are likely to gobble this up like fine Belgian truffles, and wash it down with Trappist ale. There aren't many Belgian crime shows around, but following on from the action and intrigue of Salamander and the dark humour of The Out-Laws, 13 Commandments is a well-made slow burner with crimes and characters you won't forget too soon.
After the glass, concrete and steel of Brussels, which we're used to seeing on the news, 13 Commandments takes us to more tumbledown locations. Originally entitled 13 Geboden in Flemish, things get underway in Aalst, East Flanders, as a young woman is bundled into a black car by three Turkish men. One of them, dressed like a butcher, brutally slits her throat and they leave her body in an abandoned building to be discovered by – you guessed it – a dog walker. It looks like an honour killing, and the case is taken by jaded police detective Peter Devriendt and his new partner Vicky Degraeve, played by Dirk Van Dijck and Marie Vinck respectively. There's a whole team of detectives to get acquainted with, but the two leads are fascinating and their stories become a big part of the programme – more so than in other detective dramas.
Damaged in mind and body
Peter is doing up an old house, and trying to get to grips with a 20-something daughter who constantly needs cash and spends it getting off her head. He's also running an undercover operation involving Bulgarian smugglers. Meanwhile, Vicky is damaged in both body and mind. She's just transferred in from the Special Unit, where the strain and violence of major busts was getting the better of her. Why? Because two years prior, she broke her back in a car accident that also left her mother in a coma. Vicky's is a twilight existence of pain, pills and very few smiles.
There's a good amount of blood and violence in 13 Commandments so don't watch it while eating. The settings are varied and while the atmosphere can't quite be described as gritty it's certainly troubling as the nature of the case becomes clearer. The Turkish butcher is not Moses, but in episode one he will end up being Moses' first victim. Peter receives an anonymous text that simply says HELLFIRE, and you can guess the rest. When the Turk is discovered, he's still breathing and six-foot letters at the scene tell us that we shall have one God. In episode two, we'll move on to the theme of blasphemy…
Just as Se7en dealt with the seven deadly sins, 13 Commandments covers 13 crimes and has a matching number of episodes. Each is 45 minutes long and the first airs on Channel 4 at 10pm on Sunday 18 March. Thereafter the programme will be available to stream on Walter Presents. The show is already available to US viewers on Walter Presents, and on Amazon's WP channel. Once you've watched it, tell us what you think.
For more subtitled crime TV, check out our Seven Deadly Crime Shows on Walter Presents.