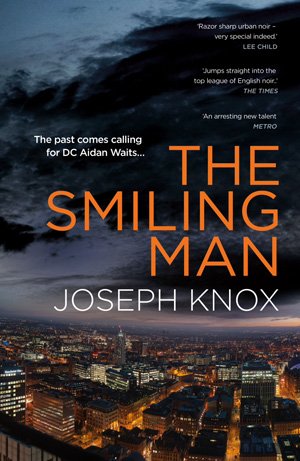 Written by Joseph Knox — Razor-sharp with blunt-talking northerners, literary but spiked with page-turning ferocity, tragedy laced with hope and a convincing cop anti-hero who gets justice both in and outside of the law. These are just some of the paradoxes that make The Smiling Man a powerful sequel to Knox's hit debut Sirens.
If you read the first book you'll know that DC Aidan Waits was blackmailed into a deadly undercover operation that his bosses hoped he wouldn't survive. He still has enemies in the force and others who see him as a soft target for manipulation as Waits goes back on the beat. But he's been dumped in the dustbin of the night shift with his odious and witty partner DI Peter 'Sutty' Sutcliffe. There's plenty of irony and black humour to go along with the darkness and deadliness of a city at its bleakest.
Waits and Sutty are all set for another numbing night in the car on standby for dead end calls, when they go on a shout to The Palace. It's a vast disused hotel that could give The Shining's horror hotel a run for its money. There's an injured night watchman on third floor and a corpse wearing a smile on the fourth. The dead man's teeth and fingertips have been altered to hide his identity and his clothes tags have been removed.
All appears to be set up for Waits to hunt for the identity of The Smiling Man, but there's a complex web of characters and trails for Waits to follow in this four-plot thriller. Early on he avenges a young victim of revenge porn, revealing his refusal to compromise when wrongs cannot be righted through conventional means. There's a disturbing tale slotted between the first person accounts Waits gives us as he works night and day to discover the secrets of the Smiling Man. A young and unnamed boy is being used by a violent killer to rob houses. The child witnesses brutal and horrific slayings and torture that he could never wholly recover from.
A large cast of deadly, walk-on characters do their best to prevent Waits learning any sort of truth about 'smiley face', including the dead man himself. Every one of these characters has an inciting part to play as the danger ramps up for our man Waits.
Meanwhile, he is being blackmailed, stalked by anonymous phone calls and threats and given ultimatums that are impossible to ignore. He has a serious enemy out there watching his moves. When he meets a terrifying figure from his past, both Waits and you will be shocked to discover exactly what this means.
Knox told us that he spent eight years writing Sirens, but for The Smiling Man, he was able to take six months off work and write for 16 to 20 hours a day, much like the long hours the exhausted Waits spends on the job. This immersive method gifts you a book to lose yourself in as you follow the threads through a city with a dark heart.
You might think that a noir novel featuring a disfigured corpse, child trauma, sexual abuse and terrifying characters from hell would not be a book for those faint of heart. However Knox's skill is to take us to those dark places without explicit and 'look away now' violence – to the darker natures we recognise in everyday people and their lives. There's irony and empathy in abundance and it's emotional trauma that is more likely to get you, which is far more effective than gore porn.
The Smiling Man will have you caught in his grimacing grip until the bitter end of this brilliant noir novel.
For more tension in the North West try Luca Veste's The Bone Keeper or Tom Benn's Trouble Man.
Doubleday
Print/Kindle/iBook
£8.83
CFL Rating: 5 Stars