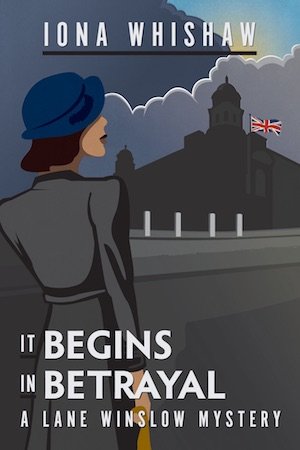 Written by Iona Whishaw — If you're after historical crime with a strong backbone but also an air of genteel cosiness about it, then the Lane Winslow series by Iona Whishaw is just right for you. This is a series set in post-war British Columbia, Canada, but in this fourth book in the series, the main protagonist Lane Winslow has to return to England in an attempt to save her love interest, Inspector Darling, from the death penalty. Old World and New World lock horns in this mystery and give it an added sinister edge, but I suspect other books in the series are much gentler, especially given the idyllic surroundings of King's Cove.
There are three timelines and multiple locations in this novel, and some of them feel slightly gratuitous. The first timeline, set in the book's 'present-day',1947, describes the blossoming relationship between Lane Winslow and Inspector Darling in King's Cove and the case of a murdered Englishwoman and longtime resident of a cabin in the neighbouring woods. The tone shifts abruptly when a government official seeks out Darling reagarding the suspicious death of a gunner under his command during the War. Darling stands accused of having shot the gunner, possibly for reasons of spying for the enemy. He has to return to England to face charges and, if found guilty, he could be hanged.
Lane follows her paramour to England and tries to find out the truth about what happened in April 1943, the book's second timeline. It soon emerges that there was something murky about that period and, one by one, the members of the crew on that flying mission are being intimidated or worse. Lane was a spy during the War and hoped to leave her old life behind when she moved to Canada. It now seems she will have to engage in one last spying mission if she is to save the man she loves. This adds an extra layer of danger, although it would be very unusual to lose one of the main characters in what is essentially a cosy mystery series.
The final timeline has to do with the English past of the dead woman in Canada and takes place around 1905-1907. This is probably the least successful part of the novel, yet it provides fodder for the less experienced Constable Ames to take charge of the investigation in Darling's absence.
The dynamics between Ames, Darling and Lane Winslow play an important part, and they are strong and humorous enough to work even though they are all operating independently for most of the book. While I am not sure how historically accurate the portrait of Lane is, the author has stated previously that her inspiration for her main character came from her own mother, a real-life wartime spy. It does feel at times as though Lane is a little too outspoken and progressive for her time period, but undeniably there were many women who fought and spied alongside men during World War II and considered themselves more than equal to their male peers.
You can start at any point in this series, and I never felt I had missed out on crucial elements from previous books, although for full character development you might want to go back to the first one A Killer in King's Cove.
If you are a fan of the Maisie Dobbs or the Josephine Tey series, you'll find Iona Whishaw's books delightful as well.
Touchwood Editions
Print/Kindle
£4.31
CFL Rating: 4 Stars