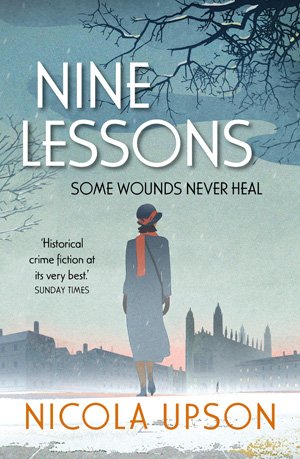 Written by Nicola Upson — You get two real life classic fiction writers for the price of one in this seventh book in a series featuring Golden Age crime writer and playwright Josephine Tey as the main character. And although he died the year before 1937 when the novel is set, the famous ghost story writer MR James is an integral, albeit historical, part of the story too.
There are also two crime plots for Tey and her friend Detective Chief Inspector Archie Penrose to investigate; a series of brutal murders and a rapist terrorising Cambridge, right on Tey's new doorstep.
Nine Lessons however, opens in a graveyard in Hampstead, London, where a church organist with horrific injuries is found buried under a slab, which he has clawed away at for days attempting to escape. Penrose discovers a link between the death of Stephen Laxborough and Cambridge, where he goes to follow a clue and hears that the local constabulary is struggling to find a violent rapist.
Penrose realises there is a connection with the death back to the years before World War I. It was then that celebrated ghost story writer MR James, who was provost of King's College Cambridge from 1905 until 1918, told his ghoulish tales by candlelight after the Nine Lessons and Carols service in the gothic college chapel. Twenty-five years later the men who heard these chilling stories are being killed off.
As Penrose tracks down the former choral scholars he believes their lives are at risk, but his warnings are met with hostility from the 'ruthless and aloof' men who are in danger. When a third murder victim dies after desperately fighting for his life the policeman recognises that all the murders echo elements from ghost stories by James.
Tey is housesitting at her lover Marta's house in Cambridge when one of her young neighbours is attacked and raped in her own bedroom. She is angered by how the women are viewed as victims and shamed by these assaults. The male-dominated establishment is not taking the sexual assaults seriously and the newspaper refers to the girls as being 'ravished'. However the local police are doing their best, but are frankly clueless. Women are terrified and being taught self-defence, windows are barred and keeping them captive and Tey is disturbed that this fear will rob them of the independence they have fought so hard to gain through the suffrage and other militant women's movements.
In a sub-plot, Archie's lover Bridget has recently settled in Cambridge too and when Tey discovers she is hiding a huge secret she is torn between loyalty to her friend Penrose and revealing the truth, which will tear their friendship apart. This interlude propels the series' protagonists along their journey of friendship and reveals more about their personalities if you haven't read the earlier books.
As Penrose and his appealing sidekick Sergeant Bill Fallowfield race to stop the killer, Tey can't resist following her own theories to identify the rapist and claw back freedom and safety for the women of the town.
Upson expertly pulls off the gothic strands to inject a growing sense of menace and fear, particularly when the story moves to the remote stretch of Suffolk coast where James set his brilliant and unsettling story, Oh, Whistle and I'll Come to You, My Lad. If you are not keen on supernatural forces killing mortals, fear not, there is a warm-blooded and cold-hearted murderer at large.
The atmosphere is brilliantly created with the political climate overshadowed by the spread of fascism, the echoes of the abdication of the king the year before, (Penrose guarded Wallis Simpson in Suffolk while she waited for her divorce), and the menacing approach of another world war.
Nicola Upson's portrait of Inverness-born Tey, a shadowy and private person, is expertly drawn and developed across the series and has unsurprisingly enlisted a legion of contemporary fans. Upson can count me as one of those fans.
You can read some of Upson's previous Tey books, such as London Rain or find out more about Tey's own novels. She also makes our Ten of the Best Golden Age Crime Novels list. And check out our exclusive interview with Nicola Upson.
Faber & Faber
Print/Kindle/iBook
£11.43
CFL Rating: 5 Stars