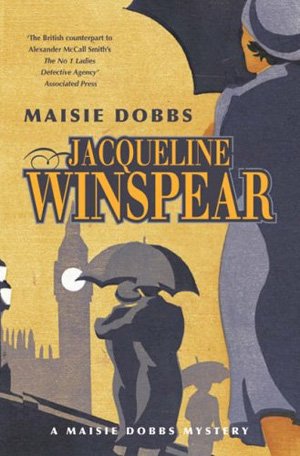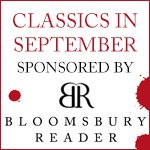 Is it paradoxical to call Jacqueline Winspear's book a classic when it was first published not quite 15 years ago? Though Maisie Dobbs hasn't acquired the patina of age, the legion of fans for the 13-book series would no doubt enthusiastically endorse its classic status. Critically hailed as one of Publishers Weekly's Best Mysteries of 2003 and a New York Times Notable Book of the Year, it received an Edgar Award nomination for Best Novel, and won Agatha and Macavity Awards for Best First Novel. Subsequent books in the series have received numerous awards as well.
The first book is simply titled Maisie Dobbs after its heroine, and begins in London in 1929. Maisie opens her office as a psychologist and investigator. She's enormously advantaged, but not because she's born to the upper classes, like the roughly contemporaneous Lord Peter Wimsey. No, her edge comes from her pluck, hard work and keen insight. Her first client is a man who believes his wife's strange behaviour hides a possible dalliance. Maisie shadows the woman and uncovers something quite different behind these mysterious disappearances. What sets Maisie's approach apart from that of other detectives is the psychologist part of her business. Before she will reveal the wife's sad secret, she makes sure the husband is prepared to act on her findings, in order to relieve his wife's distress.
Perhaps Maisie's perceptiveness arises from life experience as well as her tutelage by the celebrated detective Dr Maurice Blanche. Raised the daughter of a costermonger, financial straits required her to enter service at a young age, and in a long section in the middle of the book, we learn how Maisie's employer, Lady Rowan, discovered her reading in the library in the wee hours of the morning. Her intellectual gifts recognised, Maisie's education was turned over to Lady Rowan's friend, Dr Blanche. Hard work got her into university but her academic career, if not her education, was interrupted by World War I. She served as an aid station nurse behind the front lines of France. Now it's 1929, and though the world powers have signed a peace treaty, for many Britons the Great War is not over.
Both the client's mysterious wife and Lady Rowan's own son – suffering from what was then called shell-shock and which we would today call PTSD – have links to a murky organisation called The Retreat, which purports to give veterans who simply cannot live in society a safe haven. Initially, The Retreat served men whose injuries led to facial disfigurement, but its admission criteria seem to have broadened, and Lady Rowan's son is determined to go there. But is it what it seems? Is something shady afoot? By combining the clandestine investigation of The Retreat with Maisie's strong emotional connection to the experiences of war, author Winspear has created a truly compelling story.
Detective theory
What sets the series apart from the norm is the interplay of psychological elements and Maisie's strong empathy. For example, when she wants to understand the mental state of other characters, she mimics their body language. An even more interesting notion was drilled into her by Dr Blanche, which is that, when you pry a story or a confession out of someone, you need to recognise that, "The story takes up space as a knot in a piece of wood. If the knot is removed, a hole remains. We must ask ourselves, how will this hole that we have opened be filled?"
The idea of filling that hole is intriguing; in other words, investigators' responsibilities don't end when they've wrung a confession out of someone. Maisie has learned this lesson well.
Dr Blanche also impressed upon her that an investigation is not merely a method for discovery, but also one of self-discovery. Although implicit in some detective fiction, it is more explicit, even purposeful, here. Collectively, these psychological elements, which Winspear handles with a light touch, give the narrative an unusual and satisfying richness.
The book is written in an easygoing style, and the details of daily life, manners, and attitudes seem to perfectly fit the inter-war era in which it is set. Never stodgy, it moves along briskly, in part thanks to strong secondary characters. Perhaps because of her upbringing and her war experience, Maisie is comfortable interacting with people across the social spectrum. For example, she inveigles her office handyman, a veteran named Billy Beale, to help in her investigation of The Retreat. The occasional clashes in social strata keep things interesting, as TV shows like Upstairs, Downstairs and Downton Abbey exploited so effectively.
Author's insight
Winspear was born and raised in Kent and worked in marketing and communications in the UK before emigrating to the US 27 years ago. She currently lives in the San Francisco Bay Area. Her grandfather's experiences at The Battle of the Somme contributed to her interest in that era and her understanding of the War's long-term effects. She's remarked on how Maisie "…is very much a woman of her generation." In those times, women took on difficult work – and in the case of nurses like Maisie, great risk – during the War and afterwards. They gained an independence that would have been unthinkable before the War. Many women, of course, had no choice but to work; husbands and fathers were dead or disabled, and almost an entire generation of men was lost. "Social upheaval allows for the strange and unusual to emerge and a time of intense emotions can provide ample fodder for a compelling story," Winspear has said. Or, in her case, 13 Maisie stories so far.
Although different versions of the books have been sold throughout the world, Winspear herself is most drawn to the 1930s poster-style cover designs created by British illustrator Andrew Davidson. She says these covers "…have garnered most attention and have been described as 'iconic' by booksellers and readers alike." Book 14 in the series, To Die But Once, arrives in March 2018.
You can read our review of book nine in the series, Elegy for Eddie, here. For another series that became a classic in an instant, try the No1 Ladies' Detective Agency by Alexander McCall-Smith.