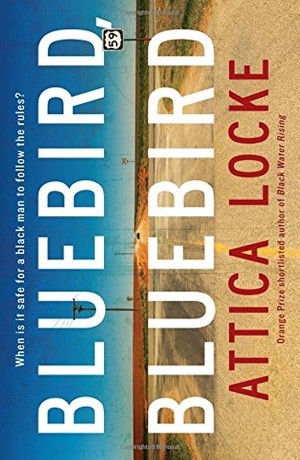 Written by Attica Locke — Trust Attica Locke to write something timely, urgent and true about troubled race relations in present-day America. As she has said in interviews, she wrote Bluebird, Bluebird before President Trump's election, an event which has changed the book without her having to alter a single word. However, this is more of a personal tragedy and community drama than her previous political thrillers like The Cutting Season and Pleasantville. Still, events are continually unfolding in the US and elsewhere that clearly show that the personal is always political, and race is still a hot topic.
Particularly in East Texas, where the Ku Klux Klan remains active and where Darren Matthews is a proud, black Texas Ranger. He was deeply ambivalent about growing up black in the Lone Star State, and tried to make a career elsewhere. But he has now decided that the land belongs to him as much as anyone else and he has deep roots there. "The racists don't get to decide what this place is. This is my home too."
So far, he has been successful in defusing any tension or unsuitable jokes in the workplace. But when Darren is accused of trying to protect a black man who shot a white intruder, he knows his career could be coming to an end. He is given one chance of redeeming himself by going to a remote settlement called Lark, to solve the mystery of a black man and a white woman found dead in the bayou. Two victims of drowning within a few of days of each other, first the black body and then the white body. Surely that is rather suspicious? If it had been the other way round, everyone would have thought it was a revenge killing, but nobody seems to know the black man. He wasn't from around those parts, while the woman is local.
It turns out that the dead man was Michael Wright, visiting from Chicago, and his widow soon turns up asking for answers. Darren becomes a kind of buffer between her and the local community, which seems to gather around two main drinking places: the black community cafe run by Geneva Sweet and the Icehouse, a bar frequented by white supremacists and run by the obnoxious Brady. The local police are unwilling to accept racism as a motive for murder, so Darren has to tread very carefully to avoid flaring tempers and destruction.
Darren and Geneva are both striking and memorable characters, and not all that dissimilar. Their idealism may have become slightly dampened by reality, but they continue to struggle for justice and have enormous empathy for all those more unfortunate than themselves. Hopefully one or both will appear in the next books in the Highway 59 series, a loosely-linked set of police procedurals Attica Locke has planned for East Texas.
While Bluebird, Bluebird provides a complex and rather terrifying insight into race relations in rural America, the book is far more straightforward than Locke's previous works. That is not to say that it is simplistic or resorts to stereotypical characters, simply that it has slightly fewer strands of complexity and intertwining timelines. What it loses in complexity, it makes up for in pure page-turning excitement. Perhaps the years spent writing scripts for TV series such as Empire have convinced the author to focus on single storylines, while still giving us a flavour of the whole community. This looks like a very promising start to a new series.
Bluebird, Bluebird goes on sale 28 September. For more tense reading from the American South try Greg Iles, James Lee Burke or Thomas Mullen.
Serpent's Tail
Print/Kindle/iBook
£6.99
CFL Rating: 5 Stars