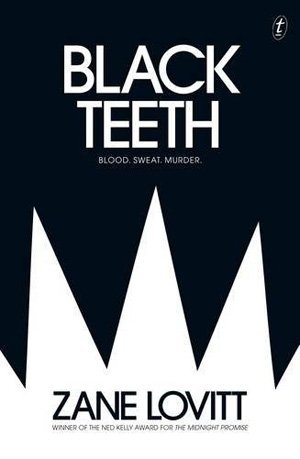 Written by Zane Lovitt — Documentary filmmaker and author Zane Lovitt is a long-time member of the Melbourne crime-writing scene, putting out a bunch of short stories and a couple of novels in a style that can be best described as modern noir with an Aussie twist. His work has won both praise and awards in Australia, and Black Teeth could be the book that really lifts boosts his reputation abroad.
Of all the novels I've read that could be called Neo noir, Black Teeth is the one that most succeeds in combining the new with the noir. The language and the action are both undeniably early-21st century, right down to the chat room lingo and the ubiquity of smartphones and Google. The action, however, is straight out of the dark depths of early noir, featuring insurance fraud, a private detective of sorts, an alcoholic ex-cop, and a deranged loner out for revenge.
The private detective set-up is perhaps the biggest point of difference between Black Teeth and early noir. Jason Ginaff works from home as a freelance researcher, trawling through the digital footprints left by social media users to help employers find out the dirty secrets of their prospective employees. Now Jason feels like he's found his estranged father, or at least the phone number of Glen Tyan, the ex-cop who he thinks is his father. And he's also found Rudy Alamein, another man who's also after the same thing. The difference being that Rudy is after him for a different reason – Rudy blames Glen Tyan for the death of his mother decades before, and the much more recent death of his father, Piers Alamein.
The story of the murder of Rudy's mother and the suicide of his father is so complicated that it keeps slipping away from both Rudy and Jason. The official line is that the father was the killer, and that's who Tyan put in prison. Rudy's father died at his own hand, in Severington Prison, shortly before his health would have given out anyhow. There's enough that doesn't add up to throw some doubt on the official version. Suspects weren't interviewed. Some evidence was ignored and other evidence was conveniently found. On top of that, Rudy is sure that Tyan told him his father wasn't the murderer. All this adds up to a lot of uncertainty surrounding the crimes. Uncertainty that Jason is going to help Rudy clear up.
Jason lies and deceives his way into Rudy's confidence by posing first as a life insurance salesman then as the cellmate and confidante of Rudy's father. With a prison tattoo drawn in pen on his hand, to match the tattoo on the hand of Piers Alamein. The tattoo, the black teeth featured on the book's cover, is a hallmark of Severington Prison, indicating that the bearer belongs to someone.
Black Teeth is undeniably connected to Melbourne and is a delight to read if you are in the city. At one point I was on a train as I read about Jason driving past the very station I was at. The book may not have the same resonance for international readers, though.
The language is an amalgamation of different short forms and idiosyncrasies that have populated chat rooms and Twitter in years past, featuring leetspeak words such as 'norpy', 'dafuq' and 'derp' (used as both an adjective and a noun). The phrase 'I'm like' often precedes speech. It's as real a representation of current speech as Raymond Chandler's dialogue is an accurate representation of LA slang in the 1940s. This dialogue is what gives the book its unique character, what makes it really stand apart from others like it. The plot, like the dialogue, is also a bit too complicated to be taken at face value, but look past this and you'll find a uniquely dark noir gem.
For more Neo noir check out our recent feature revisiting Tomato Red by Daniel Woodrell.
Text Publishing
Kindle/Print/iBook
£7.12
CFL Rating: 4 Stars