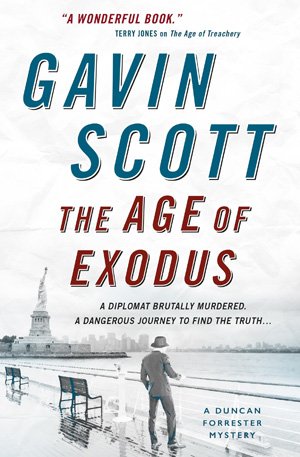 Written by Gavin Scott — The Age of Exodus is a welcome return for Gavin Scott's series, which places ex-SOE operative and Oxford scholar Duncan Forrester at the heart of great moments in 20th century history.
This third novel is set in 1947 as Great Britain decides what to do with its Palestine mandate. The foreign secretary Ernest Bevin has set a course to renege on a previous government's promise to partition the land to create an independent Jewish state for fear of what will happen to the local Arab population, and as a result there have been death threats and even attempted assassinations against him. Meanwhile, prominent Zionists abroad, both in public and in private, act to support the Jewish paramilitary groups attacking British forces in Palestine.
Forrester trained some of these groups during World War II to act against any potential Axis incursion in the Middle East, and accepts Bevin's invitation to act as his bodyguard during a trip to the newly-formed United Nations in New York, where the matter will be decided. The idea is for Forrester to travel in the guise of a historian attending a local academic conference, and should he spot anyone familiar to him during his time in Palestine, then he can warn Bevin's security detail.
Forrester is leaving the country under a cloud, feeling that he has failed to save the life of a young man who had come to him for help. Charles Templar, who worked at the Foreign Office after returning from the War, has been receiving a series of threatening letters referring to a Sumerian artefact he acquired during his convalescence in Egypt after being injured in action. The cylinder seal relates to a mythological demon called Asag and the notes, which are written in an ancient language, threaten Asag's revenge unless the seal is given up. Before Forrester can make headway with his investigation, Templar is found dead in the British Museum, his chest crushed.
Two strands of investigation present themselves to Forrester. The first is a potential schism in London's occult community, and brings Alistair Crowley in to the picture. The second involves Templar's wife, Angela Shearer, the famous and beautiful actress. Forrester's interview with her is cut short by the separate arrival of two of her lovers – the German philosopher and playwright Arthur Koestler, and the industrial magnate Jack Casement. Both are known for their fiery outbursts.
On his voyage across the Atlantic, two incidents suggest to Forrester that his unofficial murder inquiry may be related to not just Bevin's visit to New York, but the whole resolution of the Palestine question. The first is Casement's appearance on board the Liner, and the second is an assault on him during a walk on the fog-shrouded deck, when his assailant tries first to throw him overboard, and then to crush him.
The Age of Exodus is a delight. Forrester is a slightly old-fashioned hero, muscular and certain of his morals even if he is unsure at first of his view of what should happen to Palestine (and Israel). There is a wealth of historical detail in the novel, and Scott, using Forrester's inner deliberations, guides us through the moral maze, putting forward what seems to be a fair representation of all sides. The murder investigation is not neglected, and the novel entertains just as much as it educates. A dramatic shoot out at the New York docks and a perilous journey back across the Atlantic on a ferry bound for Europe to collect Jewish refugees provides plenty of opportunity for Forrester to show his cool head and fighting skills. A doomed romance between Forrester and his ex-fiancée's sister completes a solid all-round entertainment.
We have reviewed all of the Duncan Forrester novels so far – see also The Age of Treachery and The Age of Olympus.
Titan Books
Print/Kindle
£5.79
CFL Rating: 5 Stars