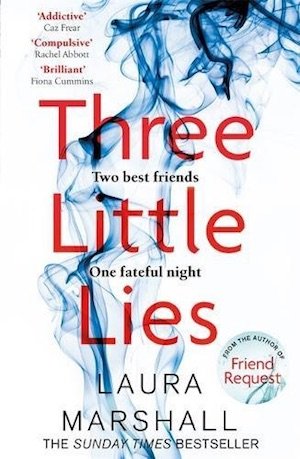 Written by Laura Marshall — Ever noticed how the crime fiction world seems to go in cycles? Not long ago, so many books were being hailed as the next Gone Girl, then readers were overrun with stories featuring missing children. Last year, there was an epidemic of covers in yellow and aqua blue – and now we're in the middle of 2018, another trend is emerging… books with 'lie' in the title.
The Lies We Told by Camilla Way, Peter Swanson's All the Beautiful Lies, Let Me Lie by Clare Mackintosh and Andrew Barrett's The End of Lies have all been reviewed on this site since the start of the year – now Three Little Lies joins them in this great big flurry of mendacity.
Laura Marshall's 2017 debut Friend Request made waves with its cunning use of social media as a major part of the plot. Three Little Lies has no such unique selling point, relying instead upon the well-worn motifs of secrets and – you've guessed it – lies.
Back in 2005 a new family moved into a house on the corner on an unremarkable road in London's suburbs. Teenage friends Ellen and Karina surreptitiously keep an eye on the new arrivals and are delighted to see two good looking teenage boys and a girl of about their own age in the group. Daniel, Nicholas and Sasha are destined to change their lives forever, and not always for the better. As this book begins, Daniel Monkton is in the dock, facing a charge of rape. Karina is the victim and Sasha and Ellen are both lined up to testify against him.
How things came to this pretty pass are revealed, little by little, as the narration jumps between what occurred back then and what's happening now. These days Ellen and Sasha share a flat, with Sasha the shining star and Ellen forever in her shadow. But Sasha has gone missing and Ellen is worried. Could Daniel, who is now out of prison, have exacted his revenge on Sasha?
The police aren't that interested. After all, Sasha is a grown woman and can go where she likes without having to tell anyone. Which leaves Ellen to investigate on her own, and as she deles back into the past, all manner of horrors appear from beneath stones which would have been much better left unturned.
This author excels in conveying the ebb and flow of emotions that come into play in an ensemble piece. As with Friend Request, Three Little Lies really comes to life in the teenage sections of the story. You'll warm to the young, insecure Ellen, insinuating her way into the lives of the Monkton family and revelling in their exotic lifestyle, but the grown-up Ellen cuts a needy, unsympathetic figure and her relentless search for Sasha becomes tedious as it borders on the obsessive. As one character after another reveals things that Ellen didn't know about her so-called best friend, it becomes clear that the missing woman is practised in deception.
You may well work out the twist in advance of it being revealed, in a scene that's melodramatic rather than gasp-inducing, but there's some satisfaction in being able to say 'I told you so', isn't there? Three Little Lies isn't as polished a read as Friend Request, nevertheless there are enough twists and turns to keep fans of the psychological thriller engaged.
Sphere
Print/Kindle/iBook
£6.99
CFL Rating: 3 Stars