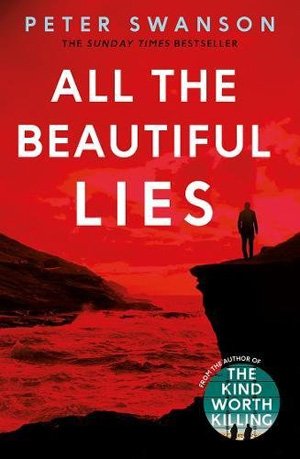 Written by Peter Swanson — Selling old books in a beautiful setting sounds like a dream occupation, doesn't it? But Bill Ackerson is dead, fallen from the clifftop in Kennewick Village in Maine. Prior to his sudden demise, Bill searched the country for rare books to sell in his shops in New York and Kennewick, and mysteries were his favourite. Now he's slap bang in the middle of one.
Because, you know what? Bill didn't fall, he was pushed. And his son Harry is determined to discover who did the dastardly deed. Harry is called back to Maine on the day of his graduation, arriving just in time to learn that what had originally been viewed as an accident was anything but. His father was helped on his way by a blow to the head – and Harry's stepmother, Alice, believes she knows just who was behind it.
But there's something off about the beautiful Alice, who is acting very strangely. And Harry is also suspicious of a young woman who keeps appearing in the strangest of places – then he gets to know Grace, and hears her story, and his suspicions about Alice grow…
Peter Swanson is a past master at the twisty-turny thriller and All the Beautiful Lies sees him at the top of his game. What at first may appear cut and dried, black and white soon morphs into 50 shades of grey (no, not that one). You may find yourself musing on guilt and innocence and everything in between as the narrative tricks you into exploring untold and unsuspected depths.
At the heart of this maelstrom of emotions is Harry, a handsome, likeable if somewhat rudderless young man who should be spending some quiet time grieving his beloved father, but who seems to drag danger behind him like Jacob Marley's chains. Swanson steers clear of romanticising his central character, and Harry is all the more realistic for that. Surrounding him is a cast of oddities, with Alice in pole position. She's a woman with a past, and she isn't about to let that affect her future.
The supporting players may at times appear a little colour by numbers but the settings are beautifully portrayed, with windswept cliffs, cute cottages, pretty beaches and bracing walks enough to fill a Maine tourist brochure. Kennewick is a sweet and unassuming place at first glance, but dig deeper if you dare… What may at first come across as cosy crime is about to shock to the core.
Swanson is no stranger to acclaim. His debut, The Girl With a Clock For a Heart was an LA Times Book Award finalist, while The Kind Worth Killing won the New England Society Book Award and was a finalist for the CWA Ian Fleming Steel Dagger. His last book, Her Every Fear, was an NPR book of the year. Don't be surprised to see this new release included in some of 2018's best-of lists.
There is death aplenty here, but All the Beautiful Lies still manages to create an air of calm for the reader. Which is a neat trick, because just when you think you've got all your ducks in a row, one flies off into the sunset and it's time to recalibrate again. The story is told from a number of perspectives, with the timeline jumping between present and past as pieces of the backstory gradually begin fitting into place. It's a narrative path well trodden by the modern-day crime writer – here it can serve to confuse and I defy you to reach the end without having to backtrack a little.
While All the Beautiful Lies never quite hits the heady heights of The Kind Worth Killing, it's still a great read. You may well work out the killer ahead of time, but I'm guessing the clever final twist will come as a big surprise.
For another small-town setting try Roxane Bouchard's We Were the Salt of the Sea, and for a darker, more chilling version of Maine Elizabeth Hand's Generation Loss is a good pick.
Faber & Faber
Print/Kindle/iBook
£5.03
CFL Rating: 4 Stars