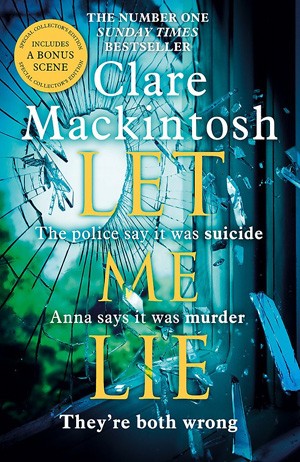 Written by Clare Mackintosh – There's a seemingly never-ending stream of psychological thrillers in the domestic noir pool and its tributaries at the moment. Ever since the massive hits of Gillian Flynn's Gone Girl and Paula Hawkins' The Girl on the Train the waterfall of domestic noir has rushed on unabated. While many books of this ilk become tangled up in the weeds there are a handful of authors, such as Clare Mackintosh, that have carried on to the sea with global bestsellers.
Mackintosh's first book, I Let You Go, with its lightning bolt twist half way through is a worthy success story in what is now a very big pool of thrillers, many of which have so many twists that their stories soon stagnate. I loved Mackintosh's debut, which won the Theakston Old Peculier Crime Novel of the Year, and, to a lesser extent, her second novel I See You.
In Let Me Lie Anna Johnson is deeply in love with and bonded to her young baby Ella, but is grieving over the deaths of her parents Tom and Caroline. Her distress is understandable – they took their own lives by jumping off the cliff at Beachy Head in East Sussex seven months apart. But did they really make the decision to leave her? They weren't depressed and Anna can't believe the suicide verdicts of the Eastbourne coroner, who ruled they were not of sound mind, as they were the last people to give up on life. Anna can't share these doubts with her counsellor partner Mark, the father of her child, who dismisses her theories saying that mental illness isn't always obvious. So she is not getting the support she needs at home.
We know from the front cover, which declares: ""The police say it was suicide, Anna says it was murder. They're both wrong," that the deaths are not what they seem.
Anna is even more convinced her parents were murdered when she receives a Happy Anniversary card, a year on from her mother's death, inscribed with the message: 'Suicide? Think again'. As a new mum Anna is driven to uncover the truth about her family and keep her infant daughter safe.
The only person who will listen to her concerns and treat them seriously is a retired copper, now a civilian on the reception desk of her local nick, Murray, who Anna asks to reinvestigate her parents' deaths. He knows that if he takes the case upstairs to CID it will be instantly dismissed, so he starts pulling in a few favours and runs the risks of investigating it unofficially himself. You will feel in safe hands when it comes to authenticity over the procedural aspects as the author spent over a decade in the police, including a stint in CID and as a public order commander. Mackintosh reveals the inner workings and protocol of a police force with great skill.
Murray's own marriage is fraught with pain as his wife Sarah suffers severe depression and is a suicide risk. But despite this there are light moments when Sarah is well – she's super bright and helps Murray unravel the investigation with her own insights. The couple are so devoted and supportive of one another that this accentuates the less empathetic relationship between Anna and Mark.
As Murray investigates and Anna is subjected to mysterious events and even threats, the lies from people on all sides fly in thick and fast, spinning you round until you are dizzy with the twists and turns. There are multiple narrators who are loathe to let go of their secrets.
The strengths of this book are its ability to draw you into the emotions of everyday people and how they react when bad things happen. It's subtly suspenseful in the first two-thirds like Mackintosh's debut, but like her second you may find the twisty last few chapters take too many unexpected turns. You will need to hold on to the guard rail, especially in the last three scenes.
Sphere
Print/Kindle/iBook
£6.49
CFL Rating: 4 Stars