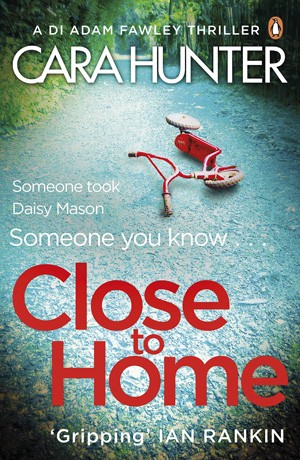 Written by Cara Hunter — Eight-year-old Daisy Mason is missing, spirited away from a family barbecue by person or persons unknown. Who could have taken her and is she dead or alive? Simple enough questions, but don't expect any straightforward answers in Cara Hunter's sneakily deceptive debut novel.
For a start, the word 'dysfunctional' was coined for the Mason family. On the surface they appear normal – husband Barry, his wife Sharon and their children Leo and Daisy live in an executive home on a well-to-do estate in Oxford. Daisy is a bright and willing student who has lots of friends. She's been looking forward to the barbecue and to dressing up with her friends. She even had a pretty daisy costume to wear and witnesses remember her running around excitedly as the party got into full swing.
Or did they? As DI Adam Fawley and his team begin to dig deeper, that 'perfect family' image begins to fracture. Suddenly, everyone looks suspect and all of the Masons appear to have something to hide…  In a clever nod to today's tendency to trial by social media, we also get occasional Twitter threads where all manner of suspicions are aired and the Masons come under close scrutiny. It is cleverly and convincingly done and works really well.
The further I got into this intriguing book, the more I found myself leaping to one conclusion after another – all of them wrong. Hunter is a mistress of misdirection and she takes you on many a mystery tour before all is revealed in an ending that had been so cleverly concealed it left me open-mouthed.
Not content with giving you a complicated and hugely engrossing tale of a little girl's disappearance, Hunter also creates a complex protagonist in the shape of Adam Fawley. From early on there are hints that all is not well in his private life and he and his wife have a prickly, difficult relationship. The author drip-feeds us with tasty snippets that eventually reveal some of the reasons behind it. It's a sad, sad story and enough to get you hooked – as this series continues I have the feeling that we're going to fall under Fawley's rather melancholy spell.
By an odd coincidence, this book is set in the same area as MJ Ford's Hold My Hand (there's even a clown, for good measure). However I found Close to Home a much more bamboozling prospect, and it has a final twist that you're not likely to spot on the horizon. It's also one of those books that you want to read quickly, but hold back because you're enjoying thre experience so much.
The only thing hampering the enjoyment of Close to Home is the scattergun approach to the timeline. You're just getting to a good part of the investigation when the story leaps back 69 days, or 25 years, or two weeks… All of the information included in these flashbacks is important but it's hard to mentally file things in order and retain your focus at the same time.
Oxford-based author Cara Hunter is definitely a name to look out for. She has an engaging style which will carry you along at pace and rarely takes a foot off the accelerator. Book two of the Fawley series, entitled In the Dark, is due out in July and I'm already looking forward to it!
For more crime fiction with an unforeseen twist, try I Let You Go by Claire Mackintosh or In Her Wake by Amanda Jennings.
Penguin
Print/Kindle/iBook
£0.99
CFL Rating: 4 Stars