Can murder ever be cosy? Well, probably not if you're the victim or someone unfortunate enough to be falsely accused of the crime. However, if you're a reader in search of a gripping mystery, then the cosy sub-genre of crime fiction has you covered – which is why it has experienced such massive growth in popularity in recent years.
But what makes a murder mystery cosy? There are arguably several key aspects in this regard:
(i) the murder takes place offstage, generally in a bloodless fashion;
(ii) there is very little violence, sex or profanity featured throughout;
(ii) the central detective is an amateur sleuth, most commonly a woman with a job that brings her into close contact with members of the local community; and
(iv) the crime occurs in a small and deceptively tranquil setting such as a picturesque village.
And now that's been cleared up, it's recommendation time. The five books featured in this list are all cracking cosy crime novels that have been published in the first quarter of 2023 and that are sure to get your little grey cells tingling:
Death Comes to the Costa del Sol by MH Eccleston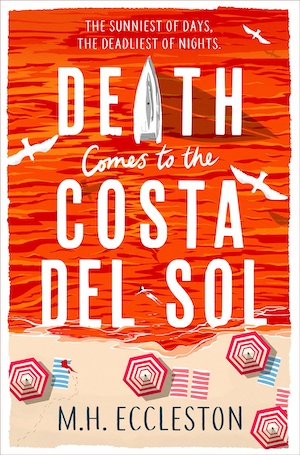 Sun, sangria and sleuthing are all in store for art conservator Astrid Swift when she decides to make an impromptu visit to her estranged father at his new home in Estepona on the Costa del Sol. While their reunion gets off to a less than warm start, the possibility of a thawing of relations is raised when her father asks Astrid to track down an online troll who has been sending his new wife, Jennifer, sinister Twitter messages. Astrid might not know how Twitter works, but she is keen to impress her father and so agrees to investigate, and while she's at it, she also agrees to draw on her other skillset and restore a copy of a Perugino painting for him.
Although the technical aspects of the case prove tricky, it quickly emerges that Jennifer is not the only one receiving online harassment, which means Astrid has to ingratiate herself with the other regulars at Shakespeare's Bar and Grill, a distinctly un-Spanish establishment that caters to British expats. Before Astrid has a chance to make much headway with her investigation, the troll begins to reveal the expats' secrets, causing significant upset. Then, when things take a surprising turn towards the more macabre and Astrid stumbles across a dead body, she realises that the troll must be stopped at all costs.
Death Comes to the Costa del Sol is another excellent cosy mystery from MH Eccleston. With Estepona turning out to be more Midsomer than Malaga, there is crime and grime aplenty for Astrid to investigate, to say nothing of the weird and wonderful people that she encounters while doing so. See our full review.
Try it now on Amazon
Vera Wong's Unsolicited Advice for Murderers by Jesse Sutanto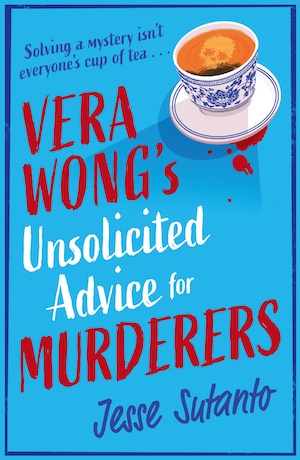 Vera Wong has seen a lot of life and she's definitely not afraid of sharing her observations, particularly about the shortcomings of the younger generations. Unfortunately for the widowed Vera, she has few opportunities to do so. Her once thriving teahouse – named Vera Wang's World-Famous Teahouse in an effort to attract a more upscale clientele – located in San Francisco's Chinatown now only has one regular customer left, while her son Tilly doesn't phone for advice anywhere near as often as he should. In fact, although Vera maintains a strict routine of early starts and constant availability in the teahouse, she is both a little lonely and a little bored.
Vera's life suddenly becomes much more exciting when she trudges down the stairs to open the shop one morning and finds a man dead in the middle of the floor. She's watched enough detective shows to know that she should phone the police, but she also knows that she is likely a better detective than any of the professionals, which is why she removes the flash drive that the dead man is clutching and hides it in her apron before the police arrive. After her suspicions regarding the incompetence of local law enforcement prove correct, Vera decides to place an obituary in the local newspaper in order to draw the killer back to her teahouse. She soon finds herself with four viable suspects, and they find themselves with a straight-talking and interfering elderly auntie with a staggering degree of determination and gumption.
Jesse Q Sutanto's Vera Wong's Unsolicited Advice for Murderers is a funny, complex and heart-warming cosy mystery featuring a truly unique amateur sleuth. Any murderer who attempts to stand again the redoubtable Vera Wong is certainly a murderer to be pitied. See our full review.
Try it now on Amazon
Death Comes to Marlow by Robert Thorogood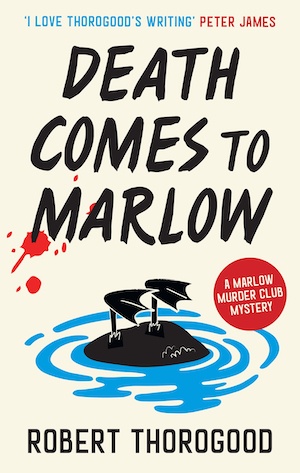 Death Comes to Marlow begins with Judith Potts, the principal sleuth among the Marlow Murder Club, puzzling over the purpose of a secret assignation that seems to have been arranged through the corner clues of the latest Marlow Free Press crossword. It proves to be a puzzle so perplexing that it even disrupts her customary wild swim in the Thames, which is fortuitous as it means Judith returns home early enough to answer a phone call from Sir Peter Bailey, a local bigwig who wants to invite her to his pre-wedding party that afternoon, ostensibly to thank her for solving a series of local murders the year before.
Once there, Judith and her fellow amateur sleuths Suzie Harris and Becks Starling barely have time to tuck into the hors d'oeuvres before the genteel peace of the garden party is shattered by a loud argument among Sir Peter, his fiancée/former nurse Jenny Page, and his son Tristram. After the argument breaks up, Sir Peter storms into the house, where he is crushed to death by a falling cabinet. Despite the incident taking place in a locked room, Judith is certain that Sir Peter was murdered and so determines to catch the killer before there's yet more murder in Marlow.
Death Comes to Marlow presents a particularly fiendish case for Judith and friends to solve. Not only do they have to convince the police that a murder has actually been committed, they also have to prove how it could possibly have been accomplished. And that's before factoring in that the suspects all seem to have unbreakable alibis. It will take a mind as sharp as Judith's, an eye for detail as acute as Becks' and an imagination as brazen as Suzie's to get to the heart of the matter and ensure justice is done. See our full review.
Try it now on Amazon
The Case of the Cursed Cottage by Cathy Ace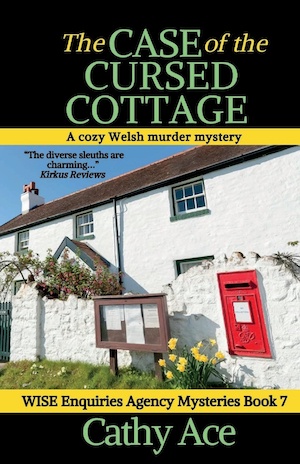 In The Case of the Cursed Cottage, the seventh book in Cathy Ace's WISE Enquiries Agency series, the indomitable band of sleuths are approached by a prospective client with a truly peculiar tale. Gemma Thomas explains that she inherited Sea View Cottage in the village of Port Beynon on the Gower Peninsula from her uncle following his death from carbon monoxide poisoning. She and her husband have renovated the cottage with the intention of renting it out as a holiday let. However, after one of their first guests died when his electric bicycle unexpectedly sent him careening down a steep hillside, and after her husband narrowly avoided death by exploding coffeemaker a short while later, Gemma is convinced that the cottage is cursed. She even suspects that her uncle's death may have been due to the malevolent residence.
Gemma wants the WISE detectives to investigate the cottage and find a way to break the curse. The fact that the cottage is said to have previously been owned by a pair of witches – who may well have cursed its future residents – adds an extra layer to the puzzle and allows Ace to ramp up the tension with the possibility of events having a supernatural basis. Of course, the detectives have no fear of ghosts and so crack on with the investigation alongside several other cases that come their way. It all makes for a complex set of interweaving puzzles that are enthusiastically unpicked by the four WISE women (and Henry). See our review.
Try now on Amazon
Barking Up the Right Tree by Leigh Russell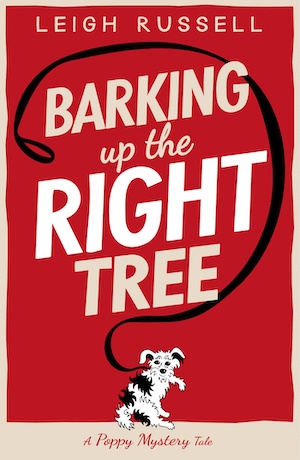 After losing her job and being dumped by her boyfriend in the space of just a week, Emily Wilson feels that her luck is finally improving when she receives an unexpected inheritance from an elderly great aunt. She has been left a cottage in the picturesque village of Ashton Mead, although there is a significant catch: the legacy will pass to another relative unless Emily agrees to look after any pets belonging to her great aunt sight unseen. It seems like a worthwhile bargain to Emily, who quickly makes herself at home in the cottage and begins to integrate into village life.
However, there is one particular villager whom she can't warm to, Alice Thomas, who happens to live next door. The fence between their properties is unusually strong and high, and Emily's new canine companion seems to sense something suspicious about it. Moreover, Emily discovers her great aunt's diary, which contains cryptic notes about the mysterious disappearance of someone known as 'S', something seemingly linked to her reclusive neighbour. As she attempts to find out more, Emily begins to suspect that her great aunt's death might not have been a natural one after all, and as she gets closer to the truth, she finds herself embroiled in a disturbing series of events.
Fast-paced, fun and featuring a fiendish puzzle, Barking Up the Right Tree is a great start to Leigh Russell's first cosy mystery series. The puzzle that Emily finds herself unpicking is a perplexing and surprising one, as what begins with an unusual boundary choice and a daughter's unlikely travel itinerary ends up somewhere completely unexpected, and there are a few shocks and several episodes of deadly danger along the way. See our full review.
Try now on Amazon
Or try these five cosy crime reads from the USA.