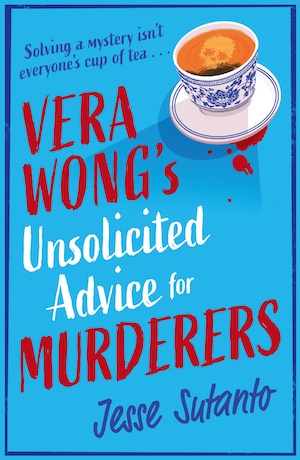 Is there any problem that cannot be overcome with the help of a good cup of tea? It certainly seems unlikely as, whether due to the comforting warmth it provides or the reassuring ceremony involved in its preparation, tea has been making people feel better for millennia. In the present day, the versatile beverage even manages to play a defining role in Jesse Q Sutanto's delightful new cosy mystery, Vera Wong's Unsolicited Advice for Murderers.
As a woman of a certain age, Vera Wong has seen a lot of life, and she's definitely not afraid to share her observations, particularly when it comes to the shortcomings of the younger generations. Unfortunately for the widowed Vera, she has increasingly few opportunities to do so. Her once thriving teahouse in San Francisco's Chinatown now only has one regular customer left. Even worse, her insufficiently filial son Tilly doesn't phone for advice anywhere near as often as he should. Although Vera maintains a strict routine of early starts and constant availability in the teahouse, she is both a little lonely and a little bored, though she'd never admit it.
Vera's life suddenly becomes much more full and exciting when she trudges downstairs to open the teahouse one morning, discovers that there has been a break in and finds a dead man in the middle of the floor. She's watched enough detective shows to know she should phone the police, and while waiting for them to arrive she even takes the time to helpfully draw the outline of the body with a Sharpie. However, she also knows that she is likely a better detective than any of the professionals, which is why she removes the flash drive that the dead man is clutching and hides it in her apron. "Nobody sniffs out wrongdoing quite like a suspicious Chinese mother with time on her hands," she reckons.
Her suspicions regarding law enforcement are proved correct. Believing the criminal always returns to the scene of the crime, Vera places an obituary for the deceased chap, who is identified as Marshall Chen, in the local newspaper in order to draw the killer back to her teahouse. When this plan rapidly proves successful, Vera finds herself with four viable suspects to investigate, and they find themselves dealing with a straight-talking elderly auntie with a staggering degree of determination and gumption.
While the savvy sexagenarian sleuth is no stranger to the cosy crime genre following the success of series such as Richard Osman's Thursday Murder Club and Robert Thorogood's Marlow Murder Club, there's never before been an amateur detective quite like Vera Wong. She's strong-willed, meddlesome and most definitely not afraid to speak her mind. She's also kind-hearted, generous and helpful to those she meets, even when she considers them suspects. She's also extremely funny, perhaps particularly when she doesn't mean to be.
Sutanto relates Vera's investigation in the third person from the perspective of five different characters: Vera herself; Julia, Marshall Chen's widow; Oliver, Marshall's twin brother; Riki, an acquaintance of Marshall who is pretending to be a Buzzfeed reporter; and Sana, another acquaintance of Marshall, albeit this time one who is pretending to be a true crime podcaster. While Vera's motive in drawing the latter four characters to her teahouse is clear, their reasons for following up on the obituary are far more murky, and just as Vera keeps her possession of the flash drive a secret, they all harbour secrets.
Although any scheme to bring together potential murderers would initially appear fraught with danger, Vera's plan actually has the effect of quickly forming an unlikely bunch of people into a kind of family. Whereas Vera is full of certainty and forthrightness, her four suspects are all plagued with self-doubt and vulnerability, much of it caused by the despicable Marshall. It is Vera's belief that her tough love and sage advice could be just what they all need to turn their lives around, and if she is able to catch a killer in the process then all the better.
As for the investigation itself, it is definitely more of a marathon than a sprint. A marathon that is broken up by plenty of breaks to stop and indulge in some delicious Chinese food anyway. Vera manoeuvres herself into her four suspects' lives with ease, drawing them all together as she does so, and then sets about learning all she can about them, even telling them things about themselves that they previously little suspected. Her brash and opinionated ways often leave the other four lost for words, but there's no getting round the fact that she is most often correct. She did insist from the outset that Marshall was murdered after all.
As Vera pursues her inquiry into Marshall's death and attempts to discover how his corpse fortuitously came to be found in her teahouse – all the while brewing the perfect blend of tea to match each aspect of the case – Sutanto carefully weaves the complex relationships among the characters in such a way that they are slowly and satisfyingly revealed. Both the main plot and the various subplots concerning the four suspects are carefully and intriguingly crafted, and there are several clues to the identity of the murderer hidden amongst such details. Moreover, the setting of San Francisco in general, and Chinatown and Vera's teahouse in particular, are evocatively drawn.

A wonderful read for those who enjoy murder, mayhem and home cooking, Vera Wong's Unsolicited Advice for Murderers is a funny, complex and heart-warming cosy mystery featuring a truly unique amateur sleuth. Any murderer who attempts to stand again the redoubtable Vera Wong is certainly a murderer to be pitied.

HQ
Print/Kindle/iBook
£6.74

CFL Rating: 5 Stars