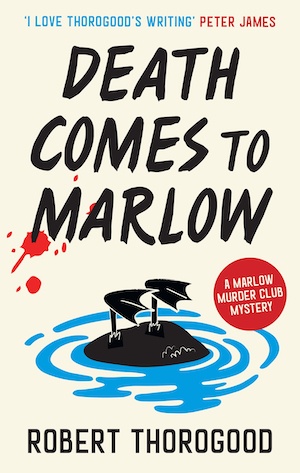 The crossword and the classic murder mystery are two types of puzzle that exploded in popularity following World War I. Both relying on clues, they have been inextricably bound for over a century. While a cryptic crossword clue must comprise two elements – a definition of the answer and a piece of wordplay that suggests the same answer – the clues to solving a Golden Age murder mystery must comply with Ronald Knox's Commandments – the 10 rules that set 'proper' crime fiction apart from so-called 'shockers'.
Given this close association it's no surprise that just as detectives and detective fiction have provided the answers to many crossword clues, crosswords have featured prominently in many notable murder mysteries. Arguably, the most famous crossword in crime fiction appears in Agatha Christie's Curtain, where Captain Hastings' attempt to solve a cryptic clue inadvertently causes him to intervene in a murder attempt, although other examples are available.
With Judith Potts, the principal sleuth among the Marlow Murder Club, author Robert Thorogood adds to the fine tradition of crossword solving lying at the heart of a murder mystery. The writer is well-known for his work on the TV series Death in Paradise. Like the show, Death Comes to Marlow is set in the present day and begins with Judith – or 'Pepper', as she's known in the crossword world – puzzling over the purpose of a secret assignation that seems to have been arranged through the corner clues of the latest Marlow Free Press crossword.
As she tends to do when there's a mystery to be solved, Judith decides to put it out of her mind by indulging in a spot of wild swimming in the Thames, which is conveniently accessible from her back garden. Now, wild swimming in the Thames in January sounds alarming enough, but Judith typically ups the ante by deciding against wearing a bathing suit. It's all going, well, swimmingly until she has an unfortunate encounter with a swan and has to decide whether to tackle the beast or give up on her dip.
"But, like nearly everyone raised in the UK, she knew that a swan 'can break your arm', and she also guessed there'd be something unedifying about a completely naked 78-year-old woman wrestling with a swan."
It proves fortuitous, however, that Judith has to return home earlier than expected, as it enables her to answer a phone call from Sir Peter Bailey, a local bigwig. He invites her to his pre-wedding party that afternoon, ostensibly so that he can thank her for solving a series of local murders the year before, although Judith immediately discerns that there is far more to the invitation than meets the eye. Putting aside all thoughts of crossword puzzles, Judith ropes her best friend Suzie Harris, a part-time dogwalker and local radio celeb, into attending the party with her.
Once at White Lodge, Judith and Suzie link up with Becks Starling, vicar's wife and a somewhat reluctant third member of the Marlow Murder Club, who has been invited to the party as her husband's plus one. Judith barely has chance to explain Sir Peter's surprise invitation to Becks before the genteel peace of the garden party is shattered by a loud argument among Sir Peter, his fiancée/former nurse Jenny Page, and his son Tristram.
After the argument breaks up and both Sir Peter and Jenny head into the house, Judith, Suzie and Becks speak to Tristram and attempt to uncover the reasoning behind Sir Peter's desire for Judith to attend the party. But there is little time for investigative pursuits before the peace is shattered once more, this time by an almighty crash and the sound of glass smashing from inside the house. When the Marlow Murder Club and assorted partygoers follow Tristram inside, they're unable to find Sir Peter, although his study is suspiciously locked.
Upon breaking down the study door, the group is shocked to discover that Sir Peter is dead, seemingly crushed by a large mahogany cabinet that has fallen away from the wall. Given that the study was locked from the inside and the key is found in Sir Peter's pocket, the local police are quick to label his death an unfortunate accident, although former Marlow Murder Club collaborator Detective Sergeant Tanika Malik is not quite convinced. For her part, Judith is certain that Sir Peter was murdered and so determines that they must catch the killer before there's yet more murder in Marlow.
Due to the locked-room aspect of Sir Peter's demise, Death Comes to Marlow presents a particularly fiendish case for Judith and friends to solve. Not only do they have to convince the police that a murder was actually committed, they also have to prove how it could possibly have been accomplished. And that's before factoring in that the small closed-circle of suspects all seem to have unbreakable alibis. It will take a mind as sharp as Judith's, an eye for detail as acute as Becks' and an imagination as brazen as Suzie's to get to the heart of the matter and ensure justice is done.
Despite its difficulty, the mystery is still a cosy one, however, meaning that there is very little blood and gore to wade through, although there are a few shocking moments. Rather than focusing on the undeniably gritty nature of murder, Thorogood centres the story on the characters' reactions and motivations, including the Marlow Murder Club's collective fascination with crime and the solving thereof. There are several people who have reason to wish Sir Peter dead, but none of them seems to have had the opportunity to do the deed, which means Judith and Co have to bring all their bonkers interview techniques and leaps of logic to play to uncover the truth.
Death Comes to Marlow is a warm and humorous murder mystery that challenges even the eccentric members of the Marlow Murder Club, although they of course have no intention of being beaten, even by an impossible crime. And don't worry, they also find time to unravel the crossword puzzle.

HQ
Print/Kindle/iBook
£8.49

CFL Rating: 4 Stars