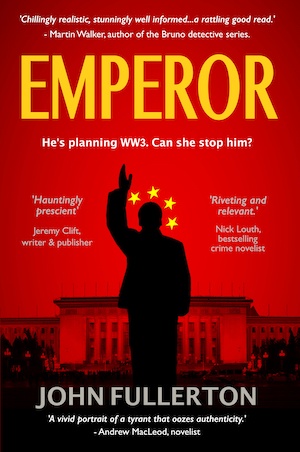 John Fullerton's powerful 1996 debut The Monkey House was set in war-torn Sarajevo and was right in the moment. A handful of engaging spy thrillers followed before the author paused his novels to focus on journalism, although it's also worth noting that he has freelanced for British intelligence. Now retired from the field, he is again concentrating on his fiction. Spy Game, Spy Dragon and Spy Trap, released over the past couple of years, reflected on Fullerton's experience of the Afghan-Pakistan border and the emerging menace of China. It's a theme he returns to once again in Emperor – but this time it's a contemporary tale of a superpower flexing its muscles.
In this high stakes standalone, the author uses a powerful 'what if?' scenario to bring the world to the brink of World War III. Qin, China's feared Communist leader, has become known as 'the Emperor'. He has terminal brain cancer, which is a state secret, and it has accelerated his plans. To secure his legacy, he plans to invade Taiwan. Unifying China will end decades of humiliation for the Communist Party and reinforce the supreme position of the People's Republic in the region.
Of course, there's no way to achieve that without confronting the West. America and her allies have always supported an independent Taiwan. The ramifications of that face-off could be all out war, including the possibility of a nuclear conflagration. Qin has few challengers to his power in government. He has manipulated, bought off and intimidated all the powerful people around him. His is not just the strongest voice in China but the only one that matters.
Qin knows going to war over Taiwan has ramifications for his own family and there are dissenters in the ranks – but how do they prevent the catastrophe? Wang, his chief bodyguard, protects him, turning a blind eye to the deviant sexual proclivities of his boss, procuring and getting rid of the young peasant girls who are Qin's prey. But even Wang doesn't have Qin's trust and all the while the foreign diplomats in Beijing are being wooed, finessed and bribed to smooth the way for the invasion.
Ding Pan wants to help expose what is going on behind closed doors at the highest level in China. She left Shanghai for Hong Kong via a circuitous route to meet her old friend in the US, Ava Schute. Ava used to work for the NSA but now has a high paid private sector job with Cincinnatus, an open source intelligence agency. Pan tells Ava that she has a high placed insider in Qin's inner circle and they have explosive intelligence to share. The insider doesn't want to defect but needs a safe way of passing the information on Qin's plans to the US.
There is little time to act but then Pan goes missing. However, she knew this might happen and arranged for a parcel of documents from the insider to be delivered to Ava, who is desperate to find her friend and must also sabotage the coming Armageddon. War is now just 59 days away.
Fullerton is an original writer, eschewing a glossy thriller style for a more menacing tone that fits this age and story better. There are jokes but they are barbed. This is a wry look at the slippery, screwed up world of political machinations in the international arena. Not as hot a topic in the West as it should be, the threat of China absorbing Taiwan against its will is a constant source of tension in the region.
Emperor is a warning about the West burying its head in the sand and ignoring reality, but all wrapped up in an intriguing thriller. There's a genuine anger at the blinkered approach of the West to China, and agree or disagree it's something we can engage with as readers. The political and military background is well informed and relevant but also clear and uncluttered in the narrative. This is not an all-out action thriller like James Swallow or Gregg Hurwitz. Much of the early novel is slow burn, carefully layered to make the explosive action credible. On the whole the balance between substance and excitement is well done.
The essence of a thriller is to entertain and there's an absorbing cat and mouse chase here, a race against time to stop an all too plausible war, you just have to look at Ukraine for an indicator. With the clock ticking, the weight of Armageddon hangs above Ava's efforts to stop Qin before the missiles are launched. Meanwhile, China's spies are on to Ava and she becomes a marked woman with a price on her head. Qin is probably the most difficult character to draw, a megalomaniac, a dying man who watches show trials and executions while eating chocolate ice cream, but Fullerton's portrait is convincing and that's essential to buying into the premise.
It's surprising that China is so rarely the focus of spy thrillers, even now. Emperor seems prescient and relevant. A good read if you like your thrillers with a pause for thought, gritty and realistic but also high stakes.
For a similar wide screen political thriller try Ken Follett's Never.
Partisan Books
Print/Kindle
£3.99
CFL Rating: 4 Stars