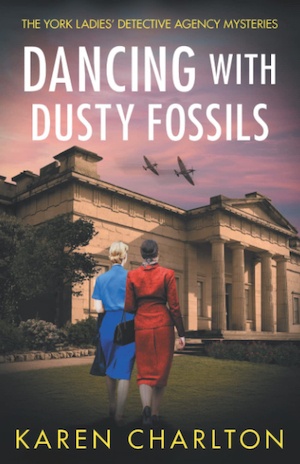 We first met Bobbie and Jemma of the York Ladies' Detective Agency in Smoke and Cracked Mirrors in April 2022, and now the historical crime fiction whirlwind that is Karen Charlton is treating us to book two in the series. Britain is embroiled in World War II, and in the Roman city of York nefarious deeds are being committed under cover of the blackout.
First, a burglary at the Yorkshire Museum leaves a janitor injured and the police scratching their heads. Why would someone go to all that trouble for some not so very valuable artefacts? But this crime is followed by the brutal murder of a sub-curator at the neighbouring Castle Museum, and that's where our duo of perceptive female sleuths come in.
The York constabulary believe they've got their man, Anthony Gill, a quiet and unprepossessing clerk. He doesn't have an alibi and won't help his cause by telling the police where he was on the night of the crime. His desperate lawyer hires Jemma and Bobbie to prove Gill's innocence – but if the man won't come clean, they're going to have their work cut out for them.
As if that isn't enough to keep them busy, the Smoke and Cracked Mirrors agency is enlisted to help in another, more high profile case. A famous and spirited Yorkshire-born actress known only as Jodie is adored by her fans but her aristocrat husband believes she has been unfaithful and wants concrete evidence for a divorce. Which is no easy task – Jodie may appear ditsy, but in reality she is one smart cookie and Jemma and Bobbie are about to be led on a merry dance before they get even a sniff of the truth on this one.
At work, things are going well for Jemma, but her personal life is in disarray. After the shattering revelations of the opening book in this series, she is struggling to come to terms with the fact that her husband has apparently gone absent without leave. The military police are stolidly on the case, but that won't stop the doggedly determined Jemma from pursuing her own lines of inquiry – but will she be prepared for whatever answers she may uncover?
It isn't all doom and gloom in Dancing with Dusty Fossils, however, and Charlton carries off a neat balancing act here, mixing the stark realities of life in the midst of war with some light-hearted moments that will have you chuckling out loud. It's also great to see the return of Jemma's police officer brother Gabriel and freelance photographer Ricky Wilde. Gabriel is about to make a life-changing decision, while Ricky has a much bigger part to play than in book one – and that's all to the good, because he is a great character.
York in wartime is vividly and authentically depicted by an author who never skimps on her research. You're bound to discover something you didn't know as the pages fly past. It's a book that can be read as a standalone, but I'd recommend starting with Smoke and Cracked Mirrors to get a complete picture of what is unfolding.
As well as the aforementioned Gabriel and Ricky, Charlton populates her story with familiar characters and some who are new, including DS Marlowe from Special Branch, surprisingly efficient team member Hannah and the dazzling Jodie. The plot is cleverly put together, with the action playing out in a variety of locations as Jemma and Bobbie use their guile and initiative to get to the bottom of things. There's heartbreak for one series regular and the hopes of a new beginning for another, with enough loose ends to surely merit book three. Let's hope so.
One Woman's War by Christine Wells offers another angle on the role of women in World War II.
Famelton Publishing
Print/Kindle
£5.99
CFL Rating: 4 Stars