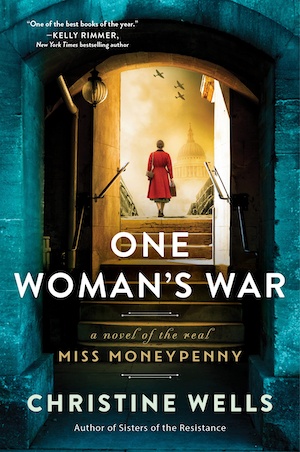 Step aside Mr Bond, it's time for Miss Moneypenny to prove her grit as a World War II spy. In Christine Wells' new historical spy novel, One Woman's War, we meet 19-year-old Victoire 'Paddy' Bennett – the real-life inspiration for the James Bond character who has always played second fiddle to the debonair 007.
It's 1940. War has broken out and people are fleeing from Point Verdon in Bordeaux, France. Panic and chaos ensue as they scramble for boats leaving from the local harbour. Fortunately, the calm-headed Paddy Bennett takes command of the situation and quickly organises and calms the crowd. Her efficiency doesn't go unnoticed by one of the naval commanders present.
A few months later Paddy is working as a a general dogsbody at a London hospital, fulfilling menial tasks despite being trained as a nurse. Paddy meets Admiral Godfrey at a social event, and she recognises the officer with Godfrey as the naval commander who she encountered when fleeing France. He is none other than Commander Ian Fleming. Godfrey needs to appoint an assistant and Paddy gets the job in the Intelligence Division thanks to Fleming's recommendation.
Paddy's opinion grows in value over time, and she is treated as an equal as long as she has something useful to contribute. Working so close to Fleming, Paddy has access to highly sensitive information that none of the officers around her are aware of. She soon becomes more involved in mission planning, including the rather unflatteringly named Operation Mincemeat. This covert mission entails dropping a dead airman's body on the Spanish coast for the Germans to find. The information planted on him will lead the Germans on a wild goose chase, hopefully diverting attention away from the true British mission.
Wells' story is set in a historically significant era. People were living in the moment because they didn't know if tomorrow would come. It was a decadent era, led by the socialite Mitford sisters and the tail end of the Bright Young Things. Personalities such as Henri Matisse, Sigmund Freud and Dylan Thomas appear briefly as characters.
Paddy's path eventually crosses with that of another powerful woman recruited as a spy. We meet femme fatale Friedl Stöttinger in Estoril, Portugal three years earlier. Friedl has performed in clubs from Vienna to Palestine and knows how to captivate an audience. Brought up in aristocratic comfort in Vienna she turned her back on her pro-Nazi family, married an Orthodox Jew and ran off to Palestine. The marriage was a disaster. Not quite fitting in anywhere, Friedl has kept moving, searching for excitement.
Excitement finds her when Kuhlenthal, a German spy, recruits her when he finds her performing in a bar in Estoril. Friedl's mother is dying in Austria, and Kuhlenthal promises to fix her passport so she can return home. Friedl is the ideal spy because of her Austrian background and pro-Nazi family, as well as having a brother-in-law who is high up in British intelligence. She visits her sister, Lisi, in England and immerses herself in the glittering social scene, mixing with aristocrats and royalty. She hears no word from Kuhlenthal and to complicate matters she also agrees to become a British spy.
If you've ever wished Miss Moneypenny received more attention, you'll enjoy One Woman's War. Christine Wells' retelling is made more intriguing and impressive by the fact that she was based on the brave, very real Paddy Bennett. I have to admit though, that Fried, whose codename was Gelatine because she was 'such a jolly little thing' was my favourite character of the two. Who can resist a complex character who is morally ambiguous, reckless and not terribly good at resisting temptation? Fortunately, notorious womaniser Ian Fleming does not get much screen time and Paddy manages not to succumb to his charm. The infamous M, British spymaster Major Maxwell Knight, also appears in a minor role.
One Woman's War will appeal to lovers of historical fiction, in particular those who enjoy strong female characters. Despite covering a lot of ground, the story moves too slowly. The plot puts the focus on the two main characters, providing them with a platform to shine. As a result, espionage lovers may find it a little too light, though it does provide some interesting historical detail.
For more women in leading wartime roles see The Rose Code by Kate Quinn.
William Morrow
Print/Kindle/iBook
£10.11
CFL Rating: 3 Stars