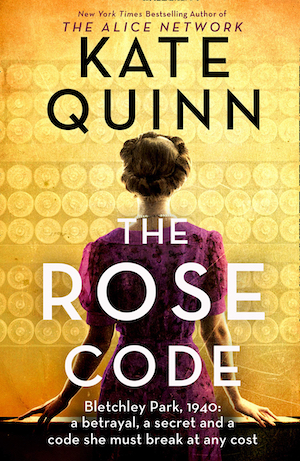 Kate Quinn's engrossing new espionage thriller takes place in two time periods. Most of it happens in December 1939, when three young women converge on Bletchley Park. They've been recruited for jobs that haven't been well-defined—though we readers know the challenges they'll face—and arrive displaying a mixture of youthful high spirits, enthusiasm, and uncertainty. Chapters from the later time period, November 1947, are a day-by-day countdown to the royal wedding of Prince Philip of Greece, retitled as the Duke of Edinburgh, and Princess Elizabeth Alexandra Mary, the future Queen of England.
Most people today know the story of Bletchley Park – how bright young things learned to decode messages generated by the German Enigma machines and, along with a collection of genius misfits and military leaders, put together an enormous decryption enterprise. Quinn's detailed construction of that world is riveting, not just her descriptions of technical matters, but also the human interactions in that intense and desperate enterprise.
Osla Kendall's socialite mother hopes to stash her in Canada to wait out World War II, but the sidelines are never a place for Osla. She returns to London and takes up work at a Hawker Siddeley airplane factory in Colnbrook. She's a goddaughter of Lord Louis Mountbatten and, as it happens, the wartime girlfriend of Prince Philip. Lest you think this is a fictional bridge too far, the character Osla is modeled on the real-life Osla Benning, whom Quinn describes in an afterword as 'a beautiful, effervescent, Canadian-born heiress and Hut 4 translator who was Prince Philip's long-term wartime girlfriend.' Her knowledge of German and French gets her the assignment at Bletchley Park.
Mabel Churt has none of these advantages, living in Shoreditch with her mum and younger sister, but she's bright and hard-working. The Bletchley boffins obtain her name because of her top ranking in secretarial school. The two women, among the many summoned to Buckinghamshire's Government Code and Cypher School, are meant to help the male 'brains of the outfit' with administrative and secretarial duties.
Mab and Osla are billeted in the spare bedroom of a house in nearby Bletchley village, where they meet the shy family daughter, Beth Finch. Beth is their age, but so totally cowed by her Bible-spouting mother, they feel obliged to bring her out of her shell. They persuade her to try for a job at Bletchley Park, to her mother's chagrin, and she turns out to be the best code-breaker of them all.
Osla resents being pigeonholed as a 'silly deb' and lobbies for a job that will use her language skills. Eventually, she and many more women move up in rank and responsibility. The work they do is fascinating and deadly serious, yet the (mostly) young people they work with are full of life and humour. One by one, the coding systems of the Germans fall to their round-the-clock efforts. And from this vital but obscure corner of the War, you view its stuttering progress: Dunkirk, the bombing of London, the naval battle of Cape Matapan, the United States entering the War, the Germans' snarl in the Soviet Union, preparations for D-Day. The innate excitement in the story carries you through, one wartime milestone after another.
World War II is not completely experienced at a distance, though. Osla knows Prince Philip is serving in the Mediterranean during the Matapan battle. Queen Mab can't persuade her mother to leave Shoreditch for safety during the Blitz. Osla is in London at the Café de Paris when it is bombed and barely escapes. When Mab falls in love, her fiancé, also engaged in secret work, disappears for weeks, sometimes months at a time. By constantly grounding her plot in real events, Quinn's narrative feels both believable and significant.
Over all three of them hangs the Official Secrets Act sword. The three friends cannot even tell each other what they are doing in the different parts of Bletchley Park to which they are assigned. The lack of personal knowledge in a sea of information leads to a number of ethical quandaries. The women know secrets they must not share, even when doing so might protect people they love. Meanwhile, the men of Bletchley cannot even hint at their vital work to outsiders, including family members, and are derided as cowards for staying out of uniform.
Years later, in the days leading up to the royal wedding, Osla and Mab each receive a coded message from Beth. The friends have become estranged and they are unaware that Beth is confined in a particularly horrifying mental institution. She talks about the existence of a Bletchley traitor, selling secrets to the Soviets and calls on the bonds of past friendship to bring Osla and Mab to her aid – 'You owe me.' Uneasily, Osla and Mab reunite and the hunt for the traitor is on. Without the resources of Bletchley Park, they must decipher the Rose Code.
Also see The Cypher Bureau by Eilidh McGinness or Fall of Man in Wilmslow by David Lagercrantz, about the death of Alan Turing.
Harper Collins
Print/Kindle/iBook
£5.99
CFL Rating: 5 Stars