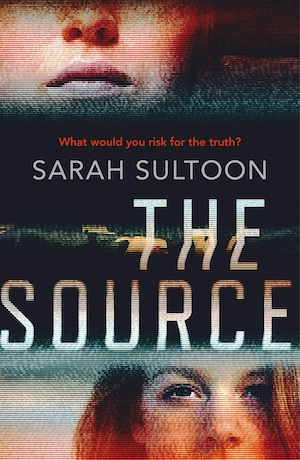 Former CNN journalist Sarah Sultoon has won awards for covering major stories across the globe. But in her first foray into crime fiction writing she sticks closer to home, with a tale centred firmly in the British establishment that's set in the late 20th century and the start of the 21st.
Marie is an assistant producer at Nine News, a national TV channel. As we first meet her she is undercover, working with Nine reporter Dominic on a story that looks set to make big headlines. They are targeting a group of human traffickers and as The Source opens Marie and Dominic are all wired up and about to meet the dealers in people face to face.
The transaction goes to plan and the pair leave elated at the proof they've just garnered. Their story is going to be huge! Then another story breaks and theirs is sidelined, much to the disgust of Marie, who is worried about the women she left behind at the undercover meeting. She might be on her first big TV news story, but this is a focused young woman who veers almost to the obsessive. She has secrets and issues aplenty, and they're about to come to the fore in explosive fashion.
The Source is a two-hander, with dual narratives in play. At first they appear totally unrelated, but as things roll along it becomes clear that they're as entangled as a piece of discarded barbed wire. And at the centre of it all is Marie. But to get to the nub of the matter, we must also follow the story of Carly, a teenager living in a small Essex town that only exists because of the military base it serves. Her brother Jason is a soldier there and his occasional visits, bearing gifts like food for the empty fridge or coins for the equally empty electricity meter, are a bright speck of light in Carly's otherwise darkly despairing existence.
Carly's other reason for living is her little sister Kayleigh, and although Carly is only in her early teens she acts as a surrogate mother to her sister, while their real mother neglects the pair and lives in a vodka-and-nicotine-infused haze. A sad way to live, and so it comes as no surprise that Carly jumps at the chance when she is given a way out. Parties at the army base sound like fun, and her brother Jason seems keen for Carly and her friend Rach to go along – but what is she letting herself in for?
The two worlds collide in the BIG Story that has scuppered Marie and Dominic's plans. It's Andromeda – the code name for a Metropolitan Police Operation that uncovered widespread corruption and paedophilia inside the British military and brought 11 offenders to justice five years ago. Now there is new evidence and a second phase of the investigation is to be launched. And when some of the evidence is leaked to Nine News, Marie is shocked to the core…
The Source is a cleverly constructed story that offers an authentic view behind the scenes in a British newsroom and how breaking stories are handled. I loved how the excitement wafted off the page as the journalists chased down their contacts and followed up on leads. The cut and thrust of modern reporting serves as a sharp counterpoint to Carly's tale, which takes us behind the scenes in an entirely different world. This time it is the sordid reality of a child unwittingly trapped in the web of the Andromeda criminals. Sultoon handles this aspect of her novel with admirable sensitivity and skilfully weaves the two strands together into a satisfying whole.
I found Marie and Dominic a bit annoying in the early chapters, with the latter in particular giving off an air of arrogance that was a real turn-off, but little by little the author cleverly pulls you onside and by the end I was rooting for them both. She also creates a palpable sense of place, with Essex and London being brought to life well – and the scenes set around 9/11 are particularly poignant.
This is an original and on the whole engaging debut and it is clear that Sarah Sultoon has a fine crime writing career ahead of her. Definitely a name to watch out for!
Hold the front page and read CFL's guide to the best crime books about journalists. Essex also features in James Henry's Yellowhammer. Read our full interview with new crime author Sarah Sultoon here.
Orenda Books
Print/Kindle/iBook
£3.79
CFL Rating: 4 Stars