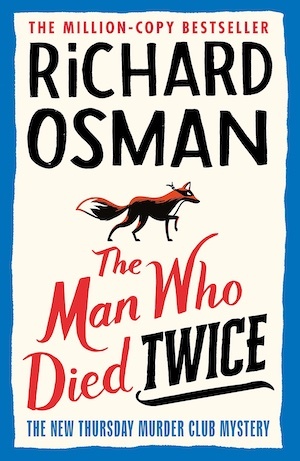 The man is a TV gameshow phenomenon in the UK, but questions were raised when Richard Osman announced he was writing a crime novel. Could this incomer cut the mustard? Book sales of more than a million copies since The Thursday Murder Club was published in September last year, and 45 weeks at the top of the fiction bestseller lists answered that question, in spades.
So book number one was a publishing sensation. But how would the Difficult Second Book fare? Never fear readers, Mr Osman has it all sewn up – and if anything, The Man Who Died Twice is a better read than his debut.
It opens just a few days after the finale of The Thursday Murder Club – the following Thursday, in fact – and Joyce, Ron, Ibrahim and Elizabeth have just finished looking at the cold case of a Hastings newsagent who murdered an intruder with a crossbow back in the mid-1970s. The man had gone to trial and walked free, his record unblemished – although a short time later, the police uncovered the fact that the dead man had been dating the shopkeeper's teenage daughter.
It's enough to interest the foursome for a short while, but they're still on the crest of a wave of success after their last case concluded so spectacularly, so rather than digging in too deep, they go off for lunch in the restaurant in the Coopers Chase seniors community where they all live.
It's a pretty lively affair, the conversation ebbing and flowing along with the wine – but Elizabeth seems a little preoccupied. Unbeknown to the others, she's received a letter from a former colleague who is about to move into a flat in Coopers Chase and has invited her around for a drink. Although it was the winter of 1981 when they last met, former spy Elizabeth remembers Marcus Carmichael very well indeed. Because on their last acquaintance at the side of the River Thames, Marcus was dead. Is she going to accept his invitation? You bet she is!
What happens next sets Elizabeth and the rest of the elderly club members on the trail of a case that will tax their disparate skills to the very limit. Well, let's say the majority of the members, because when Ibrahim is the victim of a vicious mugging the psychologist is really shaken up and loses all his confidence. With him sitting on the sidelines, the remaining threesome take to the task with customary gusto, reluctantly dragging DCI Chris Hudson and PC Donna De Freitas along in their wake. Be prepared for espionage, spycraft, diamond theft, gangland shenanigans and, of course, unnatural deaths before this book is over.
So Osman throws everything AND the kitchen sink at his second crime novel, but that's not too much of a hindrance really, as the story moves along at a pace and with some deft plotting worthy of an author with many more years of experience. There are also giggles, chuckles and outright guffaws aplenty as the story unfolds. Readers of The Thursday Murder Club will be delighted to see all the familiar faces here – including Bogdan, who had a vital role in that book and is an important character in The Man Who Died Twice too. But after all that lightheartedness, a sentence in the final chapter left me with tears in my eyes – it is a beautiful, unexpected line that will likely pull you up short too.
Overall, though, this isn't a novel to be taken too seriously, and probably veers towards cosy. Nevertheless The Man Who Died Twice is a hugely satisfying read and fans will be delighted to hear that two more Thursday Murder Club books are in the pipeline. A pointless purchase? I don't think so!
Fans of Richard Osman's books will feel right at home with The Postscript Murders by Elly Griffiths. And for more crime-solving seniors, see Game for Five by Marco Malvaldi.
Viking
Print/Kindle/iBook
£9.99
CFL Rating: 4 Stars