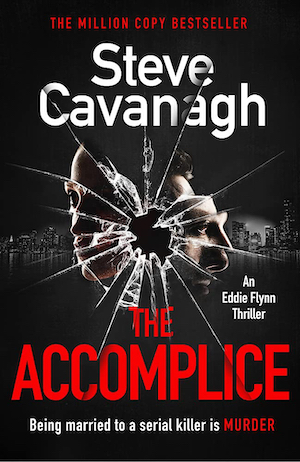 Fictional legal eagles are flying high these days – just look at how successful the recent Netflix adaptation of Michael Connelly's The Lincoln Lawyer has been. And then we have Eddie Flynn, creation of Northern Irish author Steve Cavanagh, featuring here in the seventh book of a series that's garnered awards, high praise and oodles of sales.
Book six, The Devil's Advocate, earned five stars on Crime Fiction Lover, where it was declared "the best Eddie Flynn book yet" – so does The Accomplice manage to reach that very high bar? I was itching to find out.
As the book opens, the spotlight is on a recurring character. FBI agent Paige Delaney is with a SWAT team at a brick colonial-style property in upscale Old Westbury in New York State. They're there on an imperative mission – for 14 months and 12 days, a serial killer who calls himself The Sandman has dispatched 17 victims to their deaths. Now they're at his home, poised to make a capture that would change their careers.
But The Sandman, AKA Daniel Miller, isn't home. Instead, his wife Carrie is there alone, professing no knowledge of what her husband has been up to. Delaney is moved by the obviously shaken woman's protestations of innocence, until the search team finds something that makes the agent see Carrie from another angle – and to immediately arrest her. Soon Carrie Miller is the most hated woman in America, and in the absence of her multi-murdering husband all eyes are trained on her forthcoming trial as an accomplice to his crimes.
And that, my friends, is where Eddie Flynn comes in. Carrie already has a high profile lawyer on the case, but Otto Peltier is used to dealing with tax havens and other such financial matters for his mega-rich clients. He's savvy enough to realise that he's out of his depth, and turns to Eddie and his team for help. If Carrie is innocent, can they turn the tide of hatred thats flowing around her and prove it?
Eddie is inclined to say no and walk away, but his team of Harry, Kate, Bloch and even the office secretary, Denise, seem to think otherwise. Over time this disparate bunch has bonded like family and make truly formidable opponents. Just as well, because they're going to need each other as the story progresses. A meeting with Carrie convinces Eddie that she is telling the truth and he steps into the lion's den. But with only days to go until trial, how will he pull this one off?
Anyone looking for a run of the mill legal thriller won't find it here. Yes, Cavanagh treats us to some fantastic court scenes with the legal cut, thrust and unexpected humour he is known for. But he is never shy of throwing other elements into the mix and with Carrie's husband still on the loose and lusting for blood, we're all set for a story that will keep you up at night, unable to sleep without finding out what happens next.
After the sojourns of The Devil's Advocate it is great to be back in New York and the city throbs with tension as the shadows deepen and we begin to see The Sandman in every dark corner. Cavanagh throws in unexpected development after unexpected development, all the while ratcheting up the suspense – best to keep your wits about you until the final full stop. There' something very Mickey Haller-ish about this former con man turned lawyer and in a perfect crime fiction world these two would work together brilliantly. Meantime, if you haven't caught up with Eddie Flynn, what are you waiting for? Another winner, Mr Cavanagh!
For another top drawer legal thriller see Michael Koryta's How it Happened.
Orion
Print/Kindle/iBook
£6.99
CFL Rating: 5 Stars