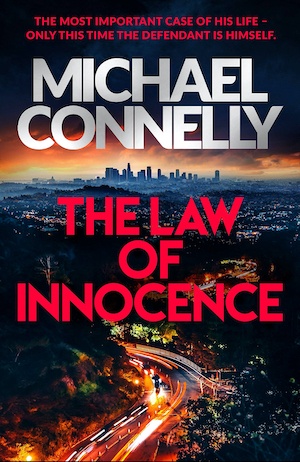 Lincoln Lawyer Mickey Haller has featured in six books in his own right and made guest appearances in other Michael Connelly novels – most notably the Harry Bosch series (Haller and Bosch are half brothers). But what makes The Law of Innocence so different from the others?
Well, Haller himself is in the dock, facing a murder rap, and he's going to need all his well-documented guile and cunning to get out of this one. As the book opens, Haller is celebrating yet another win in court. As is tradition when securing a not guilty verdict, he stands drinks for his legal buddies at a bar near to the court, the bar tab costing him an arm and a leg in the process.
It's when the teetotaller leaves The Redwood that his troubles begin. A cop car appears from nowhere and pulls him over. The Lincoln car that Haller is driving has apparently lost its rear number plate. Oh, and what's that dripping from the boot and onto the road? Could it be BLOOD?
The discovery of con man Sam Scales in the boot of the vehicle, definitely dead and leaking from a number of bullet holes, sends Haller to Twin Towers prison on remand. He's facing a murder rap and on ridiculously high bail. How on earth is the Lincoln Lawyer going to conduct his own defence while he's locked up?
Thus has author Connelly painted himself into a corner, and it's entertaining to watch him try to extricate his main character from the straitjacket in which he's been placed. Will Haller prove himself a Houdini or a who-don't-he? Can you guess?
Fans of the Mickey Haller books expect a fair bit of courtroom jousting, and they'll certainly find some in The Law of Innocence. Haller is conducting his own defence, working in a kind of tag team with the help of his partner Jennifer Aronson. They have their work cut out as the prosecution is being led by Dana Berg, the Major Crimes Unit's star prosecutor. She's a woman on a mission to convict, has no time for Haller or his showboating, and her antagonistic attitude adds a frisson to the legal to-ing and fro-ing which is always central to a Lincoln Lawyer tale.
But a great deal of the narrative is devoted to the issue of finding the actual killer, and fans of the series will be delighted to know that biker Cisco, Haller's main investigator, plays his part (though he isn't quite as evident here as in some of the other books). Harry Bosch also makes an appearance, but sadly he is consigned to the sidelines as a mere bit player – although his contribution to the cause at hand is, of course, incisive and important.
So there is much to whet the appetite here, but somehow all the ingredients don't quite meld together into a completely satisfying dish. There are some finely plotted moments – to be expected from a storyteller par excellence like Connelly – but there are also periods when it feels like you're treading water rather than surging ahead. The Law of Innocence aims high but falls just short of the mark.
Why might that be? Well, I think that the aforementioned corner-painting exercise is partly to blame. It's true that Haller doesn't spend all of his time behind bars but the jail scenes are largely unremarkable and at times predictable. My favourite Haller is the man who struts like a peacock, bending the rules and getting results. Here he is a faded shadow of the man we have grown to love – and that's so darn disappointing.
To witness Michael Connelly at the top of his game try The Night Fire, his second Ballard and Bosch book, reviewed here. And why not check out our guide to his Harry Bosch series which features Mickey Haller on occasion.
Orion
Print/Kindle/iBook
£9.99
CFL Rating: 3 Stars