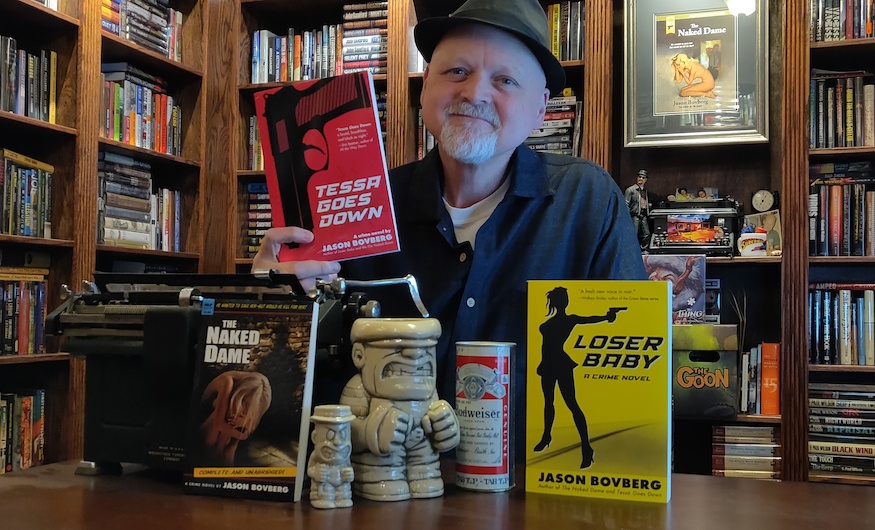 Whether it's zombie westerns, apocalypse horror or fugitive noir novels, Jason Bovberg is an author obsessed with writing pulp fiction and having fun while doing it. His novels are stylish and expressive, full of dense, zesty prose that demonstrates his love of writing and a willingness to push boundaries in whatever genre he tackles. On 2 August, his latest book arrives in the form of Tessa Goes Down – a rip-roaring chase and road trip novel set in Texas with a pulp noir vibe and a contemporary edge to it. It follows Loser Baby, which came out last summer (with a great title) and now has fresh new cover as well.
As well as writing, Jason has set up his own indie publishing house, Dark Highway Press. With Tessa Goes Down about to hit the shelves, we asked him to join us and tell us more about his new book and where his crime fiction writing is headed in the future.
First up, what are crime fiction lovers going to love about Tessa Goes Down?
The pace and the perspectives! They feed into each other. I've been experimenting with point of view for several books now, and my ultimate goal with POV is to intertwine perspective in such a way as to increase empathy, to entice the reader to care deeply about each character's particular viewpoint in real time, as the crime story unfurls. I have an absolute blast stepping in and out of characters' heads to show the reader how a certain event is perceived by various personalities. Combine that approach with the classic noir tropes, and the experience is ripe for reader investment.
Tell us about Floyd Tillman Weathers – what's his angle?
My first image of Tessa Goes Down was a good ol' boy squatting at the border with a bag full of money and a big secret. But rather than some enigmatic cowboy type, I imagined him introspective and troubled. A poet, at heart. I wanted to mess with some archetypes there, play him against type. Part of this impulse is the hope that at least some people living in the deep south hold thoughtful, progressive, inclusive attitudes about the world.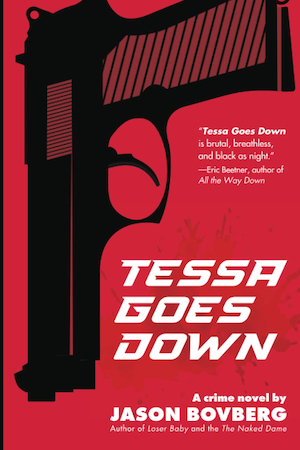 And what about Tessa Rae Jayne?
Once I had Floyd established, I asked myself what might finally rock Floyd out of his careful, criminal routine? That turned out to be the carnal, confident embodiment of the GenZ female, Tessa Rae Jayne, who's got her own secrets. She's an urban Chicago girl, black and proud of it, gorgeous but under-advantaged. Her arrival into Floyd's universe is like a meteorite impact. Tessa is my vision of Floyd's exact opposite, and yet they perfectly fill each other's gaps (in more ways than one).
What makes them work as an on-the-run duo?
Floyd and Tessa complement each other in an opposites attract kind of way. Think of Tessa Goes Down as a two-hander, the snappy chapters alternating point of view so that you get a he-said/she-said approach to their shared story, moment by moment. What stood out to me in the writing, in particular, was the strength of Tessa's character, the way she stands toe-to-toe with Floyd throughout their challenges and troubles, saving herself more often than he saves her. I definitely wanted to subvert the damsel-in-distress trope that's so common in noir.
Tessa is badass, and that's what Floyd digs about her.
It's more than a Bonnie and Clyde thing, isn't it? Tell us about the GenZ perspective you're aiming for.
Coming off Loser Baby, my ultimate neo-noir statement on GenZ – inspired by my daughters' generation – I wanted to go a bit older in Tessa Goes Down. Floyd is 27 and Tessa is 22, but they're definitely youthful. And like most youngsters, they have a certain hopeful longing for the future. I wanted to explore how that innate optimism works for them in a world increasingly characterised by hatred and fear and pessimism. Not to mention the fact that it all happens in the wake of a dispiriting global pandemic. These are tough times, ripe for noir but also for introspection.
What drew you to writing about Texas and the Southwestern US?
I'm originally from Southern California, moved to Colorado decades ago, and I've frequently road-traveled between the two states, taking detours here and there, soaking it all in. Also, like any functioning male human, I have a deep fascination for Texas BBQ, so I travel there a lot. It's all added up to an obsession with the southwest.
Were there any bigger personal or social themes that you wanted to explore?
I wanted to create a true noir for not only GenZ but also the socio-political era of the past six years, which I call the Age of the Asshole. My intent was to contrast the eagerness and naïve confidence of a new generation with the 'bad guys win' realities of today's anti-democratic world. Can Tessa and Floyd overcome the American darkness? It's all excellent fodder for neo noir.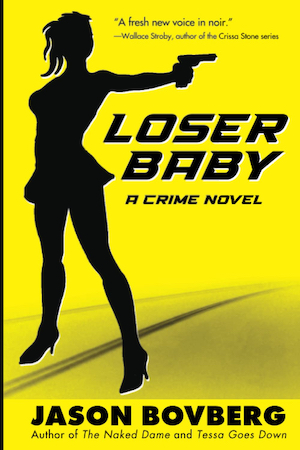 One thing I want to comment on is this book's sexual content. These are a couple of randy kids, and they are completely into each other! In too many crime stories, sex is portrayed violently or in an ugly way. I wanted to write a very naughty tale with plenty of sexual activity, but positively. These are two people in tune with their bodies and their sexuality, and that's in line with the characters' youth and physical fitness and general optimism.
So this is quite an adult book, you might say it's rated NC-17, but for its genre it's uniquely healthy in its approach. It's all about making that vital human connection – within the confines of terrible criminality!
Who are some of your influences?
My primary influences for my current style are writers like Duane Swierczynski, Eric Beetner, Scott Phillips and Josh Bazell – go-for-broke authors who just seem to be having wicked fun. More classically and pulpily, I'd point to Jim Thompson, who was never afraid to push the limits and get down and dirty. A more off-the-wall influence is standup comedian Bill Burr, whose sharp, hilarious voice is something I aspire to. Right now, I'm reading Jim Thompson's Nothing More Than Murder, a sordid tale enmeshed in the movie theatre biz of the 1940s.
Your Blood series was more in the alien x horror category? What made you switch to noir?
I wrote the Blood trilogy as a cathartic exercise. It was my way of dealing with a bout of cancer that I endured during college, the horrors of disease and chemotherapy. It was also my first attempt to try interesting things with multiple points of view, both human and monstrous. Those novels were perfect steppingstones toward the rat-a-tat-tat perspective switching of Loser Baby and Tessa Goes Down.
What's next for Jason Bovberg?
I have two projects simmering. The first is what you might call the concluding volume in my southwest crime trilogy, Little Miss Nobody, loosely based on a true crime in 1960s Arizona. I'm currently working on the right voice for that one. And I also have a finished novel that I'm tinkering with, A Small Poisonous Act, a suburban crime novel about the secrets neighbours keep.
This interview was brought to you with the support of Dark Highway Press.