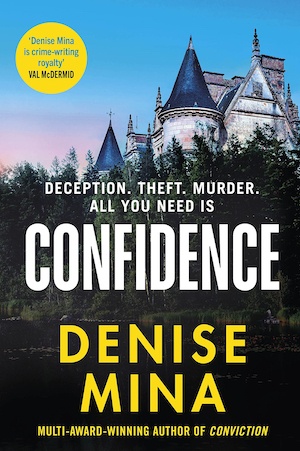 Denise Mina is back with the second in her new 'C-series', featuring Anna and Fin. 2019's Conviction introduced us to podcast fanatic Anna McDonald and rockstar Fin Cohen as their lives were turned upside down by failed marriages and they embarked on a non-romantic adventure together, investigating the mysterious deaths of a father and his two daughters.
In Confidence the dust has settled in Anna and Fin's personal lives and they now host their own highly popular crime podcast. Anna's husband, Hamish, and Estelle, Finn's ex-wife, are together with a baby of their own. In an attempt to get this complex, blended family together and welcome Finn's new girlfriend, Sofia, Anna organises a seaside holiday.
What she envisages and reality doesn't quite match up. The weather is horrible and the egocentric Sofia gets on everyone's nerves. Trying to momentarily escape from the dreaded holiday, Anna listens to podcasts and reads messages from their loyal listeners. She finds a message from an anonymous sender about vlogger Lisa Lee. Anna finds herself drawn into Lisa's world of UrbEx, the urban exploration of deserted properties.
According to the UrbEx code, explorers should only leave footprints and take nothing. But while exploring a particular French Chateau it seems Lisa might have taken something she shouldn't have. Or so everyone believes. The anonymous message includes a link to an auction catalogue where a rare silver casket is up for sale in Paris later that week.
The Voyniche Casket has quite a history. Of Roman origin, it claims to prove the resurrection of Christ. Over the years it's been traced from Hungary in 1978 to southern Italy in the early 90s when it disappeared. Until now. On the screen in Lisa's video Anna recognises the exact casket.
The visit to the French Chateau was Lisa Lee's last film. Shortly after she disappeared from her home in a Scottish seaside town, all her videos were taken down and her Instagram account frozen. Anna vaguely remembers Lisa contacting them about a trip she was taking, but they never replied or followed up.
A disagreement with Sofia gives Anna an excuse to escape from the holiday and try to find out what happened to Lisa Lee. Amidst a raging storm, Anna decides to head home, but as she's about to drive off, Fin jumps in. And so begins an adventure across Europe to find out what happened to Lisa Lee.
Enter Bram van Wyk, a retired South African drug lord, art thief and antiquities smuggler. Against their better judgement Anna and Fin join van Wyk as he heads to Paris for the auction of the Voyniche Casket. Travelling with him isn't the worst experience – a private plane, fancy hotels and a side-trip to Rome are included in the trip. As a South African I couldn't help but cringe at the decription of Van Wyk, which isn't necessarily wrong but is rather stereotypical. Despite his criminal tendencies and horrible accent he might win readers' sympathies with his futile attempts to build a relationship with his estranged son who is travelling with them.
But can Van Wyk be trusted? During the trip Anna and Fin meet some dubious characters. Eugene Lamberg, aka Des O'Brian, is an old friend of Van Wyk presumed to have been dead. After spending years in jail he's now under house-arrest in Rome. Van Wyk and Lamberg are busy with some kind of illegal deal. Through all of this the question remains: Where is Lisa Lee? Have her mental health issues caught up with her? Is she a victim of the so-called Voyniche Casket Curse or is foul play involved?
Confidence is perhaps what The Da Vinci Code could have been if it had some humour and better rounded characters. Denise Mina has the uncanny ability to create layered stories with multiple threads which miraculously come together eventually without losing her readers along the way. Switching between Anna's narrative, which includes wonderfully snarky lines, podcast extracts and articles makes for an engaging read. The Anna and Fin series just keeps getting better and I look forward to what Mina has up her sleeve next.
For more podcast-driven mysteries see the Six Stories series by Matt Wesolowski.
Harvill Secker
Print/Kindle/iBook
£6.99
CFL Rating: 5 Stars