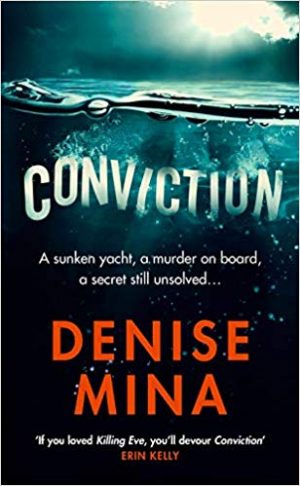 Written by Denise Mina — In her deftly plotted new crime thriller, Denise Mina effectively uses one of my favourite devices – the story-within-a-story – to draw you in. First-person narrator Anna McDonald lives in Glasgow with her older husband Hamish and two young daughters. She loves the quiet of early morning before the rest of the family is awake and uses that time to listen to that increasingly popular genre of podcasts these days: true crime.
Podcast producer Trina Keany has assembled a six-episode series about the sinking of the Dana, a private yacht moored at France's Île de Ré. One night, the ship motored out of the harbour with navigation lights and radio communication turned off. It crossed the dangerous shipping channel, suffered an explosion below decks, and sank. Aboard were a father and his two grown children. The crew had been paid and sent ashore, and the chef had boarded a plane to Lyon. Yet she was charged with and convicted for the murders. Podcaster Trina Keany isn't having it and you as a reader will be equally puzzled by this bizarre expression of French justice.
Anna is one of Keany's many listeners, but her interest ramps up at the mention of the yacht's owner, Leon Parker. She knows him. Years before, when Anna was working as a maid at an exclusive holiday resort in Scotland's eastern Highlands, Parker was a guest. They'd share smokes and conversation out near the trash bins. Now, years on, he's dead and so are his children. She remembers him fondly. "Oh, God, Leon's laugh. So dark and wild you could drown a bag of kittens in it." Mina's prose is full of poetic gems. No wonder she's won all those prizes!
Anna can't reminisce forever, though, she has to awaken her own children and her husband and start their day. In a frenzy of morning preparations, Anna finally answers a persistent knock at the door. Her best friend Estelle is there with a roller bag, and Hamish is at the top of the stairs, his own roller bag beside him. Anna's world is instantly turned upside down, and she says, "I'm not proud of how I handled it." Mina presents this highly fraught scene well; she never lapses into cliché, and though Anna cries and rages, her reaction is perfectly, reasonably unreasonable.
Not only is Hamish leaving her for Estelle, they're taking the girls to Portugal for a week to adjust. He announces that he's keeping the house. Anna will get money.
Listening to more of Leon Parker's story is Anna's frantic attempt at distraction. Throughout the novel, Mina effectively conveys Anna's state of mind, and while she doesn't always make the best decisions, you can believe in her. She's both prickly and charming, and you want her to come out of the experience with body and spirit intact.
But Anna has secrets. She wasn't always Anna McDonald. She was Sophie Bukaran until she was raped by four footballers. The case attracted unwanted notoriety to her, the fans never forgave her, and Anna has good reason to believe the team owner, Gretchen Tiegler, tried to get her killed. Left with a distinctive scar across her eyebrow, Sophie went into hiding and created a fragile new identity as Anna. Hamish knows none of this.
Later that day, Anna has an unexpected visitor – Estelle's husband, Fin Cohen. He's an instantly recognisable member of a popular band who is as well known for being anorexic as for his music. Without thought of logistics or consequences, Anna and Fin launch into a road trip to flee the reminders of their abandonment. Fin's anorexia and Anna's attempts to get him to eat provide a running subtext to the story. How much can someone take in, and what should it be?
As they listen to Trina Keany's podcasts in the car, Fin also becomes intrigued with the sinking of the Dana and the yacht's reputation of being haunted. Anna doesn't immediately tell him all the reasons she's immersing them in this grim story. Not only did she know Parker, but she's learned his wife at the time he drowned was her nemesis, Gretchen Tiegler.
Eventually, Anna and Fin begin their own series of podcasts, asking new questions about the crime. Thanks to Fin's celebrity and the almost immediate outing of Anna as Sophie, their forays into pseudo-journalism attract an improbably large audience. Amongst their listeners, though, are Tiegler's agents, bent on harm. Fin tells her she's being paranoid, until he has a fright of his own. "Now that Fin was scared too, my paranoia never came up again." You'll love Sophie's sly humour.
The cash Hamish left her bankrolls Anna and Fin's international adventure – from Glasgow to the Highlands to the glamorous Île de Ré to Venice and Paris, each described with just enough detail to take you there, but never bogging down their expedition. You're in for quite an adventure, at times a deadly one, with this intriguing tale!
If Glasgow's your thing, you might like Ed's Dead by Russel D McLean, or see Matt Wesolowski's Six Stories series for more podcast crime solving.
Harvill Secker
Print/Kindle/iBook
£13.19
CFL Rating: 5 Stars