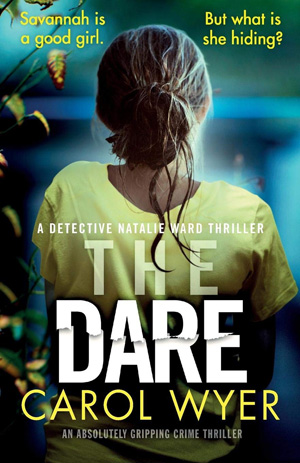 Written by Carol Wyer — The crime writing whirlwind that is Carol Wyer is back with the third in her series featuring DI Natalie Ward, and it's Ward's most complex case yet. A teenage girl has gone missing in Watfield, Staffordshire and search parties are desperately trying to locate her. Savannah Hopkins is 13 and pretty new to the area. She has few friends at her new school and tended to keep herself to herself. In short, she doesn't sound like the sort of girl who'd run away. So, where is she?
When Savannah's body is discovered it is up to DI Ward and her team to catch the pesron responsible. But this killer is savvy. He leaves no clues and is going to be hard to find. They're stretched to the limits on this one – are they up to the job?
Then another teenage girl goes missing and Ward fears the worst. The girls went to schools at the opposite sides of town, had no friends or interests in common. In fact, there seems to be no connection at all. Time to dig deeper, and as the investigation progresses there's a hint that social media is playing a macabre role in what's going on. Hot on the heels of the ice bucket challenge and other similar silly dares, the team uncovers a new and disturbing trend. Teenagers are going missing at will – and it appears there's a website set up specifically to encourage them to do so.
Get comfy because you won't want to stray far from this book as the story develops. Fans of the series already know a fair bit about Natalie Ward and her work and home life, but things go up a notch in The Dare. Having said that, this novel will work perfectly well as a standalone, because Wyer is a dab hand at sharing a back story without you even realising she's doing it.
Alongside Ward is her trusty, if rather underpopulated team of detectives. Budget cuts are hitting hard and she just has to grin and bear it – there's little in the way of sleep for any of them, particularly when the killer strikes again.
Alongside Ward's rapidly escalating domestic woes, other recurring characters have problems too. DS Lucy Carmichael is juggling work with the impending arrival of her partner's baby and beginning to wonder if she's actually up to the role of parenthood, while the most junior member of Ward's team, DC Ian Jarvis, is fresh back at his desk after suffering a serious stab wound to the chest in an earlier case. He wants to get back into the thick of things, but has he come back to work too soon?
It all brings added interest to a story that is destined to keep you guessing. Interspersed through it all are the musings of the killer himself, someone whose presence seems to lurk in the shadows at the edge of every page – so much so, you may well find yourself weighing up the pros and cons of each character who crossed your field of vision. As the police flounder, it's a chance to guess whodunit ahead of that devastating reveal… But will you be right?
The Dare is tautly written, sneaky and smart, with a cast of characters who become more like mates with every outing. This author excels in dialogue, characterisation and setting – and her plots aren't half bad either! Carol Wyer describes it as her favourite book so far and I'd have to agree.
Read our interview with Carol Wyer here. If police procedurals are your thing, try Cara Hunter's books, beginning with Close to Home, reviewed here.
Bookouture
Print/Kindle/iBook
£1.99
CFL Rating: 4 Stars