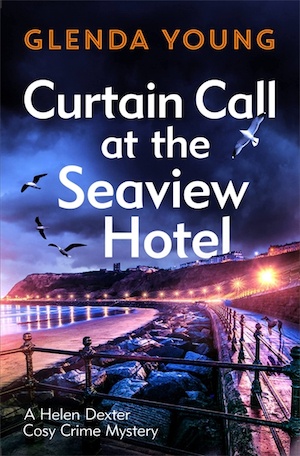 The holiday resort of Scarborough, on the north east coast of England, already has a literary pedigree. Award winning playwright Alan Ayckbourn launched the majority of his work there, at the famed Stephen Joseph Theatre, while Anne Bronte, sister of Charlotte and Emily, is buried in St Mary's churchyard, which overlooks South Bay and the Old Town.
Perhaps then, it is no surprise that Glenda Young bases her novels in Scarborough and in Curtain Call at the Seaview Hotel (follow up to Murder at the Seaview Hotel) she manages a subtle hat tip to both the aforementioned writers, because this second novel in her cosy series is steeped in the theatrical… with much of the action taking place in and around the South Bay and Old Town.
It is mere months since the many-membered Elvis tribute act known as Twelvis left the building, and Helen Dexter is missing one in particular. Jimmy is off working solo on a cruise ship and while the recently widowed seaside landlady is feeling uncertain as to where the relationship might lead, she has plenty on her plate to take her mind off romantic matters.
Foremost in her mind is the Seaview, looking smart after a redecoration and upgrade. Helen is optimistic that the changes will bring the establishment a coveted four-star status, and there are rumours that an undercover hotel inspector is in town, but before she can begin to process the implications of that news, she must welcome her latest arrivals.
Dawley's Theatre Group is booked in for two weeks while work is completed on their theatrical digs. They are bringing a new play to the Modernist Theatre and it is a big deal for the actors and promoter alike. If the play is a hit, it will save the endangered theatre from the chop – and turn the spotlight on playwright, lead actor and director Chester Ford and his star, the waspish former TV favourite Carmen Delray, who is hoping to rebuild her profile after a fall from grace.
As to be expected of those of the thespian persuasion, the troupe makes a dramatic entrance. Soon, however, the curtain is destined to fall for the last time upon one of their number.
The police are at a loss when Carmen Delray's body is found on the beach – time for Helen to hone her detection skills once more. After all, she did a grand job in finding the killer in book one! The trouble is, Carmen rubbed quite a lot of people up the wrong way, so the list of suspects is lengthy. Settle back in a comfy chair and be taken on a trip to the seaside with a side order of theatrical pizzazz. Young creates picture-postcard sharp locations, creating a sense of place so realistic you can almost smell the candy floss and hear the seagulls, while populating her story with – love 'em or hate 'em – a cast of characters that leaps off the page.
Fans of the first in the Seaview Hotel series will be glad to know that hotel cook Jean (disgruntled at having a vegan in for breakfast), Sally, Gaz, Helen's best mate Marie and her odious next-door neighbour, fellow hotelier Miriam, all make a reappearance. It's like meeting up with a bunch of old friends. There's plenty to keep the crime fiction fan busy too, with the aforementioned murder, plus stalkers, threatening phone calls and even some petty vandalism thrown in for good measure. Lots to keep Helen busy then, and the more we get to know her, the more rounded this protagonist becomes. She's a clever mix of Yorkshire nous and seaside fun, and I look forward to renewing our acquaintance on my next visit to the Seaview!
There's more death at the seaside in Cathi Unsworth's Weirdo.
Headline
Print/Kindle/iBook
£2.99
CFL Rating: 5 Stars