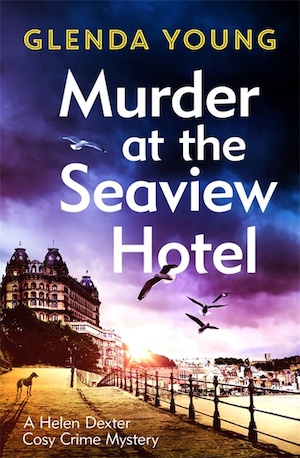 I'm guessing there are plenty of UK-based crime fiction lovers who've spent a night, a weekend or maybe even a week in a seaside B&B. They can probably tell a tale or two about dodgy landladies, uncomfortable beds and spiders in the bathroom. But how many of you have spent the night with the king of rock and roll?
Actually, strike that, because I'm talking about a round dozen Elvis impersonators. Yes, you read that right – because we're in Scarborough on the north east coast of England and Twelvis is in town!
They're booked in to stay at the Seaview Hotel, run alone now by Helen Dexter since the recent death of her beloved husband, Tom. He was a huge Elvis fan, as the jukebox in the bar area attests. She's grieving and struggling to keep the place going, even thinking about selling up and leaving the hotel business behind, but Scarborough is full and she can't bear to turn away the merry band of entertainers that arrives on her doorstep – after all, there's an Elvis Convention on and everywhere else is booked up.
Twelvis is a disparate bunch of all ages, shapes and sizes and Helen immediately warms to them. Well all except one – Elvis Five, otherwise known as Brian. He immediately rubs Helen up the wrong way with his leering appraisal and cloying aftershave. Suki the dog isn't too keen on him either, so that's another black mark.
Helen sets her misgivings aside and she and her backroom team of Jean and Sally work hard to give their guests a memorable stay – but Helen is missing Tom, and the added complication of a local estate agent who is overly keen to buy the Seaview is sending her stress levels sky high. Then she finds evidence that someone has been lurking outside and she is more nervous than ever.
But it's when Brian goes missing that things really kick off, big time. Helen has already deduced that the man is up to no good, but when he is found dead in the nearby park lake, Elvis Five's secrets are gradually revealed – and even his bandmates are all shook up.
Murder at the Seaview Hotel is the first in a series featuring Helen Dexter and it's a great intro to what promises to be a fun and entertaining experience. Author Glenda Young has a lightness of touch worthy of a master baker award as she melds together a tale that is both laugh-out-loud funny and lump-in-the throat sad. Her depiction of a woman deep in grief could be cloying, but instead it is poignant and rings true. The downbeat moments are tempered by the fun of the Elvises – including Helen, acting as a last-minute stand-in called Helvis and providing one of the highlights in a book that is a pleasure to read.
If, like me, you know Scarborough well, then you'll enjoy the depiction of the place, which is so authentic you can almost smell the fish and chips and hear the cries of the gulls. But don't worry if you are not au fait with the Yorkshire coast, because you're in for a treat too. From snooty landladies to malicious online reviews, Young really gets stuck into a seaside vibe that's as traditional as a full English breakfast.
This is a romp of a murder mystery that's as light as a pack of candy floss, but with the many layers of a gobstopper. And I don't need to visit the end of the pier clairvoyant to know cosy crime fans are going to lap it up.
For a depiction of a British seaside resort that is anything but cosy, Cathi Unsworth's Weirdo is recommended reading.
Headline
Print/Kindle/iBook
£0.99
CFL Rating: 5 Stars