According to the Chinese and Japanese zodiac, 2022 is the year of the tiger. In the crime fiction zodiac, we think it should be the year of the assassin. On 29 July, Japanese author Kotaro Isaka's novel Bullet Train will appear in its silver screen adaptation with Brad Pitt in the starring role, and he'll be frolicking up and down the carriages with a cohort of unusual assassins. In plenty of time for that, Isaka's latest hitman-driven novel, Three Assassins, will be arriving in translation for you to devour. And if that's not enough contract killing for you, we'd also recommend you check out our review of The Old Woman and the Knife, from South Korean author Gu Byeong-mo – a top read.
This week, our news column begins with Three Assassins and we've also got the latest historical crime from Karen Charlton, an Edinburgh mystery from Harriet Tyce, a medical thriller from Mahi Cheshire and a new the-past-will-getcha thriller by Susanna Beard.
Right, then. First stop, Japan.
Three Assassins by Kotaro Isaka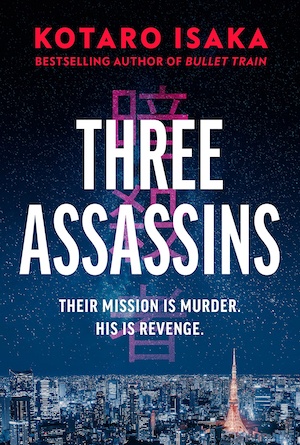 Bullet Train author Kotaro Isaka returns with another high-octane thriller featuring a most unlikely protagonist. Suzuki is an unprepossessing maths teacher until his wife is murdered and he seeks revenge. The path to vengeance leads him to three professional assassins, each with their own agenda. The Whale uses persuasive words to convince his victims to kill themselves, chatty Cicada is deadly with the knife, while The Pusher offs his victims in deadly traffic accidents. Suzuki's plan involves joining their killer collective and then eliminating them one by one. But is that really the best idea? Translated by Sam Malissa, Three Assassins is out on 14 April.
Order now on Amazon or Bookshop.org
Smoke and Cracked Mirrors by Karen Charlton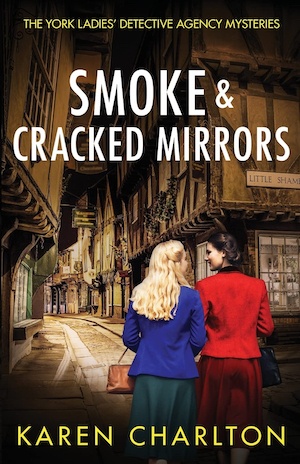 Historical crime writer Karen Charlton has garnered quite a following for her Detective Lavender novels, set in Regency Britain – but Smoke and Cracked Mirrors, out on 15 April, is set in much more recent times. We're in York, in the early days of World War II, where Jemma James has returned to live with her brother after receiving the news that her husband is missing in action. She meets up with old friend Roberta 'Bobbie' Baker and the pair soon turn their childhood love of mystery stories into a burgeoning new detective agency business, with some very demanding clients.
Order now on Amazon
It Ends at Midnight by Harriet Tyce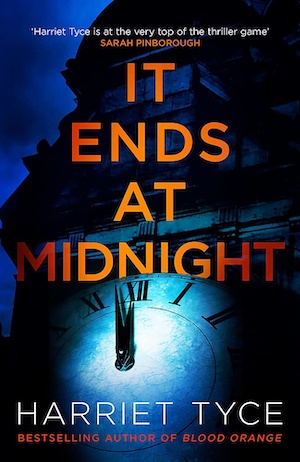 It's New Year's Eve in Edinburgh and as the clock strikes 12 two party guests fall to their death from one of the city's must prestigious addresses. How did things come to this pretty pass? Ah, that would be telling – and fans of Harriet Tyce's twisty-turny thrillers are in for some surprises along the way. Let's just say that it involves friends Tess and Sylvie. Tess is seriously ill and taking a good look at her life so far, while Sylvie has something to hide too. Both want to put things right – but someone out there has other ideas. It Ends at Midnight is out on 14 April.
Order now on Amazon
Deadly Cure by Mahi Cheshire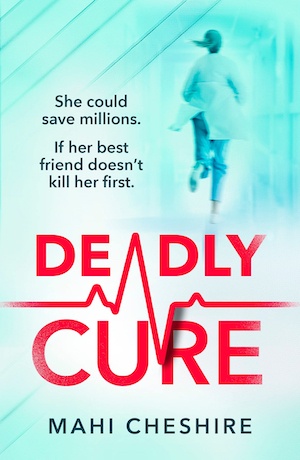 There are doctors doing the dirty on each other in Deadly Cure by Mahi Cheshire, out on 14 April. Dr Rea Dharmasena has her dream research job in her grasp until it is snatched away by her med-school rival and best friend, Dr Julia Stone. And to make matters worse, Julia stole Rea's own cutting-edge research to get the post. Eventually the pair make up, but when Julia is found dead after making a life-changing medical discovery, Rea is the obvious suspect. Rea is finally happy – she has a great new romance and the job she always wanted – but is she the innocent she proclaims to be?
Order now on Amazon or Bookshop.org
The Perfect Witness by Susanna Beard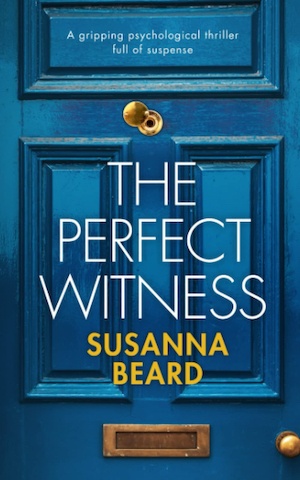 When he was 10, Daniel saw his best friend die: 20 years later he is still haunted by that day. Daniel is a man in turmoil, and he has lost his perfect life, beautiful girlfriend, great job and lovely home in the process. He needs to get himself back on track, and resolves to find out what really happened that night. But as Daniel walks the towpaths alongside the canals of England, desperately seeking the boat he thinks he saw back then, little does he realise that he's putting the one person he trusts in danger… The Perfect Witness by Susanna Beard is out now.
Order now on Amazon