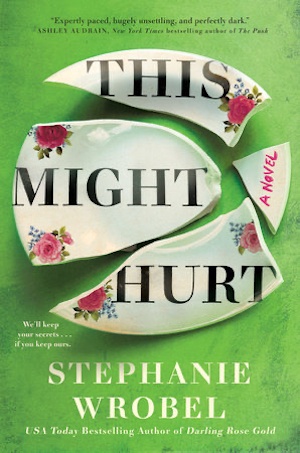 She debuted with a bang, the publication of The Recovery of Rose Gold (Darling Rose Gold in the USA) attracting a tsunami of approval from crime fiction readers and reviewers looking for something a little different. Now Stephanie Wrobel is back with another cleverly conniving psychological thriller.
As This Might Hurt opens, a performance artist is standing in a huge art gallery in front of a small audience. As a videographer faithfully records, she performs a stomach-churning act of self-mutilation. Yes, Wrobel is back, and it appears she's not planning on taking any prisoners, offering a shocking curtain-raiser on a par with MW Craven's Black Summer.
Let that scene simmer in the back of your mind as we meet Natalie, a driven woman whose determination and single-mindedness has propelled her to the top of her PR company, a woman her employees call 'boss bitch' behind her back.
It's all to the detriment of her social life, and her relationship with her sister Kit is also strained. So much so that when Kit decided to go off for six months to find herself at a secretive retreat called Wisewood in Rockland, Maine, she made the decision without asking Natalie's advice.
It's been months, and Natalie hasn't heard a peep from Kit – until an email with no subject line drops into her inbox. "Would you like to come tell your sister what you did – or shall we?" reads the unsigned message. Attached is a map with directions to Wisewood and ferry times to the island. But the second attachment makes Natalie's blood run cold. She has to get there – and fast.
Just as Wrobel has ramped up the tension, we're thrown into a very different world, where two young girls are bullied into submission by their overbearing father. The girls call him Sir, and he takes great pleasure in being cruel to his wife and children. Eldest daughter Jack is the favourite, while her younger sister tends to take the full brunt of his twisted attention. Who is she and what is her place in all of this? Ah, that would be telling…
The narrative swings wildly between Natalie, Kit and the unnamed little girl-teenager-woman whose sorry tale pops up at the most inopportune moments, breaking into the tension and frustrating the reader. Wrobel is very good at this kind of thing and at times it feels like two jigsaw puzzles have been jumbled up in the same box, because none of the pieces seems to fit.
On Wisewood, Natalie finds a strange, and strangely closed, community, its members bowing to the will of The Teacher. There is no internet and mobile phones are forbidden. She just wants to see Kit and for them to both get the hell out of there, but the weather – and the close-mouthed staff members – conspire to keep the pair apart. As Natalie does her best to kick back at the system, we begin to learn more about Kit, who has fallen under the spell of The Teacher and seems perfectly content to stay where she is. Nevertheless, it's clear that both women have issues that need to be resolved.
This is an author who excels at portraying fractured family relationships. We first saw her skill at work in Rose Gold, now she has set her skewed vision on siblings in a book that confounds and captivates. Although it isn't quite as strong as her debut – the scattered narrative sees to that – This Might Hurt is a fine second novel. Here at Crime Fiction Lover we named this book as one of our most wanted of 2022. It lives up to expectations and I suggest psychological thriller fans add it to the to be read list right away.
For another atmospheric and very unusual novel set on a Maine island, see Generation Loss by Elizabeth Hand.
Penguin Random House
Print, iBook, Kindle
£4.99
CFL Rating: 4 Stars