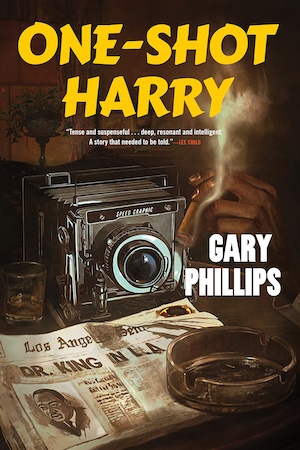 1963. Los Angeles. America is supposed to be desegregated but the racism is still there and for many, society remains psychologically segregated. Nevertheless, LA is a city full of opportunities for Americans of all colours, religions and political persuasions. There's a lot happening here and riding the stream is Harry Ingram, a black Korean War vet who is handy with a camera, knows the beat of the city, but is looking for some direction in life.
Ingram is a guy with a portfolio career, before portfolio careers were invented. Listening for callouts on the police scanners in his apartment, he jumps in his car to shoot car crashes, fights, murders, domestic abuse… you name it. He's like a 60s LA Weegee, snapping humanity at its lowest ebb, selling pics to various black newspapers and magazines. He's also developing a nose for a good story and would love to work for the white press too. Another career he has is freelancing for lawyers, serving affidavits and summonses. This can get combative – it's where his ex-military side is put to use.
One day between sips of whiskey and puffs on his stogie, a call comes through about a car that's crashed through the barrier on Mulholland. He recognises its description and hopes against hope that it's not Ben Kinslow, an old Korean War buddy. Kinslow is back in town lately and Ingram was planning to meet up with him – just not like this.
At the scene, we see how Ingram works. He's press accredited but avoids the police, skirting the area and doubling back down the hillside to the wreckage. It's Kinslow alright but before he can get his tight shots Ingram is beaten up by two white cops who smash his Speed Graphic. It's not the first or last time this will happen but Ingram manages to swap his film out before the cops open the camera. When he processes the film, he thinks he sees that the brake cables are damaged and a mechanic friend confirms this.
When the cops rule the death an accident, Harry decides to get justice for his friend. Kinslow was a white jazz player who mixed with musicians of all colours on the scene. If nobody's going to find out who killed Kinslow and why, Ingram will. It will give him purpose, and maybe even stop his wartime hallucinations from returning. They take him back to army raids on Korean villages, or he hears the voice of Seoul City Sue – the North Korean propagandist who tried to flip US soldiers on the airwaves. You get the idea he has PTSD but in 1963 that wasn't a thing.
There's a lot going on in this book, more than you realise, because Gary Phillips gets it done slow and steady with clear prose, showing you what you need to know – never too much or too little. It feels very much like a book written in 1963 – not jazzed up or a contemporary spin. The cars, the bars, the music, the food and the conversations put you there. The hierarchy and mores are as complex as in any Jane Austen novel and are based on money and power, race, religion, politics and gender.
Ingram takes constant care over when and how he stands up to white people. There are several moments when a false move could lead to him or one of the other black characters being injured or killed. That's one factor in the tension that drives One-Shot Harry.
Phillips weaves Ingram's tale into what was happening in the city at the time. Soon, Dr Martin Luther King Jr will be addressing a rally at Wrigley Field. (LA also had a Wrigley Field back in the day.) And, Thomas Bradley, a former black LAPD officer, is running for mayor. Ingram will want to photograph these figures. He also photographs a Nation of Islam protest – inspired by Malcolm X. Phillips mixes these real-life figures in on the fringes, while never skimping on his secondary characters. Everyone Ingram meets – from war vets to print house workers to jazz musicians – comes to life on the page.
During the story, Ingram hooks up with Anita Claire, a woman working on Bradley's campaign. Of mixed race, her parents were activists who mixed with Communists and trade unionists in the 40s and 50s. On top of investigating Kinslow's death, Ingram agrees to help Claire find a diary that belonged to a friend of her family – it's full of names and details about left wing organisers. This becomes a secondary storyline.
By sleuthing and snooping around, Ingram discovers that Kinslow had photographs of distinguished white citizens in compromising situations. Could blackmail have led to his death? Soon, Ingram is being tailed by two heavies – he wonders if they're G-men or if they're working for Hoyt, the rich man Kinslow was working for at the time of his demise. By the final chapters of the novel you'll have seen plenty of action, and lots of clever work by Ingram, who proves he is a hero worth rooting for. He's cynical and wary, nosey and sneaky, tough when he needs to be – but most of all he wants to do right by his friends and his people.
If there's a weakness here, it's that things are wrapped up quite hastily and the ending isn't entirely satisfying. This is deliberate – it feels like there's a sequel or more on the way because Ingram is left with unfinished business.
There is also a point in the story when Ingram and a friend reminisce about reading Fantastic Four comics as kids, but the Fantastic Four didn't appear until 1961. A comics head like Gary Phillips would know that so it's almost certainly creative license. Maybe he's throwing a No-Prize out there to melt the hearts of old geezers and geezettes like us here at CFL.
With its setting, this novel might remind you of Easy Rawlins or Harry Bosch, but I would strongly recommend reading it as a counterpoint to the LA Quartet by James Ellroy. Gary Phillips authentically tells the other side – those who faced police and institutional racism in Los Angeles. And while, yes, it's about race, the author succeeds in directing us well beyond that theme and towards something much bigger. It's about justice.
Gary Phillips shares his crime classics here.
Soho Crime
Print/Kindle/iBook
£12.34
CFL Rating: 5 Stars