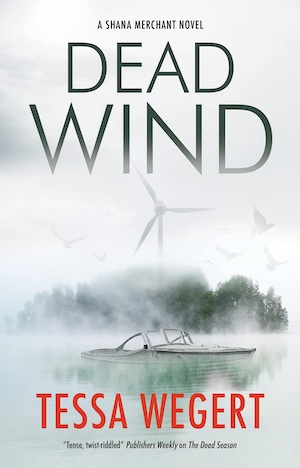 In the third novel in Tessa Wegert's Shana Merchant series, our protagonist and her colleague, Tim Wellington, are called out to Wolfe Island, Ontario, where the body of a middle-aged woman has been found at the base of a wind turbine at a wind farm on the island. Tim thinks he recognises the strangled corpse, but he can't quite place her.
When she is identified as not only American, but from the Alexandria Bay community in Upstate New York, where the state detectives Shana and Tim live, the murder hits home. The killer transported Hope Oberon from the US side of the St Lawrence River into Canadian territory as a decoy – but why? This attempt at misdirection sounds just like the MO of the serial killer they have been chasing for months.
Blake Bram is wanted for killing three women in New York then kidnapping Shana and holding her captive for eight days. After the incident she was put on probation to get her head straight. She went from being a well-adjusted detective to a severely traumatised victim. She also started a relationship with Dr Carson Gates, the psychiatrist who treated her, eventually becoming his fiancée. Gates is manipulative and vindictive, and the relationship didn't end well, but he resurfaces here to Shana and Tim's chagrin.
After Shana's kidnapping Bram abducted a local nine-year-old boy to attract Shana's attention and he's been playing mind games with her ever since. Bram knows Shana. He's known her for most of her life, because Abraham (Abe) Skilton – AKA Blake Bram – is her cousin. She's convinced she knows him better than anyone and therefore is the best person to track him down. But Shana knew the young Abe, not Blake Bram. This is a new, much scarier version of the cousin she grew up with, one who won't hesitate to mutilate a child or kill more people.
Remembering details from their childhood Shana realises that the signs were always there. Abe exhibited sociopathic behaviour as a teen and had the makings of a future killer. Once, he carved a mark into Shana's cheek with a rusty nail, as if to claim her as his property. Abe Skilton fled from Vermont in 2002 and emerged 14 years later on a killing spree in New York. In Dead Wind he still harbours an obsession with his cousin, which is why his victims often resemble her. However, Hope Oberon was an older woman. Whoever killed her was strong enough to fracture her trachea.
Meanwhile the people of Alexandria Bay are living in fear and are convinced that Hope Oberon was murdered by Blake Bram. Finding the killer means the duo has to investigate friends, neighbours and, in Tim's case, people he's known all his life.
There are a few people who wanted to get rid of Hope, who was a property developer. When she was charged with misconduct and corruption over the construction of the wind farm, her family's reputation and her husband's restaurant suffered. The family was shunned by the town's people. Then there's the bird-loving environmentalist, Val Giovanni, who opposed the wind farm. His passport was used at the Canadian border at the time Hope disappeared.
As Shana works on tracking Hope's killer, she receives messages from Bram. There are moments when she seems to feel his presence and has to be alert to possible threats. Shana's PTSD, including numbing anxiety, isn't downplayed, but nor does it dominate the story. Unlike the detectives in many other crime novels she's not a broken, dysfunctional or struggling human being. She does what has to be done.
That Bram is Shana's cousin is a secret known only to Tim and Sheriff Maureen McIntyre. Shana feels responsible for leading Bram to the town and fears that people might realise that the trouble only started when she arrived. Violent crime isn't common in these parts. The only way to lure Bram out and catch him is for Shana to set herself up as bait. But what would the impact on their family be if Shana catches him and it becomes known that he's a serial killer?
Between catching Hope's killer and setting a trap for Bram, Shana has her hands full, but despite her own mental issues she's adept at using her suspects' weaknesses to her advantage. Tim is protective of Shana and although he knows she is capable of looking after herself he's still concerned that her obsession with finding Bram is putting her in harm's way. Being protective comes natural to Tim. This is why he became an investigator – to fight for justice on behalf of those who can't. As Shana grows closer to Tim and his family she inevitably puts him in danger despite her self-imposed rules designed to keep her friends and family safe. However, their budding relationship is a refreshingly normal one.
Wegert writes an engaging detective novel with relatable characters, interesting diversions and, ultimately, a tight and convincing plot which delivers the perfect amount of suspense. There are some nice, poetic tinges of noir in her descriptions and some light humour to occasionally break the tension. Highly recommended if you enjoy a good, solid crime story which delivers more than it promises.
For novels with a similar setting, not far away in Quebec, try Louise Penny's Gamache series.
Severn House
Print/Kindle/iBook
£16.71
CFL Rating: 4 Stars