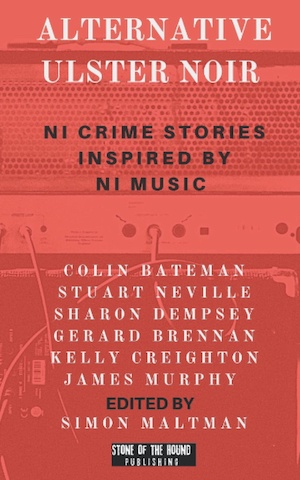 Edited by Simon Maltman — It's not quite The Magnificent Seven but here we have seven crime authors from Northern Ireland weaving tales inspired by the Ulster music scene. Naturally, there's a drop of murder and mayhem to spice things up. Each writer has chosen a song that frames the mood of their story so they are firmly grounded in time and place and they all riff on some amazing tunes. This is an anthology offering a solid confection of dark doings, misfits and innocents, nostalgia, pathos, twists and a sideways look at life that is loaded with fun.
The collection kicks off with She'll Be Here Soon by Kelly Creighton, which takes Goldfinger by Ash as inspiration for trip down memory lane… with a twist. The classic teenage love rivalry spirals right out of control. Emma thinks she's got it made with her expanding drugs racket. It's all good, except boyfriend Jake keeps mentioning his lovely ex, Imelda. (Although maybe it was it Emma who brought it up this time?) Anyway, everyone likes Imelda, and she's a good person blah, blah, blah. Imelda's friends have good cause to think that Emma snitched on her boyfriend and got him sent down. They are coming for her but, never one to back off from a fight Emma, has a plan to fix Imelda. We know how plans go in crime fiction, don't we, and this one goes badly wrong.
One of our favourites is Colin Bateman's Astral Weeks. Riffing on Van Morrison's iconic album and dialling up the humour to 11 it's laugh out loud funny. Van Morrison organises a hit on local legend and self-proclaimed president of the universe, King Om. King Om, real name Cecil McCartney, has claimed for years to be the creative force behind Van the Man's album. Now, Morrison is so angry he wants Cecil dead. Only the hitman he chooses isn't just going to pull the trigger no questions asked. It's a joke but it's unlikely the renowned grouch Van Morrison will like this portrait of himself. Everyone else will love it, though.
James Murphy chills the tone with How to be Dead, inspired by Snow Patrol. It's about a psychologist interviewing the sidekick of a child murderer. Dr Carolyn Harkin will soon feature in a full novel so this short story is a taster. Murphy wonders where these dangerous people go when they get a new identity after prison, effectively becoming dead to the world. The authorities are about to release Jade, partner of notorious killer Ian, but Dr Harkin thinks Jade had more to do with the murder of young Marcus Smyth than Jade admits. Will she be able to convince the authorities to delay Jade's release.
Sharon Dempsey must have got in first and bagsied Teenage Kicks by the Undertones for her tale, Head Girl. This tale explores a true story handed down from her childhood, or is it simply an urban legend? A burglar, Malachy, is faced with a moral dilemma when he comes across a headless corpse in the living room of a house he's robbing. It's a bit of a shock, then a quandary. The only thing for it is to rifle through the woman's record collection and cogitate. The Undertones are perfect for it.
There are three more stories; Black Dog Sin by Gerard Brennan (Joshua Burnside), Trigger Inside by Simon Maltman, the editor of this collection; and it's rounded off by Stuart Neville's Holy Diver (Dio featuring Vivian Campbell). All the titles are the songs chosen.
If you don't know Northern Irish crime fiction here's a perfect start and all of these writers have novels out and/or in the pipeline so there's plenty of scope to follow up if a couple take your fancy. Sometimes it's hard to get a feel for the unity of an anthology but it's clear here in the place, the people, the humour and the music. I don't know how much editing there was here but I suspect the stories were all pretty tight when presented and this is shortish short fiction. A couple more would have been more than welcome.
Colin Bateman's story is notable as it is the only out and out funny tale, the others are graded in darkness toward Brennan's bleak tale. There are no standout classics, however, in their own way, all offer something original and entertaining and no one lets the side down. A collection like this can only comes together with the financial help of the NI Arts Council but it deserves to be a commercial success. I'd be happy to revisit a second collection if this anthology takes off.
If your interest is piqued try The House of Ashes by Stuart Neville or see our feature on Northern Ireland Ten Books to Try.
Stone of the Hound Publishing
Print/Kindle
£1.99
CFL Rating: 4 Stars