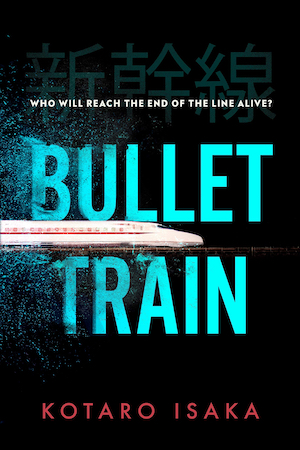 Translated by Sam Malissa — If you ever find yourself on a train in Japan it's best you forget the premise of Kotaro Isaka's latest crime fiction novel to appear in translation. In Bullet Train there are no less than five assassins on a high-speed train travelling from Tokyo to Morioka. Driven by their search for a suitcase full of cash and survival instinct, these characters embark on a fast-track joyride which is part crime-packed comedy of errors and part action thriller.
So what do you get when you take a psychopath, the world's unluckiest assassin, a vengeful father and two hitmen named after citrus fruit and put them in a confined space? And, just to make things interesting throw in a few extra undercover criminals, a suitcase full of money belonging to a crime boss and a snake? Yes, a snake.
Isaka knows how to keep his readers on their toes. His characters are colourful, varied and morally despicable. Yet thanks to off-beat humour, quirkiness and their unique vulnerabilities we start rooting for these immoral criminals just because they seem almost normal – except for the killing part, of course. Trivial conversations about mundane topics make them strangely relatable and a lot less threatening.
The exception is the one character who will leave you stone cold – Satoshi, also known as Prince. And here's the tricky part. Prince is only 13, but he's a vicious and cunning psychopath who uses his innocent appearance and the fact that he can't be incarcerated to manipulate others into committing crimes for him. He is introduced when retired hitman Kimura tries to track him down on the train. Prince was responsible for Kimura's young son's fall from a department store roof, which left the boy in a coma. Kimura has sworn revenge, but his plan immediately backfires when Prince uses a stun gun to incapacitate him and threatens to kill his son if he doesn't give in to his demands.
Meanwhile, Nanao, the self-proclaimed unluckiest assassin in the world, boards the train with instructions from his agent to locate a suitcase full of money. Known as Ladybug in the criminal underworld, nothing ever goes to plan for Nanao. Fortunately, Tangerine and Lemon – AKA the Fruit Twins – are momentarily distracted and leave the suitcase they are supposed to guard unattended. The twins have bigger problems than a missing suitcase. They have to return the kidnapped son of notorious kingpin Minegeshi. Preferably alive.
What follows is a bizarre, over-the-top, almost farce-like situation of double-crossing, twists and confusion as to where the suitcase is and who works for whom. You will be given multiple parts of the puzzle and all the information, but much like Bullet Train's characters, it's hard to see the big picture and recognise which cardinal piece is missing.
As the train speeds towards Morioka the five assassins realise that they are all connected in some way and that there might be other killers on board. Not only do they have to survive until the end of the trip, but they have no idea what awaits them when they get set foot on the platform.
On the surface Bullet Train can easily be compartmentalised into the action-thriller genre, but there's much more to it than a thrill-a-minute action fix. It's dark, funny, absurd and it certainly boast the most interesting bunch of characters we've seen in a while. An assassin obsessed with Thomas the Tank Engine, another who quotes Virginia Woolf verbatim – you can't ask for anything more unpredictable or quirky.
Kotaro Isaka's books have been published in Chinese, French, Korean, Taiwanese and Thai but prior to Bullet Train, Remote Control is the only one that has made it into English. It can be read as the predecessor to Bullet Train. The publication of Bullet Train, with a Hollywood adaptation starring Brad Pitt to follow, should confirm Isaka's cult status in Japan and hopefully introduce a whole new audience to his writing. Bullet Train is unadulterated cinematic joy. You don't even have to wait for the movie, the novel will be enough to satisfy your appetite.
Read our interview with the author, and discover six more Japanese crime authors here.
Harvill Secker
Print/Kindle/iBook
£10.39
CFL Rating: 4 Stars