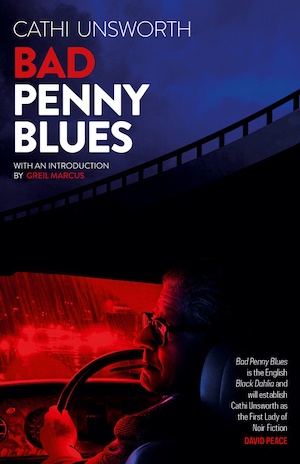 When Bad Penny Blues was published in 2009, it became a cult classic, the kind of novel other writers refer to as a landmark. If you've not yet discovered it this new edition, with an introduction by Greil Marcus and insightful afterword by the author, is for you. Dealing as it does with violence against women, Cathi Unsworth's novel was inspired by Derek Raymond's extraordinary 1990 book I Was Dora Suarez, which put the victim at the heart of the story. Now victim centred crime novels are growing in number but there were fewer when Bad Penny Blues originally came out. Reissued in an age of #MeToo and greater recognition of violence against women and femicide this story will strike a new audience as relevant.
The Hammersmith nude murders are the chilling inspiration for Bad Penny Blues. Elizabeth Figg, partially stripped and strangled, was discovered in the early hours of the 17 June 1959, on waste ground in Chiswick. By February 1965 seven more women had been killed and dumped in similar fashion. The killer acquired the grotesque epithet Jack the Stripper but there may have been more than one murderer. The case remains unsolved and the records remain sealed. This mirror fiction gives a voice to the eight dead women, restoring their dignity to their stories. Unsworth's anger and indignation at their treatment in life and after death drive the narrative. All were victims of male violence and abuse long before their lives were cut short. They were labelled as prostitutes, salacious details of their murders became a matter of public entertainment and Bad Penny Blues addresses attitudes as well as the appalling crimes themselves.
The narrative is split between two perspectives, Stella Reade and Pete Bradley. Stella meets Toby at college, they marry and move to Ladbroke Grove, next door to a medium and an experimental music producer. Over the years Stella becomes a successful fashion designer and boutique owner, while Toby becomes a sought after painter. Their lives are fortunate but Stella feels a connection to the murdered girls, in her mind she sees their final moments. Young PC Pete Bradley finds the body of first victim Roberta 'Bobby' Clark, and the investigation comes to define his life. He tries to bring a measure of justice to the women but their plight is met with indifference higher up. The police don't care about the women and through incompetence or corruption they fail to find the killer. The scene the women inhabit is that of the rich, famous or powerful; there are interests to protect, a veneer of respectability to maintain, the possibility of public disquiet to consider.
You may be sceptical of Unsworth's use of spiritualism in her novels but it's a thoughtful way of reflecting empathy with the victims here. Our compassion is stirred as Stella dreams of the women's last moments, thoughts and feelings. Stella connects us to their fear and pain and we find ourselves inside their heads. We come to realise how much luck plays its part in fate. One girl steps off a train alone, vulnerable, friendless. She's met by a pimp. Clubs, boyfriends, gangsters and prostitution follow. Another girl steps off a train, has somewhere to stay, sees a friendly face, goes to college, carves herself a career, loves well. Either is possible.
Bad Penny Blues is a London novel, part of a storytelling tradition that speaks to the soul of the city, from Charles Dickens to Joe Thomas. Here, the early 60s landscape is one of physical and psychological scarring. It's a time of war, poverty, racial tensions and low-living, but also of hope, renewal and a thriving cosmopolitan cultural scene. Gangsters, toffs, film stars and working class girls all mix in the same clubs. Profumo, the Krays, Rachman, Joe Meek, Erno Goldfinger and Pauline Boty haunt the story and Unsworth uses music to colour the narrative. Songs pin events to their time and lyrics speak to the crimes themselves. These murders are not dislocated but integral to the local life, the landscape, the psycho-geography.
Unsworth's novel is a foil to David Seabrook's Jack of Jumps, a true crime account of the murders, which reinforces the stereotype of the women as prostitutes and excuses police failures in the investigation. A better understanding of context, the club scene and so called 'good time girl' lifestyle of the time is provided by Fred Vermorel's Dead Fashion Girls. Even so Unsworth's portrayal of the dead women's humanity carries a psychological insight a true account falls short of.
Bad Penny Blues is a devastating read, at times terrifying and heart rending, certainly powerful and thought provoking, asking, as it does, why we put up with the mistreatment of women the way we do. Is there a more critical theme in crime fiction?
Strange Attractor Press
Print/Kindle
£8.39
CFL Rating: 5 Stars