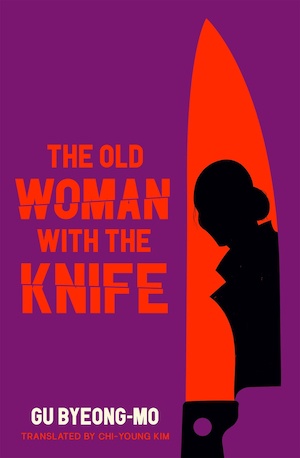 Translated by Chi-Young Kim — Gu Byeong-mo has written across a range of genres, and has collected an array of awards in her native South Korea, so it's a little surprising that The Old Woman with the Knife is her first novel to appear in English. Italian, Spanish and Japanese-speaking readers have already had the pleasure – and what a pleasure it is! The Old Woman with the Knife is a unique novel that certainly steps away from the norms of noir. Smooth, literary, extremely interesting – in many ways it cuts to the heart of things.
Which is what the main character does day-to-day, because Hornclaw is a 65-year-old woman – and an assassin. Working for an agency that specialises in 'disease control', she has a set of knives concealed in her coat, and her skill is in dispatching each target with a quick jab as quietly and conveniently as possible. We've never seen a main character quite like her.
But Hornclaw is starting to feel her age. The agency she works for is now corporately run, and she wonders if she'll be retired and paid for her shares, or if she'll become a target for one of her colleagues. A fellow assassin like Bullfight, a powerful young man with plenty of disdain for 'Granny', could easily be sent to end her at any time.
Hornclaw doesn't dwell on it much. She's hardened to the realities of her profession and has killed countless people without allowing emotion to weigh her down. Every day when she goes to work she leaves a window ajar so that her dog, Deadweight, can exit and find help should she not return, although she's not sure anyone would adopt him. Like her, he's the sort of soul people tend to overlook, which happens to be an ideal trait in Hornclaw's profession.
Aside from Bullfight's nasty quips, what's bothering Hornclaw is that she's not killing as efficiently as she used to. It comes to a head when she is injured during a job and needs medical treatment – off the books, of course, she doesn't want anyone asking questions. She goes to a clinic in her neighbourhood and is seen by Dr Kang, a young physician who notices her knives. Although she threatens him to avoid exposure, she's taken by his manner, discretion and decency. Her thoughts drift back to the beginning of her career and her mentor, Ryu, with whom she founded the agency.
As Hornclaw's abilities seem to fade, she begins an emotional journey connecting past and present. She's intrigued by Kang and his family – both his parents and his young daughter. The elderly mother and father run a fruit stall that, like the other traditional market stalls in her area, is being marginalised by the arrival of supermarkets and box stores. It's why this novel's original Korean title is Bruised Fruit.
A great deal of the story deals with the theme of ageing, how we cope with the past and how life changes over time. From the opening scenes, there are vignettes throughout in which Hornclaw and other elderly Korean folk are ignored, overlooked or outright mistreated by younger people. Gu Byeong-mo was in her 30s when she wrote this novel, yet there is plenty of exploration here of what it feels like to age and the widening gaps between the generations.
'Where is the action?' you might be asking. Well, while Hornclaw is going through this, she has a more immediate problem to deal with. Someone has been shadowing her and sabotaging her work. Although she's always operated secretly and thinks that she has kept her identity hidden, this person has worked out who she is and they happen to be a victim out for revenge. Now, someone Hornclaw has come to care about is under threat.
Very quickly, you will find yourself in the curious moral position of sympathising with and cheering on Hornclaw – who has ruthlessly murdered hundreds of people – as she uses her skills not to take life but to protect it. For all its poetic moments and literary creds, the final fight scene is quite something. It's detailed, brutal and visceral, taking the raw, elemental qualities of Gu Byeong-mo's writing to darker and more violent places.
Stylistically, and in the way the characters relate in traditional Far Eastern ways to one another, The Old Woman with the Knife reminded me of Newcomer by Keigo Higashino, although the latter is more cordial and less gory. It also recalls The Killer is Dying by James Sallis, and has a similar feel even though the books are from totally different cultures.
While The Old Woman with the Knife might be a little slow for some crime fiction lovers, it's a fascinating read and gives us a rare insight – in crime fiction terms, at least – into life in South Korea. As well as the commentary on ageing and the book's voluminous emotional content, it was interesting that in this fictional state murder is corporatised and even assassins are chewed up and spat out by uncaring capitalist enterprise. Never mind health and safety or pensions…
Canongate
Print/Kindle/iBook
£8.54
CFL Rating: 4 Stars