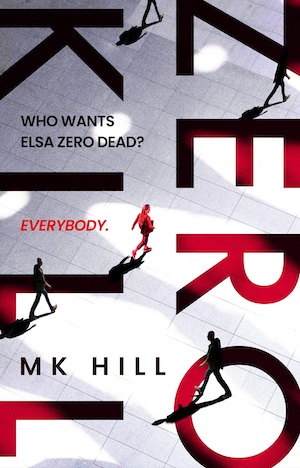 There was a time when kickass – and we mean proper kickass – female protagonists were thin in the ground. No longer. Antony Johnson gave us Lorraine Broughton in the graphic novel Coldest City in 2012, we've experienced the quirky-but-extreme violence of Villanelle in Luke Jennings's Killing Eve stories, then Lex Tyler in Killing It by Asia Mackay. Last year, the jet propelled fighting was delivered in Alias Emma by Eva Glass. Now, it's 2023 and the new contender is Elsa Zero, appearing for the first time in Zero Kill by MK Hill.
It all starts with a date night that goes sideways with a vengeance. Joel has just proposed to Elsa and she has said 'Yes,' though she doesn't like the attention they get in a crowded London restaurant. Then, Joel gets a phone call and all hell breaks loose. When Elsa looks at him Joel offers a preemptive apology before launching a round house kick to her head. She's shocked. Why is her newly minted fiancée trying to kill her?
Unlike most people, Elsa is equipped to defend herself. Soon she is giving as good as she gets across the restaurant tables and through the kitchen. When the paramedics turn up they're out to get her too! Elsa just manages to escape and then her only thought is to get to her children before someone else does.
Elsa was an agent, but has been retired and out of the game for nine years now. She's had no contact with Red Queen, a private security agency, since. There's no obvious reason for the attack but she's clearly a target and has to run. Joel must have been spying on her but all the while she thought he was genuine. Stashing the children with a friend, Elsa sets out to track down her nemesis, only to find there is a long list of them.
The best place to start is her old contact, Panda. Still based at the Westwood Club in Mayfair, he won't return her calls and the doorman won't let her in. Never one to take no for an answer Elsa crashes in. Panda tells her she's the number one target for all the major intelligence services including the British, Americans, Chinese and Russians – labelled very dangerous and expendable on sight. The fact that she's survived this long impresses Panda.
Elsa suddenly realises it's not just Joel who betrayed her but even the neighbours were keeping an eye. All the years the security services have been watching her. Elsa worked on extraction, assassination and kidnapping, so of course there were enemies over time but why is she now a target? The only thing that makes sense is the SNAFU in Buenos Aires where a black op called Pilot Fish went sideways. Elsa was part of the team sent in to destroy something without knowing what that target was – strictly need to know. She never did find out. Short of ideas and safe places to go, Elsa remembers the old Nokia 8800 that her partner Max Saint gave her back then. Maybe he can help.
Then her former SIS colleague, Zoe Castle, gets in touch saying she wants to bring Elsa in from the cold. Elsa trusts Zoe but who's pulling her strings? How can this long forgotten Buenos Aires operation cause all this grief in her life now? Plus, they've made it personal, they are threatening Elsa's children and they've picked the wrong woman to mess with.
This is fast and fun, a proper page turning read. The action is pretty much non-stop and we were happy to go with the flow, no pause for thought, or anything in fact.
Zero Kill definitely ups the hot female protagonist game and Bond was never this electric. It's suspenseful and there's plenty of tongue-in-cheek humour – of course, it's essential novels like this don't take themselves too seriously. Elsa Zero is easy to get on side with for a white knuckle ride, the plot is basic but intriguing enough to keep you guessing. Zero Kill is a perfect beach read – only watch yourself in the sun, you won't want to put this down so make sure the factor 50 is close by. Kick ass entertainment par excellence.
Head of Zeus
Print/Kindle
£0.99
CFL Rating: 5 Stars