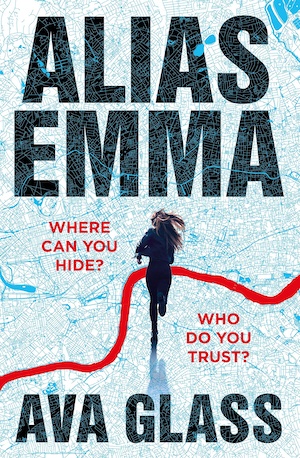 Ava Glass is a new name to us here on Crime Fiction Lover. In fact, it's the pseudonym for the successful and prolific British YA author Christi Daugherty, creator of the Night School and Number 10 series. The surname Glass even comes from a character in the Night School series. Daugherty became a crime fiction author writing in the evenings while she worked for the Home Office and has more than a dozen books to her name. Now she's launched the Ava Glass pseudonym for her new espionage series for adults, which begins with Alias Emma.
Everything kicks off in Knightsbridge, London. A hand-picked team of assassins slip quietly into one of the ludicrously expensive terraced houses unseen. A short while later a man is thrown down to the street from an upstairs window. Uri Semenov is dead and as the passers-by are distracted, the assassins evaporate into the night. Like the other killings – three so far – this job yields no DNA or useful clues but it has GRU hit stamped all over it. Security for these defectors has fallen to The Vernon Institute, a link between MI5, MI6 and the Foreign Office. It's time to act to protect the remaining defectors.
Emma Makepeace thinks her current undercover assignment at a printshop watching a community activist and mouthpiece called Raven is a waste of time. So when HQ call with an urgent job it brightens her day. She doesn't know she's about to be handed a poisoned chalice.
Her new assignment is to mind the safety of Michael Primalov. This handsome, mild mannered, seemingly ordinary NHS doctor is also known as Mikhail Primalov. His mother Elena is a former Russian scientist and British spy who has risen to the top of the Russian GRU's hit list. Emma's first problem is convincing Michael to trust her. He doesn't realise just how much danger he's in because of his mother's former life. Having grown up in England he's unaware of her homeland and has no concept of how ruthless the Russians are. Michael could be killed or more likely could be used as leverage to get Elena to cooperate.
All the dead defectors are connected to Elena Primalov. Charles Ripley, Emma's boss, believes Elena is the top Russian target. The motive is unclear but it seems to be more than simple revenge. Elena was a crucial part of the Russian nuclear programme when she defected 20 years ago. Of course, the service has already squirrelled Elena to safety. Her weak spot is her son. Emma must convince Michael to leave his life behind – at least for now – and go into hiding. When Emma offers Michael protection he flatly rejects her offer.
Then the Russians intervene. A team is already in place and they attack. Emma just about manages to rescue Michael and now he has no choice but to stick with her. Things get even stranger when Emma calls for back-up and can't reach her boss. His deputy says she's on her own and she has to come in asap.
Emma can't understand why she's been abandoned with the odds stacked against her. Ripley leaves one last message for her: don't bring Michael to the agency, take him to our friends. That means MI6 south of the river. With the Russians in key places all over the city and on their tail, Emma and Michael have to stay off the grid, avoid the assassins and cross London. It's going to be the most dangerous night of Emma's life. Nowhere is safe and she doesn't know who to trust. Needless to say, Michael's medical skills will prove useful before the night's out.
The two central characters have an interesting dynamic as they are forced to bond by circumstances. Do they fall for each other? We'll leave that for you to find out. The novel has a likeable easy style to it. There's no depth here – you have to stay in the chase to get the most from Alias Emma. If you do that it's exciting, pacy and gripping. Emma's arrival as an agent augurs well for what is a planned series and a TV adaptation has been commissioned by the producers of Killing Eve, so expect to hear more on that next year.
This is a hugely enjoyable slice of espionage escapism. It's adrenaline-fuelled fun, mostly revolving around a cat-and-mouse chase across London in the wee small hours with guns, bombs and hand-to-hand combat survival skills front and centre.
For more spy thrillers see our Espionage tag.
Century
Print/Kindle/iBook
£5.99
CFL Rating: 4 Stars