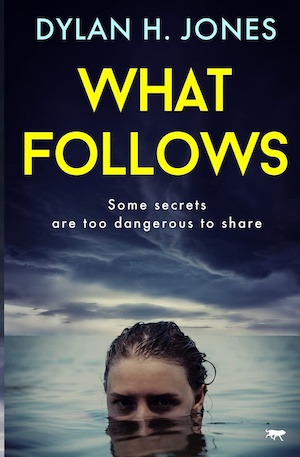 What Follows is the first in a new California-set series featuring detective Roscoe Tanner of the Oakland Homicide Division. It's written by the Welsh writer Dylan H Jones, who now lives on the West Coast and has clearly soaked up the local vibe. He's also known for the DI Tudor Manx series set in his childhood home of Anglesey, North Wales.
Roscoe, 35 years a cop, is seen as old school and he's proud of it. He doesn't swear or cuss. 'Darned numbnuts' is about as tough as his language ever gets. That makes his boss, Chief Dugdale, wonder if he's really cut out for homicide division in the modern world. It's the first sign of tension but it's Roscoe's determination to get to the truth that will become the real issue between them. Dugdale pairs Roscoe with detective Moira Shaughnessy.
When the body of a 17-year-old girl, an A student with no priors, washes up on the banks of Lake Temescal, Roscoe and Shaughnessy catch the case. Catalina Gomez, from the tougher end of town, has $2,000 shoes on her feet and a single track mark in her arm. It later turns out she has contaminated heroin in her system. Dugdale is pretty clear that it would be convenient if this case was filed as an accidental overdose and closed quickly. However, Roscoe's years in the form and his instinct tell him this was no accident.
Small details don't add up – the joint in Catalina's handbag which doesn't have her finger prints on it, for instance. The more Roscoe investigates the less it seems likely that Catalina was just unlucky with her first experimentation with hard drugs.
Catalina was volunteering with a local community youth project when she went missing. As Roscoe starts digging into her past it appears that the image her family and volunteer colleagues present masks a more sinister side to her life. What's her connection to street tough Nelson Welch? He's so distrustful of authority that he's reluctant to go to the clinic for an STD check up, let alone talk to the cops. Nelson is connected to dodgy entrepreneur Christen Hansen and an underground club known as the Rat House.
When Roscoe starts digging around Dugdale tries to divert Roscoe onto a minor case. This leaves Roscoe and Shaughnessy with a decision – do they want answers so badly that they'll risk their careers and put themselves in danger? The truth behind Catalina Gomez's death may have links to local politics and the gentrification of the poorer communities of the Bay Area.  
As this is a new series, Jones takes his time setting the scene and familiarising us with the characters and setting. Perhaps, there's a little too much of that before really launching into the story behind Catalina's terrible fate. There's a steady pace as opposed to a gallop and perhaps What Follows could have been a shorter and pithier read.
The way the strands of the story, that seem disparate at the start, come together is very well done. This is a novel that keeps you guessing all the way. There's an intriguing cast of characters, lost souls and bad eggs, and Roscoe certainly has staying power. A cop who doesn't swear, unlike his 70s tennis ace namesake, is novel for a modern detective story. More importantly he doesn't give up, which is essential and makes for a fun mix. Jones does manage to convey some of the character of Oakland and the local community politics.
What Follows is a quick read is an entertaining police procedural with a strong lead detective – perfect for poolside reading.
Bloodhound Books
Print/Kindle
£1.89
CFL Rating: 3 Stars