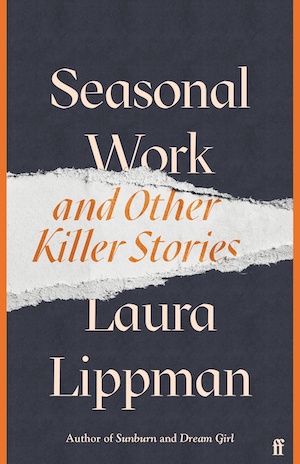 Laura Lippman's recent form has been sparkling. Her last novel, Dream Girl, wasn't to everyone's taste given its dalliance with meta-fiction, but it was clever, witty, topical and hugely entertaining. Lady in the Lake and Sunburn have been big hits here on Crime Fiction Lover as well. So we were expecting plenty from this short story collection, the author's first in 14 years. To be fair, it didn't disappoint.
The stories are all about women and girls from differing backgrounds seen at various stages in life. They reflect on contemporary issues like sexism, misogyny and empowerment. Mostly, these are women who find themselves in sticky situations when their lives intersect with crime, though not all involve murder. There are 12 stories in four sections, all around 20 pages in length except the final tale, Just One More, which is closer to novella length.
There's a quiet anger behind some of the stories but they are all clear sighted and sharp with superbly drawn characters. Lippman gets to the core of the issues facing society while displaying a deep empathy for the women she writes about and their plights. Insightful as they are every tale is engaging, a few engrossing, and they work very well as mysteries in their own right.  
Among our favourites is the opener and title piece Seasonal Work, a coming of age tale about a young girl forced to grow up quickly and come to terms with the fact that adults can be unreliable. The 14-year-old narrator was never officially adopted by step dad Gary when her mother died when she was six. He's all she's got though. Gary works scams using the children. It's a hand-to-mouth existence as they travel from place to place, and now they are in Baltimore.
The way Gary tells it he's bringing up his children the best he can, always looking for work, rarely finding it. This day the family line up by their van for the photographer while Gary tells the reporter a story of the stolen presents taken from their van in the night. Christmas is ruined. By the time the story hits the news the family is flooded with gifts. The children get to keep one present each, the rest are sold. The biggest danger to this life is social services so they often wind up doing a midnight flit. There's a kicker in this meditation on how a bad start in life frames the path we take later on. This is a girl with a mind of her own.
Then there's Cougar, about a mature woman whose choices in life seem way behind her. She is 42 and stuck in rut, trapped by the daily grind. Two jobs to make ends meet and a thankless and uncaring son, Frankie. At work she's invisible, at home she is little more than a servant. She is scared of Frankie, and he deals drugs from her house. Frankie is like a 'six-foot-two toddler, perpetually on the edge of a tantrum'. Frankie's friend Aaron stays most nights but he's considerate and they chat. Eventually she gives him a key to the house. Things are about to change, though, and Cougar doesn't unfold as you might think. It's about an abusive relationship, being worn down by life and finally finding your own feet, getting out from under.
Lippman worked as a journalist for many years and brings this experience to bear in Waco 1982. In the Waco Times newsroom they are all afraid of city editor Lou's little notes and criticisms. Marissa has an assignment, Lou says do the leg work, she has to visit every motel in Waco for a piece on lost and found property. She comes across a leather belt with a heavy turquoise bead buckle and instantly recognises it. She cons the motel owner into letting her take it – but why does she want the belt? Everyone has secrets…
Just One More is right up to date – set during lockdown in 2020. Kelley and Tom kill time by watching all 69 episodes of Columbo. Then just for fun Kelley suggests they join a dating agency to see if they get matched. This takes them down a rabbit hole. Why is there always pressure on the wronged to forgive?
The afterword to the collection is very interesting as Lippman reveals the issues an author faces when writing about people from different racial backgrounds – something of a hot topic these days. Theses stories were written between 2007 and 2019 and some were substantially revised reflecting on how quickly language and ideas can date. Whatever her qualms, Seasonal Work contains some consummate stories, which are sardonic and penetrating. Lippman proves she is as adept with the short form as she is with a novel.
One of Lippman's best novel is Lady in the Lake and if short stories are your bag try Best American Mystery & Suspense Stories 2021.
Faber & Faber
Print/Kindle/iBook
£4.72
CFL Rating: 4 Stars