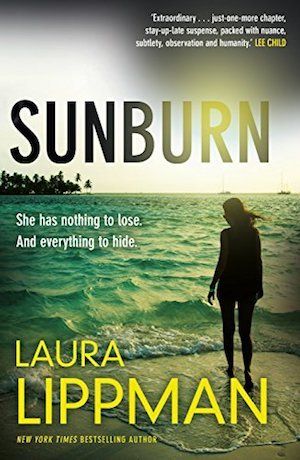 Written by Laura Lippman — As well as her Tess Monaghan series of detective books, Baltimore-based crime author Laura Lippman also writes incredible standalone crime novels that conjure up very real characters and very human situations in an effortless and composed manner. What the Dead Know was inspired by a true life crime of two missing girls and the police investigation in the 1970s, and more recently Wilde Lake was about a female lawyer and a rare homicide in a small town. Small-town America is the setting once again in Sunburn, as a woman suddenly abandons her husband and young daughter and hides out in Belleville, Delaware.
It's 1995. Pauline Hansen is an attractive redhead and one of the things private detective Adam Bosk notices about her is the redness of her shoulders. The sunburn she picked up at the beach with four-year-old daughter Jani and husband Gregg is settling in and the skin looks likely to peel. Adam has been tailing Polly, as she calls herself after absconding, for a while. He's been hired by a Baltimore insurance man called Irving Lowenstein who wants him to insinuate his way into her life and find out if she's got any money. He knows that Irving isn't telling him everything, and certainly didn't expect Polly to ditch her family on the beach and head to uninspiring Belleville. Now Adam has caught up with her, and she's landed a job waitressing in the Heigh-Ho, a bar and restaurant where people might stop en route to the Maryland coast for their holidays. Adam's next step is to get a job as a cook at the Heigh-Ho and get close to his target.
That's the set-up, and while Adam must conceal his true mission from Polly, she too has plenty to hide. Still, even-tempered, economical with language and a demon in bed, Polly is like nobody he's ever met. Gradually, the book shifts in focus from what Adam perceives of her to Polly's own outlook. She's carrying a hefty past. Her surnames have included Hansen, Ditmars, Smith and Costello. There are children. There has been domestic abuse, jail time, and more than enough heartbreak. Beneath the surface, there is so much going on with Polly, so much she must control and overcome, that you can't do anything but find her an utterly captivating character. She's in Delaware biding her time. Falling in love with the tall, handsome, blue-eyed chef at the Heigh-Ho would be a bad idea considering her plans, and yet she can't help it.
It's a similar story for Adam. Irving didn't send him there to get laid, much less get involved with her. Adam knows Polly has left her husband and little girl, and hasn't tried to contact them since. What kind of woman does that? He's snooped into her life more than he can let on. But he's falling for her too. He can't wait for Irving to fire him for not finding out anything more about the money, but at the same time he's curious about all those layers to Polly's past. Others in this small town start to wonder as well, and soon there's a tragedy. It could throw Adam and Polly closer together, or tear them apart.
This really is one of those books where you just have to keep reading as the layers are peeled away. There's very little action or violence as most of what you learn is delivered through conversations, thoughts and recollections. Yet it keeps you in a state of anxiety all the way through. Laura Lippman uses such easy language, and though she never fusses on detail she gives you every block you need to put the sights, sounds, smells and personalities together on your own. Everything is part of the story.
If there's a flaw here, perhaps it comes towards the end. As the finale approaches you're not quite sure what Polly's got planned, or where she and Adam stand with one another. It feels like some sort of violent encounter and/or emotional rending is coming. The suspense is there but it peters out a little and doesn't hit quite the same notes as the rest of this otherwise excellent book. Perhaps it's because Adam might not take your heart in the same way Polly undoubtedly will.
Polly's inner strength, world wariness and ability to play the long game will keep you wrapped up in her plight chapter after chapter, late into the night. All kinds of moral complexity drips from this book as well – is Polly good after all, can we forgive her her trespasses, or has her troubled life left her with a cold heart? Lippman makes clear throughout this novel that James M Cain's books have been a huge inspiration, and as contemporary noir goes you won't find much better than in Sunburn. There's no way you should miss this book. A fine slice of 21st century noir.
With its tragic and troubling edge, Sunburn is reminiscent of Galveston by Nic Pizzolatto, The Killer is Dying by James Sallis and What You See in the Dark by Manuel Munoz The writing is not unlike that of Karin Fossum.
Faber & Faber
Print/Kindle/iBook
£4.74
CFL Rating: 4 Stars