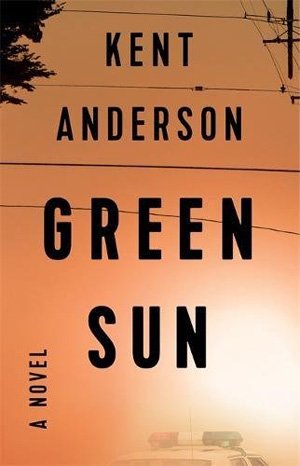 Written by Kent Anderson — You could be forgiven for not having heard of Kent Anderson before. He has only written two novels previously – Sympathy for the Devil in 1987 and Night Dogs in 1996. Of the two, only the latter can truly be considered crime fiction. Night Dogs might not have won any awards, but this novel about Portland police officer Hanson navigating the mean streets and keeping enemies from both inside and outside the department at arm's length is now considered a contemporary classic. James Crumley called it the best cop story ever written, and a diverse selection of crime writers from James Patterson through to George Pelecanos recommend it to their readers.
Part of Night Dogs' power comes from its verisimilitude, and Hanson's journey is closely aligned with Anderson's own career. Anderson joined the Portland police department after returning from Vietnam. He left the force to complete a master's degree in Fine Arts and later joined the Oakland PD as a patrol officer in 1986. So, like Anderson himself, Officer Hanson returns to policing in Oakland, California, and is met with suspicion by his trainers. Why does an educated man with a master's degree want to return to the streets? Is he a liberal, a stooge for the American Civil Liberties Union? Hanson himself isn't sure why he's returned, but he knows academic life left him bored and listless, and a part of him recognises that he needs the risk of being killed to feel alive. In fact, understanding himself and his motivations is very much a theme of the novel. A second theme emerges early in the story – how does a man stay true to his own ideals in an impossible situation?
What Hanson wants from the job and what the department wants from Hanson rarely converge. He has been allocated to the poor, predominantly black districts of Oakland to patrol where community policing is thought of as a laughable ideal by both the police and residents. The people he has sworn to protect are viewed with suspicion and contempt by an over-worked, under-resourced, scared white police force. It is a sobering thought that little seems to have changed in the 30 years since Anderson's own tour finished.
There is very little in the way of a traditional crime fiction narrative – there's no single bad guy, no major heist to crack or mystery to solve. Rather, there are a series of chapter-length vignettes, each dealing with an individual scenario. They include such mundane activities as Hanson having to pad out his arrest quotas with driving offences to reach the monthly department-mandated minimum, and more bizarre duties such as having to guard a dead body accidently discovered while neighbours loot the deceased's property. The closest thing to a story comes when a local drug dealer tries to recruit him.
Nonetheless, Green Sun is eminently readable. Anderson has a clear, direct style for the most part, but writes with a poetic flourish when appropriate. Hanson's recollections, or perhaps dreams or flashbacks, of his time in Vietnam have an otherworldly, and often quite beautiful, feel to them. The chapters incrementally reveal a police department ill at ease with itself, overly bureaucratic, which acts as an impediment to the lives of those it serves. Hanson, or Anderson if you prefer, is not unsympathetic to the difficulties and risks involved in being a police officer. Both Night Dogs and Green Sun might make you question why anyone would choose such a dangerous profession, but the author draws a distinction between the department itself and the individuals working in it.
Green Sun is a brilliant novel in its own right, and a worthy follow up to Night Dogs. Read them both.
Tonally, if this sounds like your thing then also see The Devil in Her Way by Bill Loehfelm or novels by Joseph Wambaugh.
Mulholland Books
Print/Kindle/iBook
£9.99
CFL Rating: 5 Stars